Research shows that modern kids spend an average of seven hours daily in front of a screen. This can cause major problems for their physical and mental health. One way to encourage children to stay active and healthy is to give them access to outdoor recreation areas, such as playgrounds. However, creating an engaging play space is not easy, but it doesn't have to be difficult either. With a little effort and creativity, you can turn your backyard into an ultimate playground for your little ones.
So, how can you build a playground? The first thing you need to do is choose an ideal location for your playground. Try to avoid sloping areas and choose a place with good drainage. Ensure you have enough space to allow at least six feet of open space around the play equipment. From there, plan the size of your structures, get approval from the relevant authorities, and get down to work. Take time to lay out the central playhouse/play equipment, choose the right floor material for each platform, create rails for tall equipment, implement safety measures, and you are good to go.
This blog post provides you with a step-by-step guide to building a playground. Read on to find out everything you need to know.
Why Should You Consider Constructing a Playground?
Constructing a backyard playground is an investment that can provide countless benefits for your children, family, and community.
In today's fast-paced, technology-driven world, encouraging kids to engage in outdoor activities and interact with others is more important than ever.
A backyard playground is an intelligent decision that will encourage children to step away from their screens and immerse themselves in the wonders of play.
It promotes physical activity among children and encourages children to engage in active play, which contributes to their overall health and well-being. Climbing, swinging, and sliding help build muscle strength, improve balance and coordination, and increase endurance.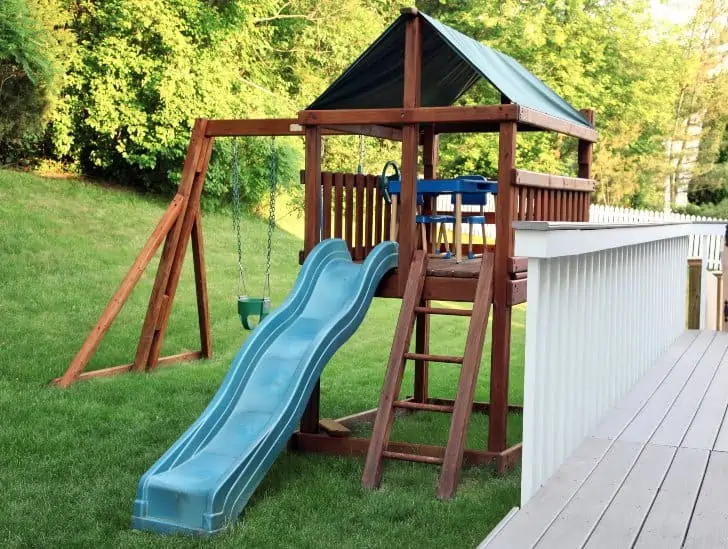 Playgrounds provide an ideal environment for children to develop essential social and emotional skills. Children learn to share, cooperate, communicate, and resolve conflicts when playing together.
These interactions help them form friendships and understand the importance of empathy, trust, and teamwork. Moreover, playgrounds can boost self-esteem and confidence as children conquer new challenges and develop a sense of accomplishment.
Outdoor play on a playground also contributes to cognitive development in children. Play encourages creativity, imagination, and problem-solving skills. As child psychologist Dr. David Elkind states, "Play is essential to the cognitive, physical, social, and emotional well-being of children."
Engaging in play-based activities helps children explore their surroundings, learn about cause and effect, and develop critical thinking abilities.
Moreover, a good backyard playground is a hub for physical, social, and cognitive growth and a place where children create lasting memories with their friends and family.
The laughter, joy, and camaraderie experienced on a playground are invaluable and will be cherished for years.
Step-By-Step Guide to Building a Playground
Now that you understand some of the benefits of constructing a playground let's dive into the step-by-step process of building one.
1. Choose an Ideal Location
The first step in building a playground is to identify a suitable area for your playground. Choose a spot away from slopes and other hazards, such as trees or plants with sharp leaves, strong winds, and electrical lines.
Ensure you have enough space to allow at least six feet of open space around the play equipment.
You must also ensure that the area is away from direct sunlight because some play equipment tends to get too hot during summer.
Pay close attention to the drainage of the area because you want to avoid areas that can flood when it rains.
An ideal spot is also one that you can easily see from your house. Remember that you may be required to keep a close eye on your children when they are playing.
Sometimes, you will want to do this while accomplishing other tasks in the house.
2. Determine Your Budget
Establishing a budget early in the planning process is essential. It will help you make informed decisions about the type and quality of equipment, materials, and safety features you can incorporate into your playground.
Consider the costs of purchasing or building play structures, surfacing materials, landscaping, and other necessary items.
Carefully assess, plan, and budget for the cost of maintaining your playground down the road. You must factor in insurance costs to get a comprehensive picture of your playground's financial requirements over time.
3. Planning and Designing
Once you've chosen a location and established how much money you are willing to spend, it's time to plan and design your playground.
Start by sketching out the layout and size of each structure and playhouse. You can design the playground yourself or hire a professional for the job.
Include all the necessary safety features in your plan, such as railings, proper surfacing, ladders with grip surfaces, etc. It is essential to use age-appropriate play equipment that meets safety regulations.
Also, consider adding natural elements like rocks and logs for additional interest and engagement.
4. Get Relevant Approvals
Most local governments require a permit to construct a playground in your backyard.
To obtain one, you must submit proof of land ownership and provide an approved playground plan.
It is also essential to meet all applicable safety standards before beginning construction.
5. Select Equipment and Play Components
Research and select appropriate play equipment and components based on the age group of your children, budget, and available space.
Consider incorporating a mix of activities that promote physical, social, cognitive, and creative development.
Examples include slides, swings, climbing structures, sandboxes, and imaginative play elements such as playhouses or themed structures.
Ensure you involve your children in the equipment selection phase as much as possible because this will help them bond with the new playground.
Keep in mind that this is about them and not you. So, you want to listen to their opinions to make it easier for them to embrace the new play space.
6. Construction Phase
Now that you have everything in place, the hard work begins! The first thing you need to do is mark the area for your playground and clear away existing debris.
You will need to level the ground, lay a base layer of gravel or sand, and create barriers around the edges. Install each play structure as designated in your plan, ensuring all pieces are securely connected.
Providing proper surfacing is one of the most important aspects of constructing a playground. Select the right surface material for each platform, such as sand, mulch, rubber mats, or synthetic turf.
It is essential to have an area of soft surfacing beneath play structures like swings and slides to soften falls and protect children from harm.
7. Plan for Safety
Safety is paramount when designing a backyard playground. Ensure that all equipment meets safety standards and guidelines set by organizations such as the Consumer Product Safety Commission (CPSC) and ASTM International.
Consider using impact-absorbing surfacing materials like rubber mulch, wood chips, or poured-in-place rubber to minimize the risk of injury from falls.
You must also check the safety of all play elements regularly to ensure there are no loose parts or sharp edges. Regular maintenance of play equipment is critical to ensuring the safety of your children.
8. Plan for Aesthetics and Landscaping
Consider the aesthetics and landscaping of your playground. Choose colors and materials that blend well with your backyard's design and environment.
Incorporate natural elements such as trees, shrubs, and flowers to create an inviting and visually appealing space.
Furthermore, plan for shade structures or strategically placed trees to protect children from sun exposure.
You may even consider developing a seating area to create a comfortable setting to monitor the kids while they play.
9. Give Yourself Room to Grow
When designing your playground, leave some room for growth. This will give you more options for adding more elements down the road.
Also, take advantage of modular play equipment that you can easily rearrange to create a unique and stimulating experience. This will help keep your children engaged and entertained over time.
How Long Does It Take to Build a Backyard Playground?
The time it takes to build a backyard playground depends on several factors, including the size and complexity of the project, the materials used, and the availability of resources.
Typically, it takes 2-4 weeks for an average-sized playground in a relatively straightforward setting. Of course, larger and more complicated projects may take longer.
Do I Need Professional Help to Build a Backyard Playground?
This one highly depends on your technical ability and how competent you are with DIY projects. If you have the necessary skills, tools, and time to build a playground on your own, then there is no need for professional help.
However, hiring a professional is highly recommended if you want to ensure that the project follows safety standards and regulations or don't have the skills and resources to do it yourself.
A professional can help you design the ideal space that meets safety and aesthetic requirements, especially if you are planning an elaborate project.
Hiring a qualified contractor will also ensure the job is done correctly and that all safety regulations are met.
Final Thoughts
Building a playground in your backyard is an exciting experience that can provide hours of fun for your children.
With proper planning and design, you can easily create a safe and entertaining play space that meets all safety standards and regulations.
Last update on 2023-07-23 / Affiliate links / Images from Amazon Product Advertising API