In the face of rediscovering the critical importance of allowing children to spend more time outside, school playgrounds have come back into the picture. These open play spaces are no longer seen as a waste of time, money, space, and effort. In fact, child development experts are now citing the need for playgrounds as a critical component of physical and mental development. Unfortunately, planning, designing, and implementing playgrounds is a big job. If you are looking to upgrade or install a playground for your school, you have come to the right place.
So, How to Design a Fun and Safe School Playground? The first step in every successful playground project is assessing the space available. Where can you put the play area? What size is the area? Is there enough shade, or will you need to add some? From there, decide on the type of playground equipment that best fits the needs of your students. Age-appropriate play equipment is essential for safety. Now come up with a design plan. You should also get set with a specific budget in mind and clearly outline your goal.
This blog post discusses everything you need to know about planning a school playground. Read on to learn more.
What Is a School Playground and Why Is It Important?
A school playground is an outdoor area specifically designed for play and recreation. It can include swings, slides, climbing frames, sandboxes, and other equipment that allow children to play in a safe environment.
The primary purpose of a playground is to provide opportunities for physical activity and social interaction among students.
These playgrounds are essential for a child's physical development, cognitive growth, and social-emotional skills.
Studies have shown that school playgrounds can foster cooperation, improved self-esteem, enhanced sensory experiences and the ability to take risks in a controlled environment.
They also provide students with diverse learning opportunities, which can help build problem-solving, critical thinking and creativity.
When Is the Best Time to Plan for a School Playground?
The best time to plan for a school playground is during the summer when students are not in session. This gives you plenty of time to assess the available space and develop a design that meets safety and budget requirements.
It also gives you plenty of time to source materials, hire contractors, install and test the play equipment.
What Should You Consider When Planning a School Playground?
Now that you know the importance of having a school playground and the best time to install one, let us discuss some of the critical things you should consider to ensure your playground meets your students' needs.
Begin with a Specific Goal in Mind
One of the most important things you need to do when planning a school playground is outlining what you hope to achieve with the setup.
Do you want specific play equipment or even have specific play equipment in mind that you don't want? Do you want the playground to be easy to maintain? Do you want to encourage group play? Do you want to promote role play or more physical activities?
Answering these questions will help you determine the type of play equipment to install and give you an idea of what materials to source. It will also be much easier to narrow down your search and focus on things that matter.
Create a Budget
Once you have pinned down your core objectives, it is essential to set a budget for your playground project. This will help you determine which pieces are crucial, whether or not to hire professionals, and what materials to use.
It will also help you determine how much money you can afford to spend on each item and what to focus on to get the most bang for your buck.
Ideally, you should consider allocating at least $1,000 to every kid who would be using the playground. So, if you plan a school playground to accommodate 40 students at a go, your minimum budget should be $40,000.
Although this may seem like a lot of money, reality will sink in once you start addressing the specifics of setting up the playground. You can spread the budget over a year or two to make it easier for you to manage.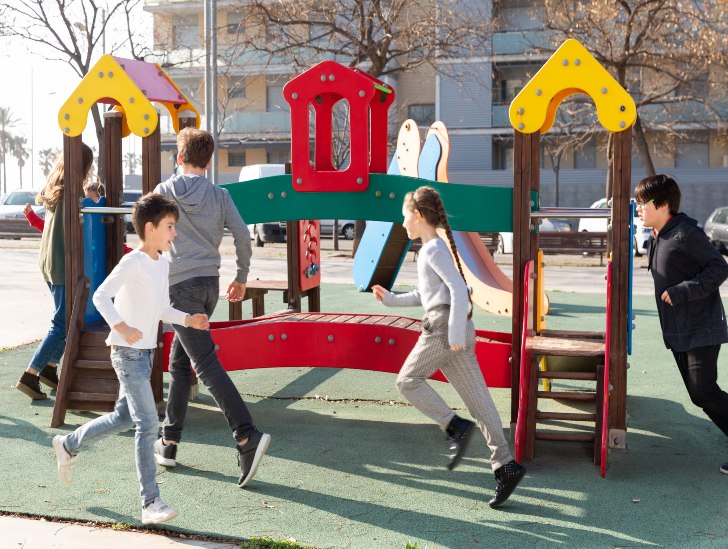 If your school admits toddlers, set aside a budget that will enable you to provide separate play systems for the toddlers. Playground experts recommend spending at least $400 for every toddler playing in the playground.
Use the age guide to determine which play equipment is appropriate for infants and toddlers. Typically, children aged six months to two years are toddlers, while preschool usually features kids aged 2-5 years.
Play sets such as seesaws and swings can be used by children in the 5-12 age range.
Assess the Available Space
Before you install a playground, assess your available space, and decide what type of play area to create. If you have enough room, consider adding several areas with different play equipment.
This will allow more students to use the facility at once, which could lead to better socialization.
When deciding which items to install, consider the space requirements of each item. Consider leaving enough space between play equipment to help kids move freely and safely when playing.
Be mindful of the layout of your school playground since it can significantly impact student safety and overall usability. For instance, you should avoid placing play structures too close to each other.
You should also ensure that the play area is located away from hazards such as roads, fences, and electric wires. The playground should also be in an area where teachers or supervisors can easily monitor it.
Research Local Playground Regulations
Before you go shopping or hire contractors, it is important to research local playground regulations and check if they are up-to-date with current standards.
This will help ensure that your school playground meets all safety requirements before anyone can use it.
Also, ensure the playground is designed with accessibility in mind so that children with special needs or disabilities can use it too.
The last thing you want is to invest in a playground only to discover that it doesn't meet the necessary safety requirements.
Design Your Playground Site
Now that you have assessed the available space and researched the necessary regulations, it is time to design your playground site.
This should include precise measurements of the space you plan to use for play equipment and a detailed drawing of how the playground will be laid out.
If possible, create scaled drawings that show different levels in the playground area. Also, add details such as pathways, seating areas and the number of play structures you plan to install.
Once you have a clear picture of what your playground should look like, create a list of materials needed and get quotes from different suppliers.
Some of the critical questions you need to ask yourself at this stage include the following:
Do you want your school playground to have a modern look, carry a theme or mimic the environment around it?
What freestanding play equipment would you like to incorporate into the playground?
Are you designing for future growth or maintenance?
What safety elements should be incorporated into the playground design?
Are there areas for quiet play, physical activity, and imaginative play?
Answering these questions will help you make a well-informed decision when it comes to designing your school playground.
Incorporate Different Elements of Play
When designing your playground, make sure you incorporate different elements of play. This will allow students to engage in physical and imaginative activities as they explore their environment.
Some elements that you can consider include the following:
Open spaces for running and other active play.
Climbing structures such as slides and monkey bars.
Sand and water play areas.
Swing sets and other recreational equipment.
Seating areas for quiet play and socializing.
Artistic elements such as murals, sculptures, and painting boards.
Safety Is Paramount
Another important consideration is safety. You must ensure the playground meets all the necessary safety standards and regulations set by your local board of education and state laws.
This means the play equipment must be properly installed, inspected regularly, and maintained well.
Furthermore, there should be sufficient safety surfaces like mulch, rubber mats or sand to protect the children from falls and injuries.
Think About Long-Term Maintenance
Planning and designing a school playground is only the first step. Once you are through everything, you must think about proper maintenance to keep everything in good shape.
Ensure you have adequate funding for future maintenance and repairs. This includes cleaning up debris, painting worn-out surfaces, replacing broken or damaged equipment, and enforcing necessary safety measures.
Summary
Designing a school playground requires careful planning, research, and attention to detail.
If you consider all the essential factors, such as safety regulations, space requirements and age-appropriate equipment, you can create an attractive play area that will serve your students for many years to come.
Take time to design your playground thoughtfully and ensure you get the best value for your money.
Last update on 2023-07-23 / Affiliate links / Images from Amazon Product Advertising API