Playground shade is essential to every playground since it protects children from harmful UV rays. With the severity of skin damage among children and healthcare costs rising year over year, the need to protect your little ones while they play has never been more important. Playground shade structures also play a critical role in reducing the heat intensity under the shaded part of the play areas reducing the likelihood of heat exhaustion.
So, how much does a playground shade cost? On average, a playground shade structure can range in price from as low as $1,000 to as high as $10,000 or more. The total cost will depend on several factors, including the size, type, and features of the playground shade you select. You need to be wary of the cheaper shade options because they are often made with lower-quality materials that will not stand up to the elements or provide adequate UV protection.
Still wondering how much a playground shade costs? Read on to learn more about the costs and some of the critical factors that will determine how much you pay.
Why Do You Need a Playground Shade?
Playground shade plays a critical role in ensuring your children's comfort while protecting your investment.
When children play under the sun, they are at risk of suffering from heat exhaustion and dehydration. In fact, heat-related illnesses are one of the leading causes of death among children.
A playground shade will protect your children from the harmful UV rays and keep them cool while they play.
In addition to protecting your children from the sun, a playground shade will also protect your investment.
Playground equipment is a significant investment, and you want to do everything you can to protect it from the extreme weather elements that may damage it.
A quality playground shade will help to extend the life of your playground equipment by protecting it from UV degradation.
How Much Does a Playground Shade Cost?
The cost of a playground shade will vary based on the size, type, and features of the shade. On average, a playground shade can cost anywhere from $1,000 to as much as $10,000 or more.
For example, a small canopy that covers 200 square feet may cost as little as $1,500. A large commercial playground shade that covers 5,000 square feet can cost as much as $25,000 or more.
What Determines the Cost of a Playground Shade?
Several factors will affect the cost of a playground shade. Some of the most important factors include:
1. Size
Size is perhaps the most important factor to consider when determining the cost of your playground shade since larger shades will obviously cost more than smaller ones.
However, you must be careful when choosing the shade size for your playground. You need to remember that every project is unique. Therefore, you need to work with experts to determine the best configuration and specs for your needs.
Overall, the size of the playground will have a huge effect on the cost of the playground shade. When you consult experts, they will always look for the most economical option that suits your needs.
2. Type of Playground Shade Structure
The type of playground shade you select will also greatly impact the final cost. The most popular types of playground shades include tensioned membrane structures, tensile fabric structures, retractable awnings, canopies, and umbrellas.
Each type of shade has its own set of benefits and drawbacks. For example, tensioned membrane structures are very durable but can be quite expensive. On the other hand, umbrellas are very affordable but may not last as long as the other options.
When choosing a playground shade, you need to consider both the upfront and long-term costs. You want to choose a shade that is both affordable and durable.
3. Type of Fabric
Commercial grade shade cloth usually offers long-lasting durability and quality, but it is also the most expensive option. Polyethylene shade cloth is also popular because it is more affordable while still offering good durability.
There are several other types of fabrics used for playground shades, and the type you choose will have a big impact on the overall cost.
The frame material may also affect the cost of your playground shade. The most popular options include aluminum, steel, and wood. Each type of material has its own set of benefits and drawbacks.
For example, aluminum frames are very strong and durable but can be quite expensive. Steel frames are also very durable but may rust over time. Wood frames are the most affordable option but may not last as long as the other two options.
4. Features
The features of your playground shade will also affect the overall cost. Some of the most popular features include LED lighting, wind and snow load capacity, fire retardancy, and waterproofing.
Each feature will add to the cost of the shade. However, you need to carefully consider each feature to determine if it is worth the cost.
For example, LED lighting may be a great addition to your playground shade, but it will also add an unnecessary cost to the overall price if you don't use the playground at night. Therefore, you need to decide if the benefit of having LED lighting is worth the additional cost.
5. Warranties
When choosing a playground shade structure, you want to know if the manufacturer offers a warranty or not. Although these structures play a critical role in offering protection and aesthetic values to your playground, you want them to last.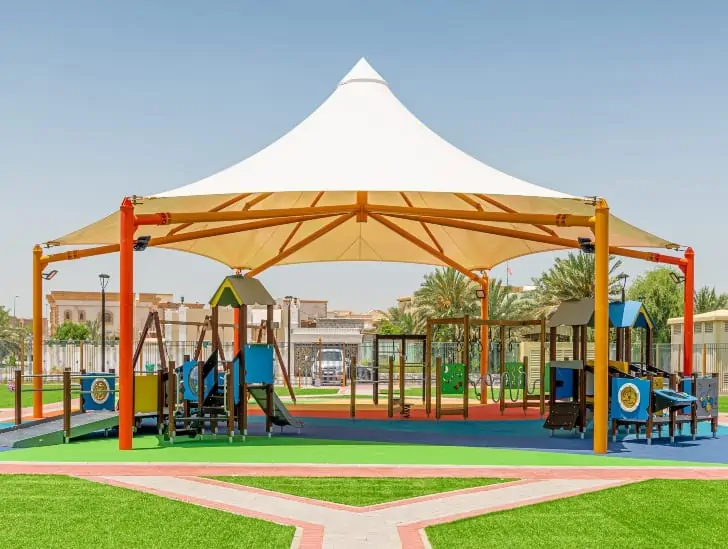 Some leading playground shade structures come with a ten-year warranty, while others come with a comprehensive lifetime warranty.
You need to be assured that the shade structure you choose is worth every penny you spend on it. Do not shy away from spending more on a quality product with an extended warranty, as this could save you lots of money in the long run.
6. Installation
The final cost consideration is installation. Installation costs will vary depending on the type and size of the shade as well as the complexity of the project.
Some playground shades can be installed by a non-expert, while others will require the help of a professional. If you plan to install the shade yourself, be sure to factor in the cost of tools and materials.
If you are hiring a professional to install your playground shade, get several quotes to ensure you get the best possible price.
What Are the Additional Costs for Playground Shade?
When planning a playground shade, you must consider the initial price tag. There are other considerations that will have an impact on the overall cost of the project.
First, you need to consider the ongoing maintenance costs. Playground shades will require periodic cleaning and repairs. Be sure to factor in these costs when planning for your shade structure.
Second, you should also consider the impact of the shade on your energy bills. If you plan on using an air conditioner in your playground, the shade will help reduce your energy costs.
Besides these two costs, you should also think about the costs associated with site access, demolition, if need be, additional site work required to prepare the playground for shade installation, and costs associated with the disposal of spoils.
What Is the Most Cost-Effective Playground Shade Option?
There is no easy answer when it comes to finding the most cost-effective shade option. The best way to find the most cost-effective solution is to carefully consider all your options and decide based on your specific needs and budget.
For example, if you are looking for a long-term solution, you may want to consider spending more on a higher-quality product.
On the other hand, if you are looking for a short-term solution, you may be able to find a more affordable option that will still provide adequate protection from the sun.
In the end, the most important thing is to find a playground shade that meets your needs and fits within your budget.
Does Playground Shade Require a Building Permit?
The answer to this question will vary depending on your location. In some cases, a permit may not be required, while in others, a permit may be required.
If you are unsure whether or not a permit is required, it is always best to check with your local building department. They will be able to provide you with the most accurate information.
Don't commit the mistake of failing to check with your local authorities because installing a playground shade without a permit when it is actually required could result in costly fines.
Summary
So, how much does a playground shade cost? The answer to that question largely depends on the factors we've just outlined.
However, you can generally expect to pay anywhere from $2,500 to $10,000 for a quality playground shade structure. Of course, there are additional costs to consider, such as shipping and installation fees.
If you want to keep your children safe and cool while they play outdoors, investing in a playground shade is definitely worth the expense. We hope you have learnt everything you needed to lean about the cost of playground shad and you are ready to go.
Last update on 2023-07-23 / Affiliate links / Images from Amazon Product Advertising API