Shading your playground provides excellent protection against the dangerous UV rays, rain, and snow. You need a place where your kids can play without worrying about the dangers of sun rays or being interrupted by rainfall. But how do you shade your playground?
Sail shades, umbrellas, and canopies are some of the things you can use to shade your playground. You can also go a notch higher by planting tall trees to provide shade. Better yet, just build a shade structure to provide a perfect shield from the weather elements.
Read on to find out more on how to shade your playground.
Ways to Add Playground Shade
There are several ways to shade your playground. You just have to find one that works for you.
Sail Shades
One of the best ways to add playground shade is to cover the entire structure with sail shades. Sail shades are large pieces of fabric that are attached to the playground structure with ropes or cables. They provide excellent coverage and can be easily adjusted to provide more or less shade as needed.
Playground shade sails also allow for creativity when designing your shade structure. They can be configured into overlapping triangular sails for greater depth to the design. Shade sails are also preferred architectural solutions as they lend themselves to the most customization and provide a unique look.
Swing Set Canopies
Swing set canopies provide excellent coverage and can be easily adjusted to provide more or less shade as needed.
Swing sets are very popular in schools and parks as they provide a fun place for kids to play while also being safe and sturdy. Swing set canopies come in a variety of shapes and sizes, so you're sure to find one that fits your needs.
Modular Playground Shade Structures
A modular playground shade is a great option for incorporating shade directly into a new or existing playground structure. These structures are great in that they don't require engineering or permitting and are less expensive to install as they do not require a footing.
Umbrellas
Umbrellas are a great way to provide shade for small areas and can be easily moved around as needed. You can utilize an umbrella shade structure when you're trying to add shaded spaces to a large sprawling playground that might incorporate several areas within the use zone. It's important to position the column outside of the use or fall zones to stay within playground safety guidelines.
Hip and Ridge Shades
Hip and ridge shades provide shade for medium to large areas. They offer more protection from the sun than an umbrella and can be installed over a playground or other outdoor space.
Hip and ridge shades are available in many different sizes, so you can find one that's just right for your needs. They can be installed over a playground, pool, or any other outdoor space. They represent the most functional and cost-effective option when you're looking for a playground shade solution that covers an entire playground.
Bench Canopy
A lot of people don't think about bringing a bench canopy on their next picnic, but it's actually a great idea. Not only will you have a place to sit and enjoy the shade, but you can also use it as a table. This way, you can keep your food and drinks cool in the shade while you're enjoying the outdoors.
Full Cantilever Play Shade
A full cantilever play shade is a great choice for those who want the most coverage possible. These shades provide complete coverage for an entire playground, making them ideal for hot summer days. They can also be used to provide shelter from the rain or snow.
What are the Benefits of Adding Shade to Playgrounds?
There are several reasons why you should consider a sunshade for your playground. The most obvious reason is to protect children from the harmful rays of the sun. But did you know that shading can also help keep playgrounds cooler in the summer months? Here are the benefits of adding a playground sunshade:
Children Can Play Longer Without Getting Hot
One of the main benefits of adding a playground sunshade is that it allows children to play for longer periods of time without getting hot. In hot weather, shade can help keep temperatures up to 20 degrees cooler than in direct sunlight. This means that kids can stay out and play for longer without needing a break to cool down.
Helps Keep Equipment Cooler to the Touch
Another benefit of playground sunshades is that they help keep playground equipment cooler to the touch. Metal slides and other hot surfaces can cause burns if they're left in direct sunlight. By providing shade, sunshades can help prevent these accidents from happening.
Blocks UV Rays to Prevent Skin Cancer
Playground sunshades also block harmful UV rays. Prolonged exposure to UV rays can lead to skin cancer, so it's important to take steps to protect yourself and your family from them. Sunshades can help do this by creating a barrier between you and the sun's harmful rays.
Increase the Life of Your Play Equipment
Playground sunshades can help extend the life of your play equipment. Direct sunlight can cause fading and other damage to plastic and metal surfaces. By providing shade, sunshades can help protect your investment and keep your playground looking new for longer.
Allow for Ease of Use Anytime of Day
If you have a playground that's open to the public, you want people to be able to use it no matter what time of day. However, direct sunlight can make playground equipment too hot to use, especially during summer. Sunshades can help keep playgrounds cooler and more comfortable for longer, so people can enjoy them even during the heat of the day.
Creates an Exciting and Innovative Look
Your playground is a reflection of your community, and you want it to look its best. Sunshades can add an element of excitement and innovation to any playground design. They come in a variety of colors and styles, so you can create a look that's unique to your community.
They're Aesthetically Appealing
Shade structure also brings visual appeal to your space, which can be great for boosting your community involvement. People will visit your park out of initial interest and come back again once they realize how comfortable and fun it is. A distinctive playground shade will be a pleasing addition to your space.
Provide Sun Protection
The sun is always strongest between 10:00 a.m and 4:00 p.m. These are the ideal hours for children to be outdoors playing. As winters transition into spring and then summer and the temperature rises. As the temperature rises, people spend much of their outdoors, leading to more playground use.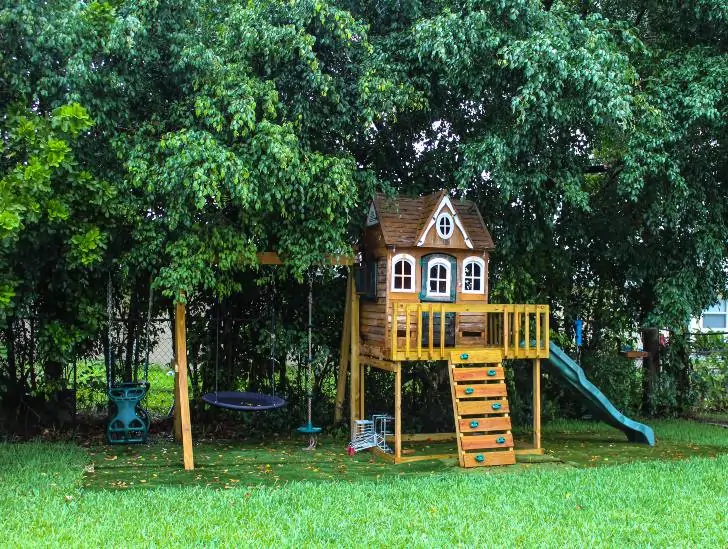 Safe amounts of the sun are also good for the health, it helps the body produce vitamin D. However, a high amount of sun exposure can lead to sunburn and other issues.
It is important to find a balance when it comes to sun exposure. Too little sun can lead to health problems, but too much sun can be dangerous. A sunshade can help provide the perfect balance of sun and shade for a safer and more enjoyable playground experience.
Variety of Structural Designs 
There are many different types of playground shades available on the market. The most common type of shade is the cantilever shade. Cantilever shades are supported by posts that are placed on the ground. They can be freestanding, or they can be attached to a structure such as a building. You can choose the design that best suits your taste and preferences.
Easy to Install and Maintain
Playground shades are easy to install and require little maintenance. They can be installed by a professional or by the do-it-yourselfer. The only tools that are needed for installation are a drill, screwdriver, and level. Installation instructions are included with most playground shade kits.
Related Questions
What is the best material to shade the playing area?
There are several options available when it comes to playground shading materials. The most common shading materials are cloth, mesh, and tarp. Cloth shades provide the highest level of sun protection but can be more expensive than other options. Mesh shades provide good sun protection and allow some air to flow through, which can be beneficial in hot weather.
Can playground shade protect your property?
Yes, playground shade can help prolong the life of your playground equipment by protecting it from the harsh sun and other natural weather elements, which can lead to fading, chipping, and overall sun damage.
Final Verdict
Playground shades are a necessity for any playground. They provide essential sun protection and can help to extend the life of the playground equipment. If you are looking for playground shades, there are many different options to choose from. You can find shades that attach to the existing structure of the playground, or you can purchase portable shade structures that can be moved as needed.