As a parent, you want to ensure that your child has all of the necessary developmental milestones before they turn two. A sandbox is not one of these milestones. However, it can be an excellent place for them to develop their motor skills and coordination.
So, what age is a sandbox for? A sandbox is usually introduced around 18 months, and before that time, there is no need for it. Some children may show an interest in playing with sand at a younger age than this, and some parents might decide they want their child to start earlier because they think it will stimulate them more.
While we cannot say definitively when your baby should begin playing in the sandbox, we'll give you some guidelines about how old your baby needs to be and what types of activities they should be doing before introducing a sandbox into their lives.
What Is a Sandbox?
Before we provide you with guidelines about how old your baby should be before they begin playing in the sandbox, we'll explain what a sandbox is and how it can help them develop.
A sandbox is an enclosed area filled with sand that children use to play in. It may come equipped with toys or activities to keep children entertained while they dig around and enjoy themselves as best as possible without getting too dirty.
However, you should never leave your child unattended in the sandbox because they may be at risk of running away or getting into something that could harm them.
Types of Sandboxes
Now let's take a look at the different types of sandboxes to see what makes each unique and how it can help children develop certain skills as they play.
The first type of sandbox is a traditional one filled with sand and nothing else. This style has been around for years, and it's the most basic form of sandbox you can get your hands on.
There are also covered sandboxes that work the same way as traditional sandboxes but have a lid to keep things a little more contained. You'll want to make sure that the lid is safe, though, and doesn't have any sharp edges or points on it at all because you don't want your child hurting themselves.
Finally, there are sand tables that look very similar but work a bit differently from traditional sandboxes. These may be taller than they are wide, which provides children with a different experience.
They may come equipped with toys or activities that they can play around with as well, but what's most important is the way they're used to help your baby develop their motor skills and coordination.
When Should Your Baby Start Playing in the Sandbox?
Now that you know all about sandboxes, you're probably wondering when your baby should start playing in one.
As we mentioned before, the age range is usually 18 months and older because younger children may not have enough motor skills or coordination to enjoy themselves and get something out of it. They might end up getting frustrated at how little they can actually do with all that sand.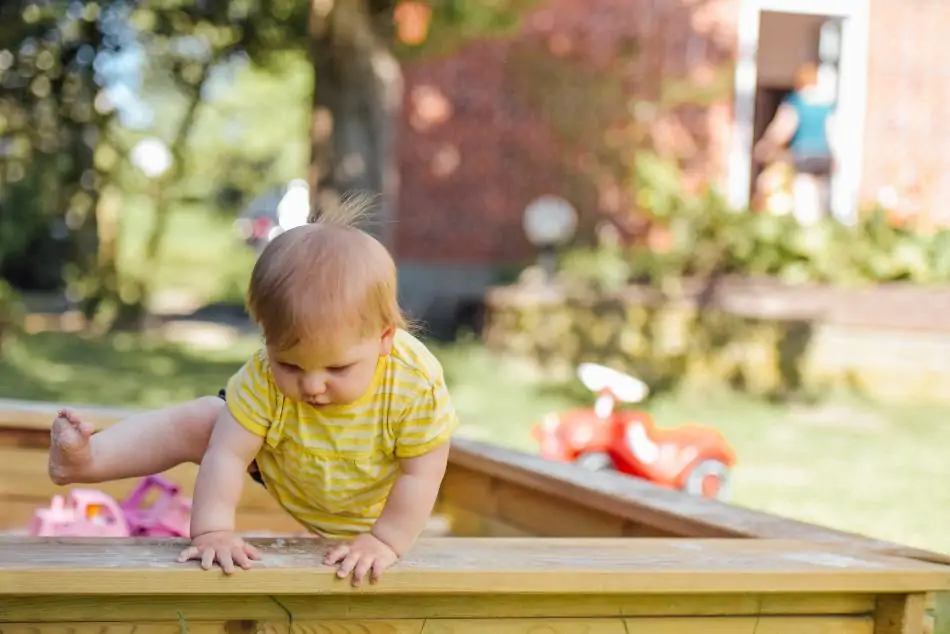 You need to understand how your baby is developing before you introduce them to the sandbox because it isn't necessarily something they can learn at any age.
Some children may not be interested in playing with sand until later on, and that's normal, but if you notice they're reaching all of their developmental milestones earlier than most other babies, then they may be ready to play with it sooner.
You should always keep an eye on your children when they're playing around in the sandbox, but all of this doesn't mean you need to rush out and buy one for them immediately.
It's not a milestone that needs to be achieved by any means, so wait until your baby is ready, and then you can introduce it into their life at that point.
How Much Time Should Your Baby Spend Playing in a Sandbox?
Typically, you don't want your child to spend more than two hours in the sandbox because they can get dirty.
They're also at risk of getting dehydrated if they stay out for too long, so you'll need to make sure they drink plenty of water when playing around with sand.
Sandboxes are fun and all, but it's not something that should be your child's main activity every day.
They should also get plenty of time to play around outside or in the house, so don't forget about all the other activities you can do with them too!
Your baby can begin playing in a sandbox when they reach 18 months old and develop their motor skills and coordination well enough to enjoy themselves.
There are several different types of sandboxes you can choose from, but they all work in pretty much the same way.
You should never leave their children unattended when playing around with a sandbox because there's always a risk of something bad happening to them.
The Benefits of Playing a Sandbox
Playing in a sandbox provides your child with plenty of healthy benefits. These include:
1. Improved motor skills and coordination
When your child plays in a sandbox, they'll be developing and improving their motor skills and coordination. They may not realize it's happening, but the more time they spend playing with sand, the better these things will get.
This can help them when they begin school later because all of this playtime puts them ahead of their peers.
2. Increased sensory awareness
Sandboxes are an excellent way to help your child develop their sense of touch and even sight because they have so many different textures for them to look at, feel, and play around with.
This is especially beneficial if your baby has any sensory disorder or difficulty processing things like most children do when learning about their surroundings.
3. Improved social skills
Children are always encouraged to play with other children because it improves their communication and sharing abilities.
For example, if your child is playing in a sandbox with one of their siblings or friends, they'll be able to communicate more effectively than if they were doing things by themselves.
Children need to learn how to share and communicate with others because it prepares them for real life.
4. It helps develop your baby's imagination
Playing in a sandbox also helps your child to develop their imagination.
This is a skill that they'll need more as time progresses, so they need to practice and improve on it now while playing around with sand, rocks, or even toys!
Sandbox games are great because they let children have some fun outside but also learn about the world around them.
5. It helps your baby develop self-esteem and self-confidence
Your baby will be able to build up their self-esteem and confidence as they play in a sandbox.
They'll learn about what it means to work hard for something, take pride in the things that they create or do, and how much fun it is making new friends along the way.
Sandbox activities require your child to develop skills that will help them later in life, so you need to introduce your baby to one as early as possible.
Tips and Tricks on How to Ensure Your Child Plays Safely in the Sandbox
There are a few things you can do to ensure your baby plays in the sandbox safely.
Make sure there's always at least one other person around when they're playing or that you supervise them very closely.
Even if your child has a lot of experience with sandboxes, it can still be easy for something bad to happen, so make sure someone is keeping an eye on them.
You should avoid using a cat or dog's litter box as a sandbox. Keep in mind that ants, bugs, and other animals can sometimes make their way into your child's sandbox, so be careful!
Cats' and dogs' poop is dangerous for children to play with because it contains some bacteria that they cannot handle.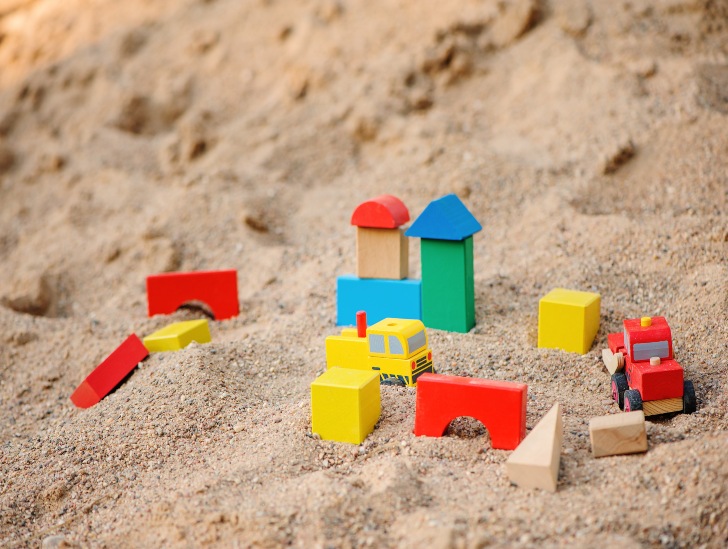 Wet or damp sand can also be dangerous for your baby so make sure everything is dry before you allow them to jump into the sandbox.
Lastly, teach them not to eat any of the items in their sandbox as well because there could always be something like a sharp rock, piece of glass, or even an insect hiding inside that can cause them harm.
Summary
It is always a good idea to wait until your kid is 18 months old before introducing them to sandboxes. At this age, the kid is strong enough to build a tower of blocks or walk around without falling over too much.
Usually, they have decent motor skills by this point, but if you're still worried, watch them for a while and if they seem to be doing alright, then let them play.
You should always make sure that your baby drinks plenty of water when playing around with sand because it can get hot, and there's no shade in most sandboxes or even grassy areas either.
Also, make sure you bring something to sit on, like a blanket or towel so you don't get tired while watching over them.