A swing set in your yard is a wonderful way to encourage your kids to be active and spend time outside. It's a wonderful way for your kids to foster positive memories about their home and their time with their peers and siblings. And the good thing about it is that building a swing set is not a complicated project, and you can actually do it yourself.
Building a swingset only involves a few materials, swings, slides, and a platform. The project can be done in one weekend. You don't even need other cool structures in the playground if you already have a swing set in place. If you are new to the subject, the best thing you can do is ask for help from someone who has built a swing set before or get instructions online.
Here are some instructions on how to build your own DIY swing set:
1. Choose the Swingset Type
Swing sets come in many varieties, the most basic of which consists of two swings, one for older children or adults. There are also Monkey Bars, a Slide, a Fort, a Climbing Wall, and even a Trapeze. Whatever you choose will depend on the age of your children, their preferences, and what you can afford to build comfortably.
When choosing the type of swing set for your kids, you also want to consider the material used. Some of the common swings set materials include;
Wood
Wooden swing sets are the most traditional and the safest. They're the most common materials for outdoor swing sets and are usually easy to build. If you want something your children can play with for several years, wooden swing sets are a great choice.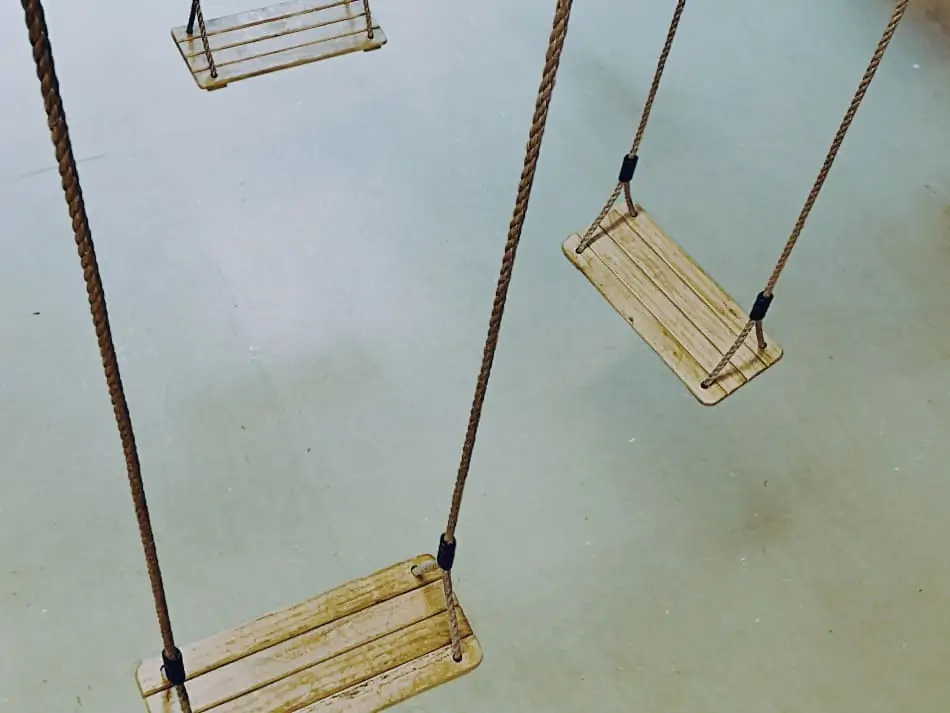 Plastic
Plastic is the easiest swing set to set up. The material makes very beautiful, colorful, and unique designs for swing sets. However, have a major downside. If left outside, the swings will suffer from UV damage. Plastic is best used for inside swing sets where it can be put on hooks or brackets on the wall. But they're very easy to place inside your home because they're lightweight and easy to assemble and disassemble.
Metal
The metal swing set will provide years of use, and its durability has made it one of the most popular materials in modern times. It's also very easy to maintain, and with a coat of paint, every few years, it will look like new. The biggest downside to metal swing sets is that they are one of the more expensive types.
When considering what type of swingset to build, also think about the age range of your children. If you have toddlers, you'll need a set with a slide and a low height. A set with a fort and monkey bars will be perfect if you have school-aged children.
2. Find a Perfect Location for the Swing Set
You should build a swing set in an open space with no obstacles such as fences, trees, or poles. The area should be flat and firm, so you'll need to clear the grass or soil in the chosen location before beginning construction. Ensure the space is well-drained and leveled so that it doesn't get muddy when wet or dry up completely during summer. Make sure you have a big enough backyard to build a strong and steady swing set.
3. Laying Down a Foundation for the Swingset
The best way to do this is to dig a hole that's about 2 feet deep and fill it with gravel stones, then cover the stones with a tarp. This will prevent the swing set from sinking over time and make it more stable. If your chosen location is not on level ground, you'll also need to create a foundation using lumber and plywood.
Once the foundation is in place, you can assemble the swingset according to the manufacturer's instructions. Usually, you don't need more than a screwdriver and a hammer to make it happen.
4. Get Some Swing Set Accessories
It's not just about the swings. If your kids want to spend all day on the swing set, they'll also need other accessories that add functionality and fun. You can get a slide, monkey bars, or a fort. There are also special swings that will provide extra fun for older kids.
5. Add Additional Features
While sometimes all the add-ons can be expensive, you should try your best to add something extra to your swing set. You can add a sandbox, picnic table, or even a small pool. Or you could just opt for the climbing wall and the trapeze bar if your kids want to try out gymnastics.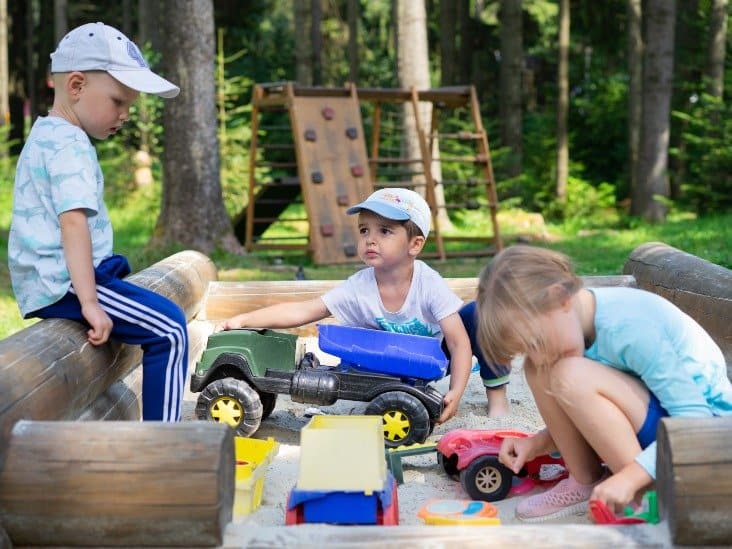 Your children will be thrilled with such additions, and you'll actually get to spend time outdoors with them while they play and exercise. You don't have to add all the features all at once but always give room for any additions in the future.
6. Protect your Swingset from the Elements
If you want to protect your swing set, cover it with an enclosure of some sort. You can find many different styles online, including full-coverage playhouses with roofs and walls. Although these playhouses are often expensive, there are many affordable DIY options that you can make using tarps or even by joining old sheets together with duct tape.
Once your swing set is ready, it's time for the fun part: playing. If you've done everything correctly, it should be safe and functional enough to last for years.
7. Tips and Hints
Before you choose a location, make sure you check the local by-laws (e.g., not too close to property lines, not near electric wires or phone lines, etc.). When building your own swing set, consider sandboxes and slides as well to give your kids more options. If you're not handy, consider hiring a professional to build the swing set for you. Always read and follow the manufacturer's instructions carefully.
Swing Set Installation Guide
Inspect the location to ensure there are no rocks, tree stumps, or other obstacles in the area.
Place the equipment at least 6 feet away from other structures such as walls, fences, posts, trees, etc.
Excavate a hole that is at least 2 feet deep and fill it with gravel stones.
Make sure you install the swing set on the leveled ground as much as possible.
Place the swing set foundation over the hole and secure it in place.
Assemble the swing set according to the manufacturer's instructions.
Make sure you can easily view the swing set from the comfort of your house for easy supervision
Keep your kids away from the sun by ensuring the swing set is in a shaded area or provide a shade using an umbrella.
Add other swing accessories such as slides, monkey bars, and a fort.
If you hire a professional to build the swing set, make sure you are there to supervise the project to ensure it is installed safely.
If you live in a cold climate, make sure you keep the swing set away from the heavy snow loads.
It should be safe and functional enough to last for years if you've done everything correctly.
How to Ensure Safety of Your Kids
One thing you should give priority when building a swing set is the safety of your little ones. Remember, you are always the perfect example to your kids. That's why you should show them how to be careful with everything surrounding them, including swing sets. Here are some safety tips to keep in mind.
Ensure Constant Supervision
First of all, don't ever leave your kids unsupervised on a swingset. Even if they're just sitting quietly and looking around, you can never be sure what might happen next. If you're not there to keep an eye on them, little kids can slip and hit their heads or even fall off the set. You should always supervise your kids when they play on a swing set and, if possible, take turns with other adults.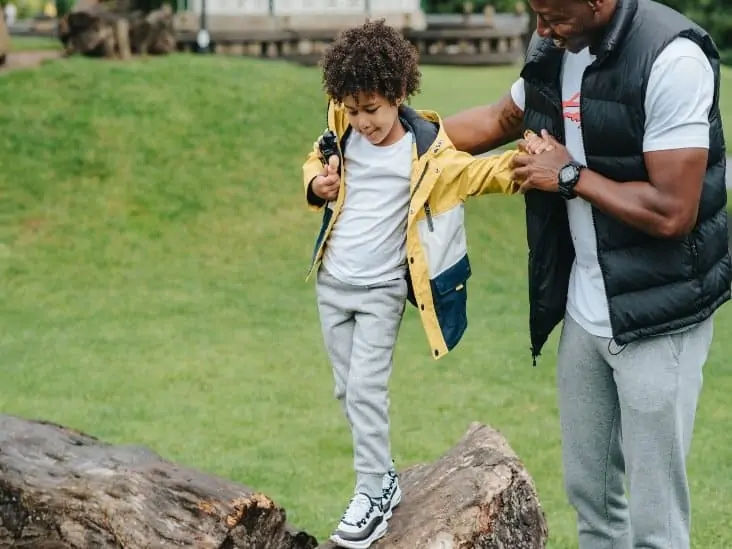 Follow the Manufacturer's Instructions
When assembling a swing set, always make sure you read and follow the manufacturer's instructions. This is important not just for safety reasons but also because it will ensure that your swing set is correctly assembled and will last for years. Failing to do so could result in instability or even injuries. If you're not too confident about your DIY skills, it's best to hire a professional.
Use Protective Gear
Even if you supervise your kids when they play on a swing set, accidents can still happen. That's why it's a good idea to make them wear protective gear such as a helmet and elbow and knee pads when swinging. Of course, the best option would be for them to avoid injuries altogether by not hitting their head or falling off the set, but accidents do happen, so it's better to be safe than sorry.
Use Soft Material
The best swing sets are made of soft materials such as rubber and foam. This is because they help absorb the shock in the event of a fall, thus preventing injuries. If your swing set doesn't have any soft materials, you can buy some padding or rubber mats and use them to cover the areas where your kids are most likely to fall.
Ensure Proper Use
Children should always sit on the swing while playing. They should not stand or kneel on the swings. Swinging too high can also be dangerous, so children should only swing as high as they feel comfortable.
Teach Kids Basic Safety Rules
It's not just enough to have a safe swing set and to constantly supervise your kids while they play on it. You also need to teach them basic safety rules to know how to play on a swing set properly. They should always hold the chains or ropes instead of sitting on them and pushing off with their feet. Safety rules might be second nature for you, but little kids might need a helping hand from time to time.
Install a First-Aid Kit
Accidents can happen anywhere, so it's a good idea to have a first-aid kit close by. That way, if your kids get injured, you'll be ready with all the necessary items such as bandages and disinfectants.
Swing Set Maintenance
Last but not least, you should maintain your swing set properly so that it lasts for many years to come. You can follow these few basic rules:
Replace any broken or worn-out parts immediately.
Keep your swing set clean and free of debris to ensure safety for your kids.
Cover the surface with rubber mats or padding, especially on the seats of the swings, to prevent injuries.
Factors to Consider Before Building Swing Set for Your Kids
The Age of Your Kids
One of the most important factors to consider when building a swing set for your kids is their age. If your kids are still young, you'll need to make sure that the set is safe and easy to use. As they get older, you can make the set more challenging and exciting.
The Space Available
Another important factor to consider is the amount of space you have available. If you don't have a lot of space, you'll need to choose a compact swing set. Alternatively, you can install the swing set in your backyard.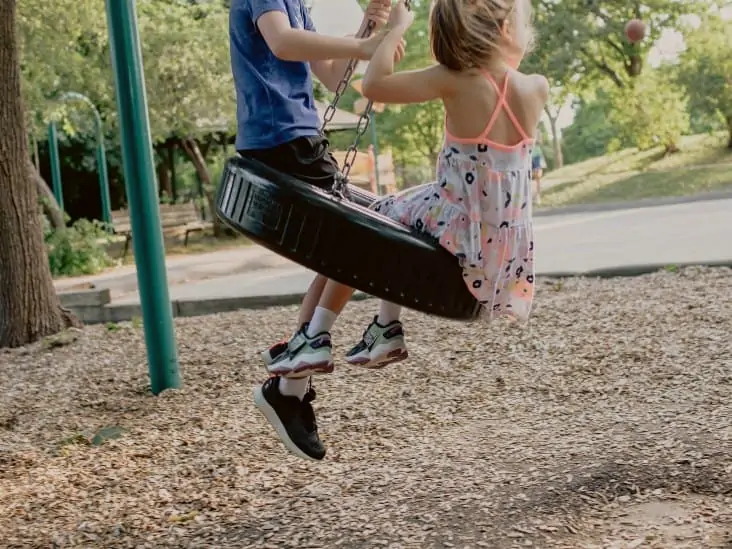 The Budget
Swing sets can be expensive, but there are affordable options available. You just need to make sure that you buy a set that not only fits within your budget but is also safe and durable.
Climate
Also, consider the climate in your area. For example, if you live in an area with harsh winters, you'll need to choose furniture resistant to low temperatures. If the sun is strong in your area, you'll need to build a swing set in a shaded area.
The Material Used
Consider the material used to build your swing set. Wooden swing sets are affordable and strong but will need to be replaced sooner than other types of materials such as steel or plastic. If you want something that's easy to maintain and lasts for years, then stainless steel is the best option. You can also choose between different colors if it matters to you.
Safety Features
Consider the safety features that are available with different types of swing sets. You'll need to choose a set that has all the basic security features, such as padded seats and handles. If you want something more advanced, then you can find models with six-point safety harnesses and other impressive features.
Other Considerations
There are also other factors to consider, such as how many children will use the swing set and what type of activities you would like it to provide. For instance, if you want your kids to play with friends on the set, look for a large and sturdy set. If you're mostly concerned with safety, then a compact set might be a better option.
FAQs
Is it cheaper to build your own swing set?
Building your own swing set is certainly cheaper than buying one. However, you might need to hire a professional if you don't have the necessary skills or tools. Also, you'll need to consider all the additional costs, such as buying wood and other supplies needed for construction, before deciding whether it's better to build or buy a swing set.
How do I find a swing set that's safe for my kids?
When looking for a safe swing set, make sure to choose one with all the necessary safety features. You should also read the reviews carefully to see if any parents have had any problems with safety or durability.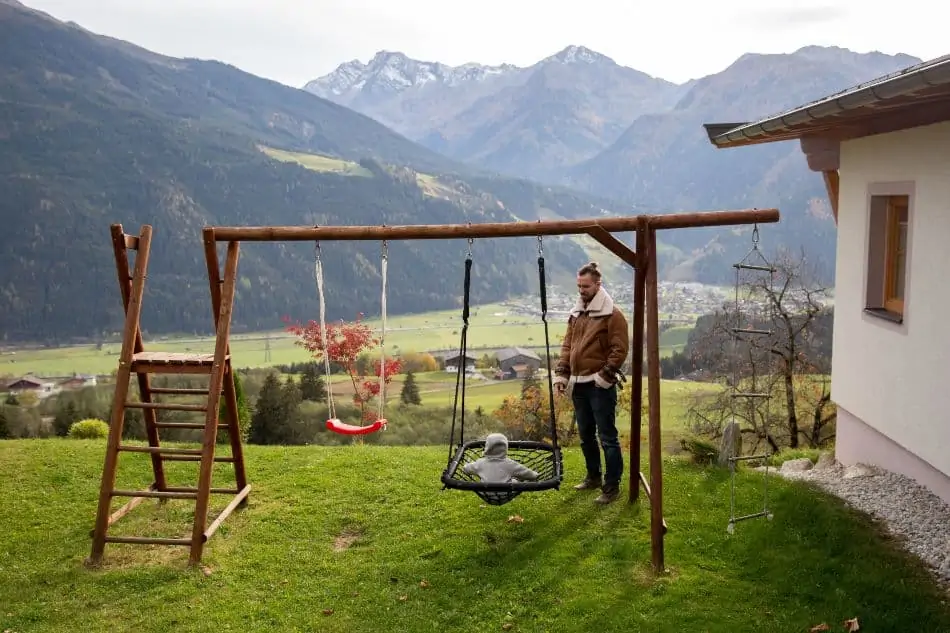 Can I install a swing set in my backyard?
Yes, if your backyard is big enough. Also, take the climate into consideration when planning where to install the set. Alternatively, you can also choose to place it in your front yard or on an accessible balcony if you don't have a large backyard.
Which is the best material for a swing set?
There isn't one definitive answer to this question. It depends on your budget, the climate in your area, and how much maintenance you're willing to do. However, most parents agree that wooden swing sets are strong but require more upkeep than other materials. Plastic sets are also a good option for kids who want something colorful and exciting.
Bottom Line
Building a swing set for your kids is a fun and entertaining experience, not only for your kids but also for you. Like every parent, you'll like to see your kids happy as they play in the backyard. The good news is that you can build a DIY swing set in your yard with just the help of your kids and a few tools.
Just follow the safety precautions and always supervise your kids when they play on their new swing set. Also, keep in mind all the considerations required to build a swing set.