When building a playground, safety must always come first. One of the critical parts of a safe playground is the surfacing material in use. You want to make sure that you have a good material that won't hurt children when they fall on it. Playgrounds with concrete or asphalt as the surfacing material can lead to severe injuries if a child falls on it. Even grass or standard soil can become harder and dangerous over time.
So, what is the safest playground material? Some of the common safest playground cover materials include poured-in-place rubber, engineered wood fiber, rubber tiles, artificial grass, and sand. Ideally, you should be looking for safe surface material that is low maintenance, affordable, and attractive.
Sometimes, you may be forced to spend a little bit more on a safer option or accept the need for frequent maintenance to preserve the visual appeal of the material. However, these are the four basic properties that you should look for in a playground cover material.
In this post, we examine each of the materials highlighting their pros and cons to help you make an informed decision. Read on to find out everything that you need to know.
1. Engineered Wood Fiber
Engineered Wood Fiber (EWF) is quite different from conventional wood chips thanks to its fibrous texture.  The wood fiber is created by weaving together small wood fibers to create a dense and firm surface that meets the accessibility and absorb impacts. EWF is all-natural and sustainable over a long period.
In most cases, EWF is made from fresh wood to ensure high-quality standards. This type of playground surface is highly affordable and relatively easy to install. However, it requires regular maintenance to preserve its accessibility and absorb impacts in high-use areas such as beneath swings and slide exits.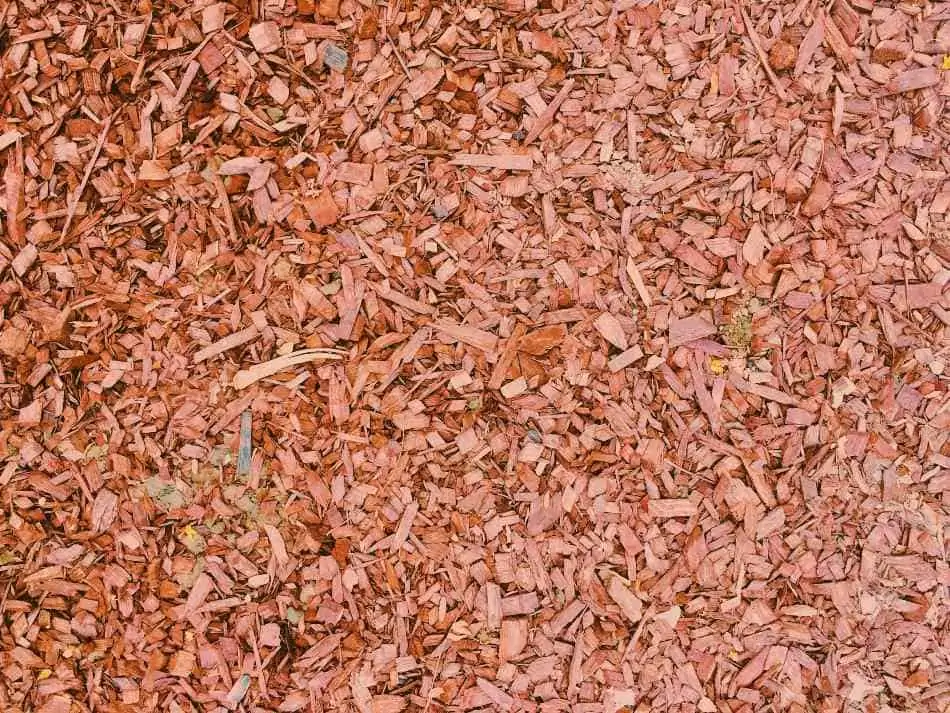 EWF is one of the most popular playground surfacing materials because it offers a wide range of benefits such as: 
It is slip-resistant.
Highly affordable.
Boosts strong shock-absorbing qualities.
Meets accessibility standards if you install it properly and stick to a regular maintenance schedule.
While some people regard it as the best and safest playground surfacing material, it is good to note that it has a few drawbacks. They include: 
You need to replenish it from time to time to keep up with quality standard requirements.
It also requires routine maintenance to keep it in good condition.
It can easily conceal foreign objects endangering children's lives.
2. Pea Gravel
Pea gravel is one of the most affordable options when it comes to covering your playground surface. Other than the playground, you can also use it to cover your dog runs and parking areas. Pea gravel provides a unique natural look and helps to limit weed growth.
Since it is a low-maintenance material, it doesn't provide superb protection for a soft landing, but it is still good enough.  Although it may appeal to many playground owners due to its affordability, some parents might not find the bumps and scrapes quite appealing.
Furthermore, the gravel may conceal potential hazards such as broken glass. Small pieces of gravel may also be lodged in the tread of kids' shoes which can damage laminate or wooden floors back at home.
Think twice before you decide to use pea gravel as a playground covering material, especially if small children will be using the play area frequently. Generally, pea gravel ranks high due to the following benefits it offers:
It is inexpensive.
Relatively easy to install.
Drains more quickly than sand.
Does not support microbial growth.
Offer good impact absorption.
Relatively unattractive to insects.
However, its drawbacks include:
It is relatively hard to use with mobility devices such as wheelchairs.
It can hide insects and other pests.
Requires constant maintenance to get rid of foreign material that may pose a danger to children.
It can easily get into open body parts such as the mouth, nose, and ears.
Children can easily consume it, posing a significant health hazard.
3. Poured-in-Place Rubber
Poured-in-rubber is often used at amusement parks and resorts because it is available in different colors, shapes, and designs. However, most public playgrounds tend to avoid it because it is relatively expensive.
Due to its level of stability and durability, it is widely considered as one of the best materials for playground surfaces. Poured-in-rubber is slip-resistant, relatively easy to maintain and available in a wide range of thickness to meet varying playground needs.
If you are looking for the safest option regardless of its price, this is the best option for you. After all, the limited maintenance needs might save you a lot of money in the long run. Here is a quick summary of some of the top benefits of poured-in-place rubber:
Provides a high level of firmness and stability.
It is an excellent choice for compliance.
More durable.
You don't have to worry about concealed objects.
It doesn't require constant maintenance.
But it doesn't mean that everything about poured-in-rubber is perfect. Some of its cons include:
It is quite expensive compared to the other options.
It can harden over time if it is continuously exposed to extreme temperatures or UV light.
Requires a high skill level for proper installation.
4. Synthetic Turf/ Artificial Grass
Synthetic turf, also known as artificial grass, was introduced in the 1960s but didn't become popular until the 1980s.
Synthetic turf was originally made to look and feel like natural grass, but it is an ever-evolving playground surface material. Other than being used in playgrounds, it is also used for athletic and football fields.
The initial installation of synthetic fiber is relatively expensive compared to planting natural grass, but it is a low-maintenance option that can save you a lot of time and money in the long run. In most cases, all you have to do is rinse off and fluff up the fibers to keep it in great shape.
It is safe for kids because there is no risk of them slipping and falling. It also eliminates the concerns of children tracking dirt and wet grass into the house after playing and accessible for wheelchairs and strollers.
The key benefits of synthetic fiber include:
No risk of slip & fall.
Easy to maintain since all you have to do is rinse and fluff it up and you are done.
Easy to install.
Saves you a lot of time and money since you don't have to use gallons of water as you would with natural grass.
Some of the potential downfalls of synthetic turf include:
It can become uncomfortably hot when exposed to direct sunlight (You can install it under a shade to avoid this problem).
The initial installation cost can be relatively high compared to planting natural grass.
5. Sand
Sand has long been the most preferred ground cover for playgrounds due to its ability to absorb falls and affordability. However, you must keep in mind that plain sand doesn't provide excellent protection when landing.
To avoid injuries, you need to make sure you have several inches of sand evenly spread across the play area. It can also shift with time, so you need to check the depth every time and replenish specific areas that have become shallow. Sand intended for playgrounds is usually softer and safer.
Some of the top benefits of using sand include:
It is relatively inexpensive to install.
Easy to install.
Doesn't support microbial growth.
Provides good impact absorption.
The disadvantages of using sand include:
Sand can easily blow into the kids' eyes.
It can become hard-packed when wet.
Children can track it from the playground to other areas making regular replacement necessary.
Relatively hard to use with mobility devices such as wheelchairs
Some playground sand may contain silica or asbestos.
Requires constant maintenance. For instance, you need to conduct regular inspections to get rid of raking and foreign objects.
Choosing the Best Surfacing Material for Your Playground
When choosing the best surfacing material for your playground, it is important to conduct thorough research and speak with experts about your needs. There is no one option that is great for all playgrounds.
Keep in mind that your playground has unique needs and requirements. A playground surfacing expert will assess it and help you determine the best material that meets the specific needs of your playground and is within your budget.
Whether you are choosing a surfacing material for a community park, school, or home playground, you need to remember that the right material depends on a wide range of factors such as; the initial purchasing cost, long-term durability, ongoing maintenance, degree of compliance, and degree of safety.
Some of the critical questions you need to ask when choosing a playground surface material include:
Will the material become a choking hazard?
What age (s) is the playground designed for?
Is the material soft and thick enough to lessen the overall impact of a child's fall?
How much can you afford to spend on the material?
How much time and money can you devote to ongoing maintenance? 
Final Thoughts
Choosing an appropriate playground surface material can be quite challenging since one material may not satisfy all of your needs. If that is the case, don't be afraid to incorporate different materials into one playground site. This can be quite economical and will help you achieve high safety standards.