The decision to buy a swing set for adults is not an easy one. There are so many factors to consider, and it's hard to know which ones really matter when making your choice. That's why we're here! We'll walk you through the fundamentals of what you should be considering before purchasing that adult swing set.
So, what are some of the critical factors you need to consider when purchasing a swing set for adults? Well, the most important thing to consider is the safety of the swing. You need a stable and strong swing set that can accommodate your weight and fit in your backyard. You should also consider the cost, assembly difficulty, size of the swing set, the material used in construction, swing set style, and height restrictions.
In this article, we explore these factors in detail. So, keep reading to learn more.
Do Adults Need Swing Sets?
If you ever thought that swing sets are only meant for children, you're wrong. Swing sets for adults are just as important and beneficial. Adults need to unwind too! These swing sets will give your body the much-needed physical activity it requires after a long day at work or school.
So, what do we mean when we say "adult swing set"? Well, these are simply outdoor swings that come in many different sizes, shapes, and types meant to be used by adults.
For example, there are wooden swing sets with plastic seats that can accommodate two adults at a time. There's also the classic metal swing set (or see-saw) for one person or many people to use together simultaneously. Here is our recommended product from Amazon Link
Besides providing you hours of fun outdoors every day, these outdoor playgrounds will give you a great cardio workout. You'll improve your balance, coordination, and strength by playing on an adult swing set.
What to Look for in Swing Sets For Adults?
Now that we understand why adults need swing sets, too, let's talk about the factors that matter most when choosing swing sets for adults.
1. Safety
Just like kids' swing sets, you should pay close attention to the safety feature when choosing the best swing set for your backyard. The most crucial safety feature that you should look out for is how well the swing attaches to the main beam of the play structure.
A good adult swing will have an attachment point located about 16 inches from each metal bar end (or board). This ensures better balance and stability when swinging, even during violent movements.
We also recommend choosing a swing set with thick ropes because they are more comfortable to grip and will reduce the risk of slipping off the swing when swinging too fast.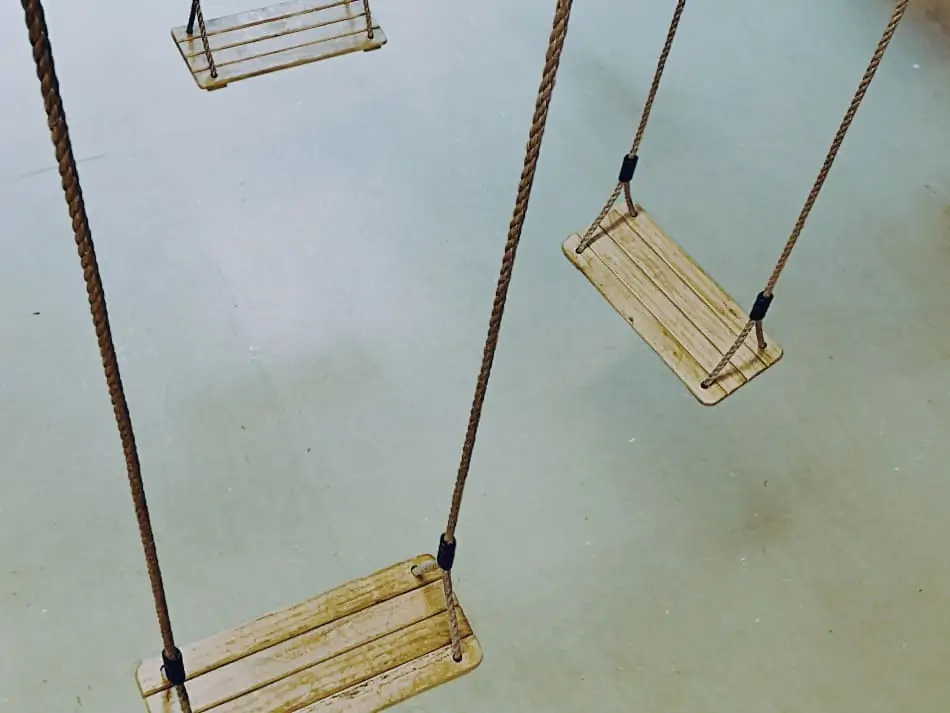 Now, you should look out for any sharp edges on your adult swing set that may injure you during playtime. Ensure no screws are sticking out from underneath the plastic seats and that the ropes are free from splinters.
Also, look for a swing set with sturdy metal bars that can hold your weight without bending or breaking apart when you sit on it. The more stable the bar is, the safer it will be to use.
2. Cost
The next thing to consider when choosing a swing set for adults is the cost. When shopping around, you'll be faced with great deals that are too good to pass up on! However, always remember that cheap isn't always better.
Instead, lookout for any signs of damage or rusting in your metal swing set bars and plastic seats if they're made of metal. If you see any, there's a good chance the entire swing set may have been exposed to rain or snow for quite some time now.
This will corrode your adult swing set faster than usual and shorten its lifespan considerably. We recommend choosing quality over price because it pays off in the long run!
3. Assembly Difficulty
The last thing you want is to have a swing set that's too difficult to assemble. This will only frustrate you and delay your excitement about playing outdoors with friends or family members!
Therefore, consider choosing an adult swing set that comes with clear instructions on how to put it together. If possible, see if the manufacturer offers any online videos for assembling their product.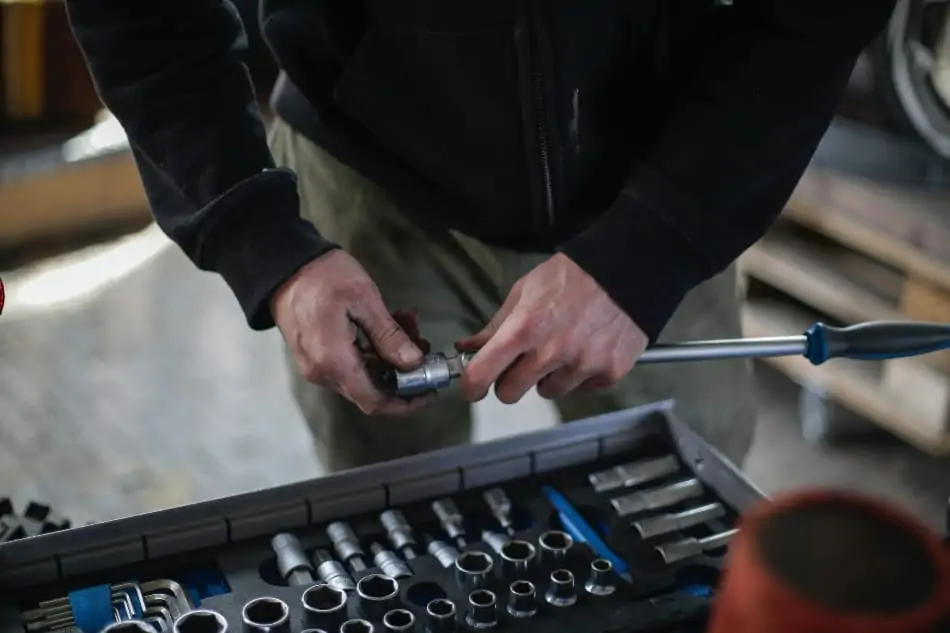 If you're still unsure about the assembly difficulty of a particular swing set, just ask your friends or family members who may have bought one before for some recommendations.
They'll be able to tell you how easy or difficult it was to assemble their product and what you need to accomplish the goal.
4. Swing Set Style
Adult swing sets not only come in different shapes and sizes but also in different styles. You can choose between a classic metal swing or see-saw for one person (or many people) to use simultaneously, as well as wooden swings with plastic seats that accommodate two adults at the same time!
The first style of adult swing sets is perfect if you're looking for something fun and compact that doesn't take up too much space in your backyard. They're also great for kids because they can play on them!
The second swing set style is ideal if you have a large, spacious backyard that needs something fun to make the whole family spend time outdoors. These are larger and allow two adults or even four children to use it at once!
5. Material Used in Construction
The other thing you need to pay close attention to while choosing swing sets for adults is the material used in construction.
We recommend choosing a swing set made of durable metals or wood to increase its lifespan and prevent it from rusting over time. Wooden swings are very popular with most people because they make excellent outdoor furniture, too!
These are usually weatherproofed before being sent out for sales and will provide years of outdoor entertainment with minimal maintenance. Plus, they're also very easy to replace if any part gets damaged due to rough use or heavy winds during a storm!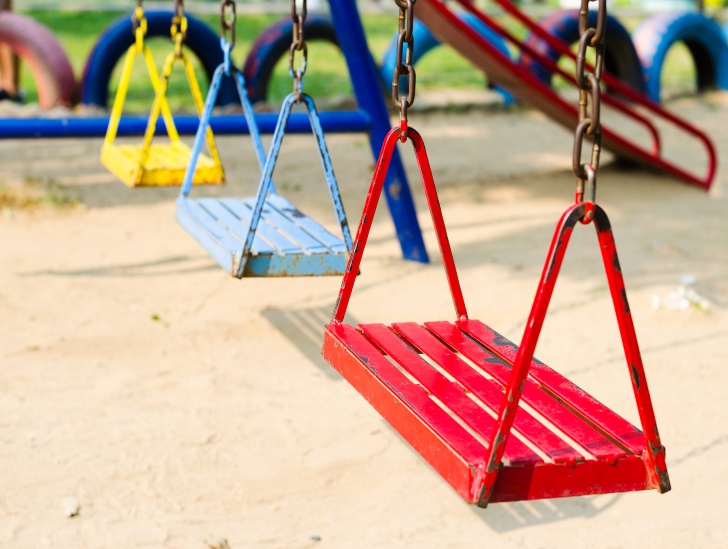 On the other hand, metal swing sets are recommended for those who prefer an ultra-stable product that won't wobble or tip over even when you play on it with your kids.
These swings usually accommodate more than one person at a time and will be able to withstand the weight of even huge adults!
However, you'll need a professional with some experience in metal welding to assemble the metal swing set because it's not as easy to put together as wooden swing sets are.
6. Height and Weight Restriction
When choosing a swing set for adults, you'll also need to look out for height and weight restrictions.
We recommend choosing a swing set with the highest possible weight limit because it will be able to accommodate more people at once. This is especially convenient when spending time in your backyard with your friends on warm summer evenings!
In addition, you'll also need to look out for an appropriate height limit because these swings are usually hung from a tree or a pole. You do not want to be stuck with a swing set that cannot accommodate your stature!
7. Size of the Swing Set
You should also consider how big or small the swing set is before you make a purchase.
Consider choosing a product with enough room for at least two people to play on it simultaneously.
This will allow both adults and children alike to have fun outdoors without feeling crowded! However, if you're buying this as an adult, we also advise going for a slightly smaller model, so you don't have to spend too much time assembling it.
Do not forget that you'll also need some extra space around the swing set so people can move about freely without disrupting others who are playing or resting on their swings!
8. Swing Set Features
Lastly, you should consider the additional features offered by the swing set before you make a purchase.
Go for a product with additional features such as a sandbox or a slide to add more fun and excitement for children!
In addition, it's also essential to look out for accessories like swings or ropes when shopping online since these products usually come without them included in the price.
If you're looking to buy a swing set for the entire family, then we recommend choosing one that comes with kid-sized swings and slides as well! These accessories are usually the first ones to get damaged due to constant use by children, so it's best if they come included in the package itself.
But you need to remember that not all swing sets come with the same accessories included in the package! So you should always read product descriptions carefully to avoid purchasing without knowing what you're getting.
Summary
There's no doubt that choosing the best swing set for adults can be a very time-consuming process.
However, if you follow the simple tips outlined above, it should be relatively easy to find something that suits your needs and budget pretty easily.  
Now that you understand what matters most when choosing an adult swing set, you should be able to find the best one for your backyard. Good luck, and keep swinging!