Wooden playsets are a great, long-lasting option for a playground or backyard. Children love them, and adults can enjoy the nostalgia of childhood with a wooden playset.
To get the most life out of a wooden playset, it needs to be maintained and preserved through careful weatherproofing and sealing. Wooden playsets are durable and fun. However, they must be well-kept for long term use.
Everything you need to know about wooden playsets is in this guide. This post covers where to find wooden playsets, what makes a wooden playset the better option, and, of course, how to preserve your wooden playset for years to come.
How to Preserve Your Wooden Playset
Preventing wear and tear on your wooden playset is essential to ensuring the playset has a long life. The following sections give in-depth information about how to preserve your wooden playset.
Preserving Your Wooden Playset
Preserving and maintaining your wooden playset is important to its longevity.
Here are the steps you should take to care for your wooden playset properly:
Seal, stain, and paint your wooden playset regularly. Follow the manufacturer's guidelines.
Watch for any cracking, warping, and splintering on any of the components.
Make repairs as needed. Do not allow children to play on a broken or damaged wooden playset.
Winterize, or weatherize your playset, as needed. This includes removing swings and slides to avoid damage from heavy snow, ice, and other potentially damaging weather conditions.
(Source: Eastern Jungle Gym)
Taking these measures to preserve your wooden playset is imperative to preserving your wooden playset into the future. By properly maintaining your wooden playset, you increase the safety of your structure and avoid any unnecessary injuries due to deterioration.
Are Wooden Playsets Weatherproof?
A wooden playset is not weatherproof. Depending on the type of wood your playset is made from, weatherproofing is essential to maintaining longevity. Softer woods don't hold up as long in extreme weather.
For instance, pre-treated pinewood playsets are much more resilient to weather damage than those made from softer wood, like redwood, or untreated wood, like cedar. You can also paint, stain, or seal your wooden playset with products that tout weatherproofing or waterproofing technologies.
How Do You Weatherize Your Wooden Playset?
All weather conditions, from the sun to wind to rain, can impact the length of time your wooden playset is in peak condition.
Here are some ways to weatherize your wooden playset:
Paint, stain, or seal your playset with a waterproof or water-resistant product.
Sand down high traffic areas to avoid splinters.
Watch for warped or rotting wood and replace lumber as needed.
How Do You Winterize Your Wooden Playset?
In many places, you have to worry about winter snowy and icy conditions. Heavy snow and ice can be very damaging to any playset.
Here are some ways to winterize your wooden playset:
Store the swings indoors and out of the elements.
Remove any canvas roofing, if possible.
Make sure your playset is sealed.
Dismantle slides and store them out of the elements.
(Source: Weatherize Your Playset)
Paint, Sealant, or Stain: Which is Which?
When you are taking steps to keep your wooden playset from deteriorating, make sure you pick the right product for your needs. When buying your paint, sealant, or stain, you'll notice that some products offer a combination of features. Many paints and stains are also sealants.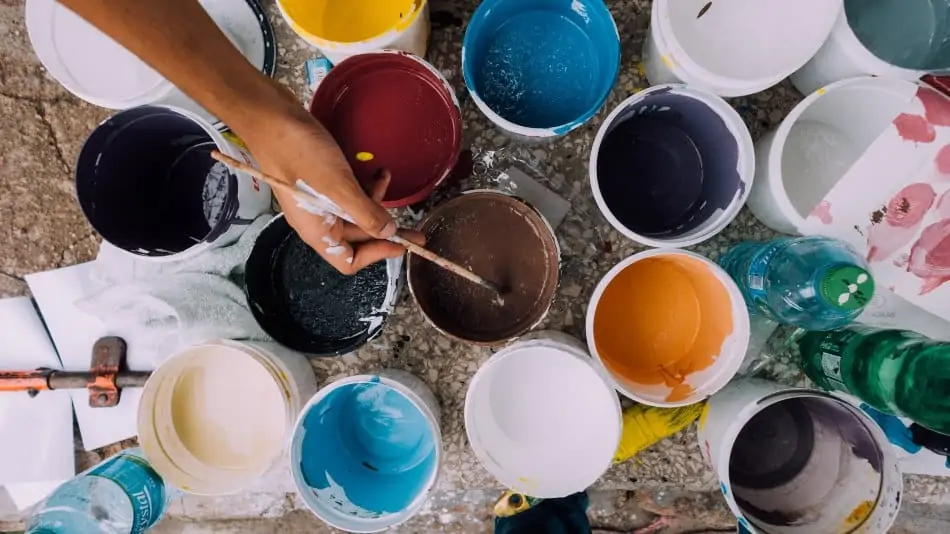 Wood paint offers the following features:
Multiple color options
Usually an opaque finish
No visible wood grains
Many add traction to avoid slips
Most paints dry quickly
Provides UV ray protection
Sometimes have a built-in waterproof sealant
Some varieties peel
Paints allow for more variability in color, and most of the time, you cover the wood grain altogether. However, the main drawbacks of paint are fading and peeling.
Wood sealant offers the following features:
Usually a clear gloss or matte finish
Water or oil bases
Gloss, semi-gloss, and matte options available
Protects against UV damage
Does not provide color to the wood
Allows for protection against mold, mildew, moss, and other stains
Sealants are the easiest to apply. You don't have to worry about the color application, and sealants allow the true wood to shine through the most – no stain or paint necessary.
Wood stain offers the following features:
Multiple color options
Wood grains show
Options for opaque or transparent stains
Can be formulated with a waterproof sealant
Offers a barrier to UV light
Can fade drastically over time
Does not always protect against mold and mildew
If you want the look of a different type of wood, a stain is the best option for you. For instance, if you are using pre-treated pine for your wooden playset but love the color of cedar, there are many cedar-colored stains on the market.
Depending on the wear on your wooden playset, you may want to apply a sealant over your paint or stain every year. Reapplying paint or stain to your playset is just as effective, but you may find it difficult to replicate the original colors.
Here are the steps for applying sealant, stain, or paint:
Clean your playset before application.
Once the playset is dry, apply the paint or stain in coats. Some products may only need one coat.
It usually requires at least 24 hours to dry but verify with the manufacturer's directions.
Note: Remember to apply sealant, stain, or paint when there is no chance of rain.
Products for Maintaining Your Wooden Playset
There are a lot of products on the market to help you maintain and care for your wooden playset. Since maintaining your wooden playset is the key to its long lifespan, below are products at different price ranges to help you keep your playset in peak condition:
| | | | |
| --- | --- | --- | --- |
|   | The Budget Buy | The Mid-Range Option | The Splurge |
| Sealant | Olympic Stain 421037 Smartguard Sealant Covers 500 sq. ft.Easy applicationDries in one hourCan be applied to wet woodConcentrated formula requires water to be added | Eco Advance Exterior Wood Water Repellent Spray-on applicationDries in 2 hours or lessWater-based and non-toxicClear finishReady to use or concentrate options | SEAL-ONCE NANO+POLY Penetrating Wood Sealer Water-based sealantLike oil-based products but saferUV barrierClear finish with color options availableEco-friendlyFamily, pet, and plant safe |
| Stain | KILZ Exterior Waterproofing Wood Stain Acrylic baseUV barrierWaterproofPrevents mildew3-year warrantySemi-transparent Multiple colorsRequires area to be dry at least 24 hours before applicationSanding before application required for best resultsSpray application | THOMPSONS WATERSEAL Semi-Transparent Waterproofing Stain WaterproofSealer and stain comboMultiple color optionsFade-resistantThe application can be on damp or dry woodUV and mildew barrier | DEFY Extreme Semi-Transparent Exterior Wood Stain Water-basedEnvironmentally friendlyWood grain shows throughMatte finishUV barrierPrevents color lossMaintenance doesn't require sanding or stripping woodMultiple colors available |
| Paint | KILZ Interior/Exterior Enamel Porch & Patio Latex Floor Paint Multiple color optionsFade, scuff, crack and peel resistantAcrylic paintDries in one hourSpray or brush application   | RTG Deck, Porch, Patio Anti-Slip Paint Four color optionsFast dryingNon-abrasive tractionBrush or roller applicationUV barrierEnvironmentally friendlyWater-based   | INSL-X SU092209A-01 Sure Step Acrylic Anti-Slip Coating Paint Available in 7 colorsSkid and slip-resistantIdeal for high traffic areasFills and seals cracksDo not apply in wet conditions |
| Paint brushes | Magimate Large Paint Brush Plastic handle gripEasy and fast application with a wide brushNo bristle shed   | KingOrigin 3 Pack Heavy Duty Professional Stain Brush Great for outdoor painting or stainingHolds more paint than a thin brushHandle with screw-on extension site Multiple sizes in one pack   | EVERSPROUT Goliath Deck Stain Brush & Extension Pole Combo 7-inch wide brushEasy extension attachmentGreat for painting, staining, or sealingBristles will not fall outMetal connectorDurable and quality materials |
| Power washer | Greenworks Pressure Washer 1500 PSI13 AmpHooks up to your home using a hoseSoap applicator included20 ft. hose35 ft. power cord | Sun Joe Electric High-Pressure Washer 14.5 Amp2300 PSISystem shuts off automatically when the trigger is not engaged2-year warrantyTwo detergent tanks   | Westinghouse WPX3200 Gas Powered Pressure Washer 3200 PSI1-gallon gas tankGas-poweredFive nozzlesSoap tank25 ft. hose4-stroke enginePumps 2.5 gallons per minuteWheeled for easy transport3-year customer support and coverage |
| Power sander | BLACK+DECKER Random Orbit Sander High removal ratePaper attached via hook and loop systemDust bagSanding pads sold separately5-inch sanderCompact size | TACKLIFE Sheet Orbital Sander 2.4 Amp motor4.5 by 9 inches sanding padSix speedsUp to 12000 rpmDurable aluminum basePaper attached via hook and loop systemBuckle dust boxUse a polisher to attach a towel instead of sandpaper | BOSCH Random Orbital Sander Variable speed2.5 Amp motorUp to 12000 rpmMicrofilter dust collectionCompact designIncludes sanding pad, disk, and hard-side carrying casePad dampenerPaper attached via hook and loop system5-inch corded system |
| Wood and lumber cleaner | Scotts Outdoor Cleaner OxiClean addedApply, scrub, and rinseRemoves dirt, moss, mold, mildew, and algaeBleach and phosphate-freeWorks on wood and wood compositeConcentrated, must add waterSpray application | RMR-86 Instant Mold and Mildew Stain Remover Removes mold and mildewRemoves odorsWorks on wood, lumber, and moreStarts working instantlyDoesn't require scrubbingReady to use   | Woodrich Brand Complete Wood Cleaner & Wood Brightener Kit Can be used on all types of woodKit for cleaning and brighteningNo bleach brighteningStrips away dirt, dead fibers, and post-oil-based stainsRemoves mold and mildewCan be used on decks, fences, and siding Covers up to 750 sq. ft. |
All of these products have great ratings and allow you to choose exactly what is right for your backyard and your playset. If you decide to buy a wooden playset, check with the manufacturer for care instructions and product suggestions, as well.
How Long Does a Wooden Playset Last?
If you properly care for your wooden playset, it can last up to 20 years. This makes the investment in a quality playset worth it! There are a few things to consider that would affect your wooden playset's life.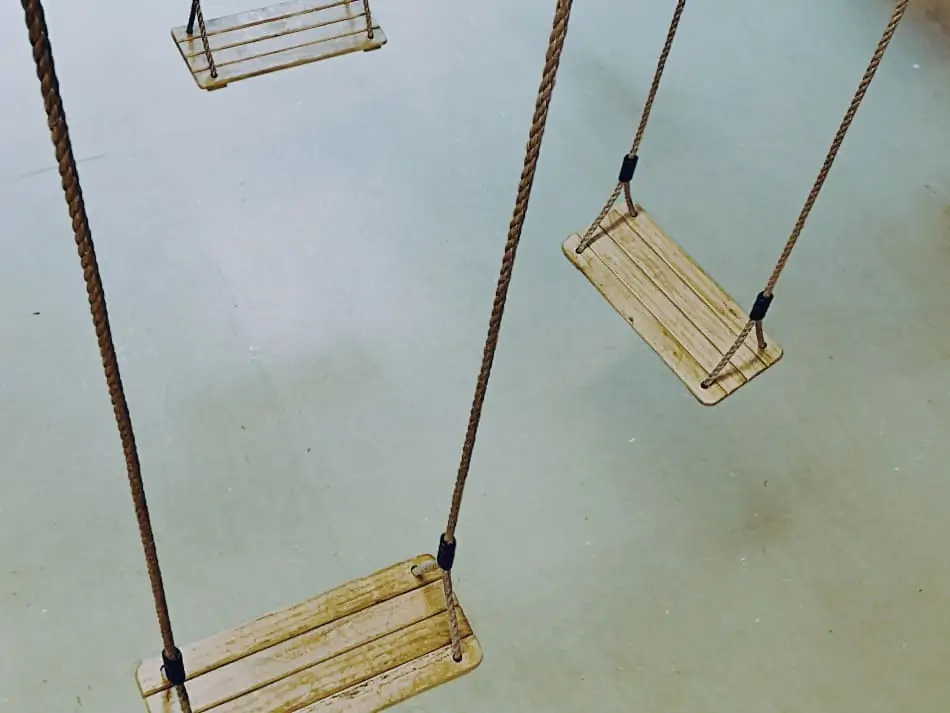 Some factors that can affect a wooden playset's lifespan are:
Proper maintenance – Washing, sealing, and staining.
Type of wood – Pine, cedar, and redwood can have drastically different lifespans.
Weather conditions in your region – Water damage can accelerate the time it takes for wood to rot.
Keep these factors in mind when choosing a wooden playset. These are all things you should consider to make sure your wooden playset does not deteriorate at a faster rate than normal.
What If My Wooden Playset is Deteriorating?
A wooden playset can deteriorate over time if left to the elements. There are ways to prevent and stop deterioration. You can most likely turn the damage around with a few simple fixes.
Some ways to fix a deteriorating wooden playset based on solving or preventing problems are:
| | |
| --- | --- |
| Problem | Solutions |
| I see split, cracked, and warped wood on my playset. | Buy new lumber and replace all damaged boards. |
| My wooden playset is dirty. | Clean your playset using soapy water and a hose or power washer. You can also use a wood cleaner. |
| The paint on my wooden playset is peeling. | Repaint as soon as possible. Sand down areas with peeling paint.  Add a new coat or two.   You may need to repaint the whole structure if you don't want a patchy or splotchy look. |
| Is my wooden playset ready to stain or paint? | Make sure your wooden playset is clean and dry, and the weather is clear with no expected rain, then you can stain or paint your playset. |
| Do I need to apply a sealant after painting or staining? | Some paints and stains also act as sealants. So, for the first application, you may be able to skip a sealant.   If you are doing upkeep, you may be able to get away with only resealing the wood to increase its water repellent capabilities. This way, you avoid worrying about rematching colors. |
| When should I inspect my wooden playset? | Your wooden playset should be inspected before each use.   A more thorough inspection for structural integrity should be done every year or two. |
| Why should I check with the playset's manufacturer? | The playset's manufacturer may have detailed instructions on how often to re-stain or reseal your wooden playset. |
There you have it! Maintenance is key to the long life of your wooden playset. By keeping up with your wooden playset, it will be looking as good as new year after year.
Best Options for Wooden Playsets
Wooden playsets are generally made from one of three types of wood. These woods are chosen because they are dense and respond well to the elements and wear and tear from children. To choose the best option, you should consider the pros and cons of the climate in which you live.
Most wooden playsets are made from one of the following woods:
However, it can be hard to decide what type of wood is the best option for you. Below is a table comparing the three common types of wood used to build wooden playsets:
| | | |
| --- | --- | --- |
|   | Pros | Cons |
| Cedar | Repels insectsRepels waterCan last up to 20 yearsLeast expensive option | Untreated woodMust be cleaned, stained, and painted to prolong its lifeCheck dimensions before purchase to ensure child safety   |
| Pine | Pressure-treated option maximizes the valueMost durable choiceCopper-based treatments replace the arsenic versionTreated wood helps repel insectsReduces decay, shrinking, and warpingWithstands severe weatherAble to absorb more water than other optionsCan last for over 20 years   | Not as resistant to rot unless sealed properlyMay splinter more easilyOld pressure-treated pine used arsenic in the treatment processMust seal every two years to maintain treatmentMid-range price point |
| Redwood | Repels fungi and insects because of high tannin contentNatural cinnamon color | ExpensiveMust be cleaned, stained, and painted to prolong its lifeRequires waterproof sealant to maintain reddish colorMay require steel supports for added safetySoftwood that begins to rot after five yearsMore prone to warping due to a decline in wood quality |
(Source: Wood Types)
No matter the final choice, you want to make sure the wood is properly treated, stained, and sealed to ensure the utmost safety of your children. Most people opt for the pine option because it is pre-treated, which lends to its long life as well as its easy maintenance.
Keeping Your Wooden Playset Safe
With a wooden playset, there are many features you want to watch out for when making your purchase. Keeping your children safe at all times is the highest priority.
Some things you may want to avoid on your wooden playset are:
Metal swing chains – Avoid pinching and burning by investing in a coated chain.
Raised screws and hardware – Avoid hardware that sticks out and can easily get caught on clothing or injure hands and knees when crawling around; Make sure to use cap bolts and close S-hooks.
Warped wood – This can be dangerous because the strength and stability of the wood have been compromised.
Canvas roof coverings – These are a breeding ground for mold and mildew, especially if you live in a damp and humid climate.
Splinters – Avoid splinters by frequently sanding down, covering, or replacing old wooden boards and beams.
You must also know and communicate the weight limits on your wooden playset. As kids grow, you want to consider a wooden playset that will be sturdy and safe through the wooden playset's entire lifespan.
Here are some ways to avoid unnecessary injuries from your wooden playset:
Always inspect your wooden playset at the beginning of the season and make necessary updates.
Check your wooden playset each time before play starts to make sure nothing is out of place or potentially dangerous.
Establish rules for playing on your wooden playset.
Keep a close eye on children as their creative and adventurous spirits prime them for accidents during play, especially when elevated on a playset platform.
Creating a safe space for play is very important for your children. Maintenance and frequent inspections are key to keeping wooden playsets in tip-top shape over the long term.
Why Are Wooden Playsets Better?
Wooden playsets offer a range of benefits. To help you identify if a wooden playset is right for your family, below is a side-by-side list weighing the pros and cons:
| | |
| --- | --- |
| Benefits of a Wooden Playset: | Downsides of a Wooden Playset: |
| Long-lasting and durableMagical feelCastle-like designsStrong sense of nostalgiaFun for all ages   | Slippery when wetChance of splintersRequires upkeep to maintain the structureMay require additional supervision depending on size and surrounding spaces |
Now that you have a complete understanding of wooden playsets, you may still be wondering why a wooden playset is the best option for you.
Below is a table that compares how a wooden playset stacks up against playsets made from metal and plastic:
| | | |
| --- | --- | --- |
| | Pros | Cons |
| Wooden Playset | Usually sustainably harvested and environmentally friendlyEasy to customizeReplacements are relatively easyCan easily blend into a backyard | Additional upkeep to maintain woodBends and warps over timeCan become a home for insectsScrews can loosen and become dangerousSplinters are common, if not maintained |
| Metal Playset | Does not bend or warpSturdyDoes not wear like other materialsEasy assembly | Gets hot in the sunStructural security can be compromised when damage occursDifficult to repair or replace pieces |
| Plastic Playset | Molded pieces allow for easy constructionSafe Great for young childrenBudget-friendly   | Cracks or breaks causing sharp edgesSun bleaching and discoloration easily occurDamage to the structure is non-repairable; must be replaced |
Depending on the needs of your family, you should consider all your options for playsets. By far, wooden playsets offer the most pros. However, wooden playsets require increased attention and care to remain durable and safe.
How to Build A Wooden Playset
Building a wooden playset can be a fun way to connect with your family and customize your backyard. However, building a playset is not for everyone, and on average, it will cost more than buying a playset that only requires assembling. This is especially true if you do not have a majority of the materials on hand. The cost of tools and lumber can be more expensive than you might expect.
Here are the materials needed to build a wooden playset:
Lumber (sizes vary)
Measuring tape
Drill
Speed square
Screws – deck and structural
Lag bolts (optional, use instead of structural screws)
Joist hangers
Angle brackets
Level
Clamps (optional, use if you are working alone)
Saws – miter, oscillating, reciprocating, jigsaw, and circular
Paint, stain, or sealant
Swings, chains, and brackets
Slide(s)
Follow these steps to build a wooden playset:
Take measurements of your yard. Decide how large your playset can be based on the space you have available in your yard.
Using a set of pre-made plans or your own design, calculate the amount of wood you will need. Look back at the comparisons of wood above to make your decision easier.
Head to the lumber yard and select the best type of wood for your needs. Making all your purchases at once will eliminate wasted time traveling back and forth, as well as having to stop and start as more materials arrive.
Once you have all your materials, you are ready to start building. Start with the base of your structure.
You want to use your level and make sure the base is square before you continue building up.
Building can take multiple days. At some points, you may need additional help to hoist beams and other larger boards into place. Remember: measure twice, cut once!
After your playset is constructed, you will seal and stain or paint your playset.
Here are some tips for building a wooden playset:
Predrill screws – Avoid having to handle boards and hold screws at the same time.
Measure from one side – Start from the left or the right of your boards, but be consistent to avoid any potential shifts.
Use angle brackets, joist hangers, and corner braces – Added structural support for your child's safety.
Make sure everything is square and level – Before adding all your screws, always check that things are in the right place.
Do not skimp on support – Adding angle supports to your bases and brackets in the corners will give you added security and peace of mind.
Use lumber to your advantage – Use regular decking and fence boards on your playset to add a nice finish and save you time.
Attach anti-slip tape – Apply to stair treads or ladders for added traction.
In Summary
Wooden playsets are a wonderful investment for your yard. They can easily be adapted to match your house and blend into the background. With the right care, your wooden playset can last a long time.
Most wooden playsets can last over 20 years if proper care is taken to maintain the structure. Getting the most life out of a wooden playset is dependent on the owner's diligence and attention.