A playset adds value to any home. It is a significant investment, and it can provide endless hours of fun for children. It also plays a critical role in a child's development, helping them to stay active and encouraging social interaction. However, before you buy and install an outdoor playset for your children, you need to know a few things.
So, what do I need to know about a small outdoor playset? You first need to know that playsets are made from different materials. The most popular material is wood, but there are also playsets made from plastic, metal, and even recycled materials. Remember that size matters and you will always get what you pay for. The good thing is that quality playsets come with warranties and pre-drilled holes for easy installation. Lastly, you need to know that the right surface material improves playset safety immensely. Quality surface material absorbs impact and provides a softer landing for kids, should they fall.
This blog post discusses everything you need to know about small outdoor playsets. Keep reading to learn more.
Understanding the History of Playsets
Before we dive into the nitty-gritty of playsets, let's first take a step back and understand where they come from.
The first recorded use of the term "playset" was in 1953. However, it is believed that early forms of playsets date back to the late 1800s.
These early forms were made from metal and wood and were often found in public parks. It wasn't until the 1950s that playsets became a common fixture in American backyards.
The earliest backyard playsets were simple structures that included a few swings and a slide. However, as technology progressed, so did the features of playsets.
Today, there are all sorts of different features that can be included in a playset, such as monkey bars, rock wall climbing, zip lines, and more.
What Are the Major Components of an Outdoor Playset?
A standard outdoor playset includes the following components:
Swing set: A swing set is one of the essential components of a playset. It provides hours of fun for children and encourages them to get outside and play.
Slide: A slide is another classic component of a playset. Slides come in different shapes and sizes and can be made from different materials, such as plastic, metal, or wood.
Climbing wall: A climbing wall is a great way to encourage kids to be active. It helps them to develop upper body strength and coordination.
Play structure: A play structure is a platform that typically includes a fort, tunnel, or tower. It provides a place for kids to explore and play.
Why Do You Need to Install an Outdoor Playset?
The truth is that there are many reasons why you should install an outdoor playset. For starters, it provides endless hours of fun for children. It also helps them to stay active and encourages social interaction.
Moreover, it is an excellent investment that can add value to your home. Here are some more reasons why you should install an outdoor playset:
1. Helps children develop gross motor skills
Gross motor skills involve using large muscles to perform tasks such as sitting, standing, walking, running, and climbing.
Installing an outdoor playset can help children develop these skills. Additionally, it can also help improve coordination and balance.
2. Encourages social interaction
Outdoor playsets allow children to interact and socialize with other kids. It can help them develop their communication and social skills.
3. Fosters imagination and creativity
When children play on outdoor playsets, they use their imagination and creativity. They come up with new games to play and create imaginary worlds. This helps boost their cognitive development.
What Material Is a Playset Made Of?
The two primary materials commonly used to construct playsets are metal and wood. A playset can be built entirely of wood, entirely of metal or a combination of the two.
However, most toddler playsets are made entirely of plastic since it is a softer material that is less likely to cause injury if a child falls.
When we refer to the playset material here, we are referring to the main frame of the playset. Obviously, some aspects of the playset will have a combination of both wood and metal.
For instance, the belt swings and the slides will be made of high-density plastic in most playsets, while handhold bars will mostly be made of metal.
Metallic playsets are mainly constructed from steel and are available in various colors. The steel is covered with a powder-coated finish to protect it from rust and weather damage.
The powder coating also gives the metal a glossy finish that looks great. Metallic playsets are very durable and require little maintenance.
Wooden playsets are mostly made from cedar because it is a softwood that is light in weight yet strong and durable. Cedar is also naturally resistant to rot and insect damage.
Another advantage of cedar is that it has a natural reddish color that looks great. However, wooden playsets require more maintenance than metallic ones because they must be stained or painted regularly to protect them from extreme weather elements.
What Are the Different Types of Outdoor Playsets?
There are three main types of outdoor playsets, namely:
Freestanding: A freestanding playset is not attached to your home or any other structure. This type of playset is ideal if you have a lot of space in your yard.
Attachable: An attachable playset is designed to be attached to your homes, such as a deck or patio. This type of playset is ideal if you have limited space in your yard.
Portable: A portable playset can be moved from one location to another. This type of playset is ideal if you do not have a lot of space or if you plan on moving in the future.
Size Matters
When it comes to outdoor playsets, the deck size matters. The deck is usually a raised floor that serves as the top of the playset.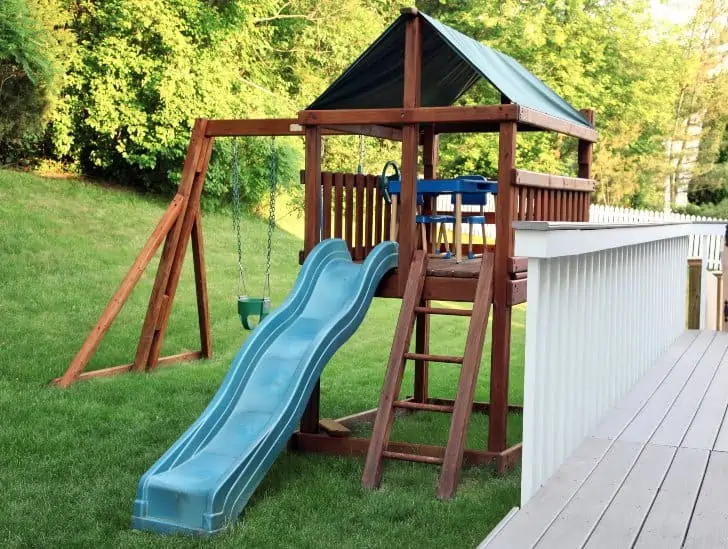 Most outdoor playsets have a deck height of 4 to 5 feet. The deck size will determine how many activities can be included on the playset and how many children can play on it simultaneously.
For instance, if you have a small deck, you will not be able to include as many activities or accommodate as many children as you could with a larger deck.
When it comes to the size of the playset, you also need to consider the age of your children. You will want to get a smaller playset if you have very young children.
As they get older, they can use a larger playset. Keep in mind that the size of the playset will also determine the price.
Safety First
When it comes to outdoor playsets, safety is always the number one priority. You need to make sure that the playset you purchase is age-appropriate for your children.
You also need to make sure that the playset is made from high-quality materials that are durable and safe.
In addition, you need to make sure that the playset is installed correctly and that it meets all local safety codes.
Most importantly, the surface material you choose plays a crucial role in the safety of your children. The most popular options are mulch, pea gravel, and rubber mats.
Mulch is the least expensive option, and it looks great but can be a bit messy. Pea gravel is a bit more expensive than mulch, but it drains well and does not get as messy.
Rubber mats are the most expensive option, but they are durable and easy to clean.
No matter what type of surface material you choose, ensure it is at least 12 inches deep. This will help to cushion any falls and prevent injuries.
How Much Does a Small Outdoor Playset Cost?
A small outdoor playset can cost anywhere from $200 to $1,000. The price will depend on the size of the playset and the type of materials used.
If you have a small budget, you can purchase a used playset, or one made from relatively lower-quality materials. However, you can still purchase a new playset made from higher-quality materials if you have a larger budget.
How Long Does It Take to Install an Outdoor Playset?
Installing an outdoor playset can take anywhere from a few hours to a few days. The time it takes to install the playset will depend on the size of the playset and how difficult it is to assemble.
If you purchase a used playset, it may take longer to install because you will need to clean and repair the playset before you can assemble it.
Sometimes, you may need to hire a professional to assemble and install the playset. This will add to the cost of the playset, but it will ensure that it is installed correctly and safely.
Summary
An outdoor playset is a great way to keep your children active and entertained. When shopping for an outdoor playset, you need to consider the size, the type, the price, and the installation process.
You also need to ensure that the playset is age-appropriate and made from high-quality materials. Most importantly, you need to choose a surface material that is safe and easy to clean.
No matter what type of outdoor playset you choose, your children are sure to have hours of fun.
Last update on 2023-07-23 / Affiliate links / Images from Amazon Product Advertising API