Of all the decisions you will ever make when planning your backyard, choosing the best swing set for your kids may be the most important one. A swing set is a strategic investment that can benefit everyone in the family. Unfortunately, these playsets are not a one-size-fits-all, and when you make a wrong decision, it means wasted money because your kids won't be using it. You need to take time and identify the best swing set that your kids will enjoy for many years.
So, how do you choose the best type of swing set for your kids?  Typically, the right swing set must be strong, safe, durable, entertaining, and should be able to accommodate all the kids in your household and their friends. When you are choosing the best swing set for your kids, make sure it is relatively simple to set up and consider purchasing it from a retailer who is willing to do all the heavy lifting for you.
Some sellers even offer free installation as an after-sales service. This is critical because it will ensure the set is put together correctly.
In this blog post, we discuss everything you need to know about choosing the best type of swing set for your kids. Read on to find out the critical things you need to keep in mind while investing in a swing set.
1. Consider the Size of Your Backyard
The most important thing you need to be aware of before you step out to purchase a swing set is your backyard's actual size. Typically, if you have a smaller backyard, you may be forced to go for a relatively smaller swing set with just one swing.
However, if your backyard is big enough to accommodate a bigger swing set, go for it.  Take time to measure the exact width and length of the available space and carry the measurements to the store. While choosing the swing set, consider leaving enough space around it.
Avoid setting it up close to shrubs or trees because the swing set might easily collide with the trees, which may injure your little ones.
Typically, swing sets require at least six feet of space around them for safety. The last thing you need to consider while choosing where to install the swing set is whether you can see the kids on the set from your windows.
If you need 30 minutes to prepare them something to eat after the play, you will want to keep an eye on them and make sure everything is okay. Therefore, it is important to position the swing set somewhere visible.
2. How Big Is Your Family?
Will there be sufficient room for multiple kids to swing on the set actively?  Can it accommodate your kids' friends when they visit?
Keep in mind that it is almost impossible to stop your kids' friends from coming to play with them the moment they realize you have a swing set in your backyard. So, if you have two kids, you should consider acquiring a swing set with at least four swings.
Another important thing you need to consider is your kids' age.
Even though they may not be toddlers yet, think about the next couple of years and how much they'll have grown.   Having a swing set is an important investment that should serve you for many years. As kids grow older, you want it to continue adapting to their changing needs and expectations quite well.
If you find the right swing set, you might even be able to modify it and add extra accessories to serve your kids better as they grow older. Some of the critical questions you need to answer while shopping for a swing set include:
How many kids do you have, and how many are you planning to add?
Do your children have friends that come to your home to play with them?
Are there enough swings to accommodate your kids and their friends?
Are you a stay-at-home parent, or will you be leaving the kids under the care of someone else?
3. Type of Swing Set Material
There are three types of materials used to make swing sets- wood, metal, and plastic. Each swing set material is different from the other and may significantly impact your kids' needs.  The most common materials for swing sets are wood and metal. The plastic ones are mainly for kids below the age of one year.
Many people prefer wooden swing sets because they are durable and easy to maintain. Well treated wood offers a robust and sturdy setup for the long term.
Cedarwood doesn't decay and is insect-resistant. Its color is also a great addition to your backyard. You can also find lumber, and southern yellow pine sets treated with non-toxic chemicals for your backyard.
Pros of wooden swing sets
Wood is easy to maintain
Naturally, they don't decay or rot
Wood is sturdy, and the heavy-duty bolts and hardware increase safety.
Long-term solution
Doesn't get too hot during summer
Cons of wooden swing sets
Installation takes much longer compared to metallic sets.
There is a possibility of termite damage.
Overall, wood is heavier than metal.
Another option is the metallic swing set.  If your kids are too rough or older, a metallic swing set is the best option. Choosing metal over wood is also much more affordable, but the actual price will depend on what you are looking for.
The most important thing you need to consider when choosing a metallic swing set is your little ones' age and size.
Pros of metallic swing sets
Metallic swing sets are practically maintenance-free due to powder-coated finish.
Less expensive than wooden sets.
Relatively easier to install.
Finish-coated metal isn't prone to rust.
Cons of metallic swing sets
They get too hot during summer.
Metallic swing sets may not support older kids as good as wooden swing sets.
Not as sturdy as wood.
Some parts of the metal may bend or break.
Before you pay for that swing set, check to see if it is maintenance-free.  Take time to ask the seller some questions about the set. If you are purchasing a wooden swing set, you need to keep in mind that it will require re-staining quite often to stop it from losing its original appearance.
4. Consider Maintenance
Some vinyl/plastic playsets for toddlers will never need staining, repainting or maintenance to withstand strong weather elements. Metallic swing sets are also maintenance-free but may not serve you for too long compared to wooden sets.
5. Safety Features and Concerns
Keep in mind that we are talking about the well-being of your kids. Besides having the recommended amount of space around the swing set, you also need to consider other safety features.
Inspect underneath the set to ensure there are no hazardous items around it, and the underground surface is soft enough. You can even cover the underneath surface with artificial grass or soft sand.
Just make sure you avoid concrete, tiles, or other hard surfaces for your kids' safety. Think of the following questions when deciding on the safety of the swing set:
Does it have commercial-grade hardware?
Is the wood treated with toxic-free chemicals?
Does the set come with recessed hardware? (The hardware shouldn't be sticking out)
Is the wood pre-drilled for safety and convenience?
Does the manufacturer offer a warranty?
6. Leave the Installation to Professional
Even though it might be a bit costly to pay professionals to handle the installation, it is worth it. The truth is that installing a swing set isn't as easy as most of us believe.  Unless you are 100% sure of what you are supposed to do, it is better to let someone with experience dealing with this kind of stuff do it for you.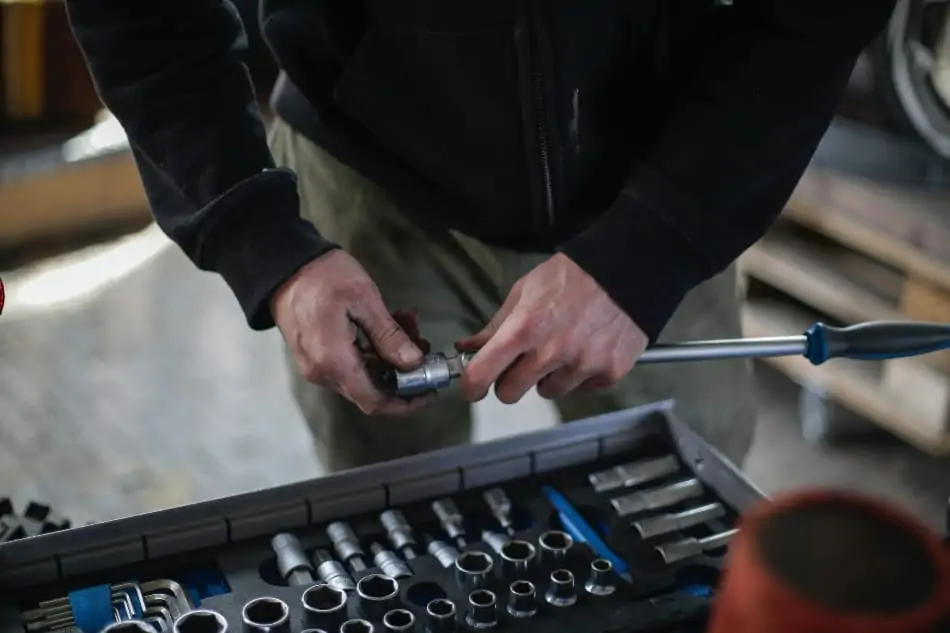 If you choose to take the DIY route, take time to inspect the package and ensure you have everything you'll need to install the swing set. Contact the manufacturer/seller immediately if there are any missing or damaged parts.
Gather all tools recommended in the installation manual and have additional basic tools such as a level, tape measure, markers, and ground stakes. You should also have a hammer, wrenches, pliers, and a flat head screwdriver.
Follow all the instructions outlined in the installation manual and take as much time as possible as long as you do the right thing.
Final Thoughts
Community playgrounds are often overcrowded, denying your child the opportunity to enjoy himself/herself to the maximum. It can even be dangerous if there are many kids playing on the swing set at the same time. That is the primary reason why many people choose to install swing sets in their backyards.
We have shared with you the most critical factors you need to keep in mind when choosing the best type of swing set for your children. We hope you found this post educative, and the information outlined in it will help you in making an informed decision.