Playgrounds are an essential part of child development and recreation.  They provide both kids and adults with a good venue to release energy and enjoy the marvelous outdoor experience.
However, before you build a playground, you need to consider a wide range of factors, including the overall cost, available space to work with, and if the playground is for private or commercial use. You must also decide whether you want professionals to help you or you will do everything yourself.
Without proper budgeting during the planning phase, you may run into unexpected costs which might derail your effort.
So, how much does it cost to install a good playground?  How much does it cost to equip the playground after installation?  We are going to answer these questions in this post. 
How Much Land Do You Need to Build a Simple Playground?
Before we go into the actual cost of installing a playground, you need to figure out if you have sufficient space where you will install the playground. Typically, you don't need a lot of ground space to install a playground.
If you are looking to build a simple playground in your home, the backyard space may be enough. However, if you are looking to install a commercial playground, you will need more space. The amount of space you need will mostly depend on the type of equipment you plan to install on the playground.
Given that most playground equipment needs some space for kids to run around the structure, the smallest backyard that can be converted into a playground must be approximately 12-feet by 15-feet.
If you have more space, you can build a relatively bigger playground with slightly complex play structures with more accessories.
How Much Does a Playground Cost?
This is one of the most commonly asked questions when it comes to building a playground. Unfortunately, the short answer to the question is that "it varies."  Every playground is unique, and the cost used in its construction varies depending on a wide range of factors.
Right from site evaluation and product selection to equipment installation and maintenance, you need to ensure your budgeting is on point to avoid running into problems.  Conduct thorough research and come up with rough estimates to guide your budget allocation for different project parts.
It is highly recommended to work with a local certified playground professional, preferably with a CPSI certification or its equivalent.  This will ensure you have an experienced playground expert by your side throughout the process. The expert will help you with budgeting and advise you on safety guidelines you need to follow when designing your playground.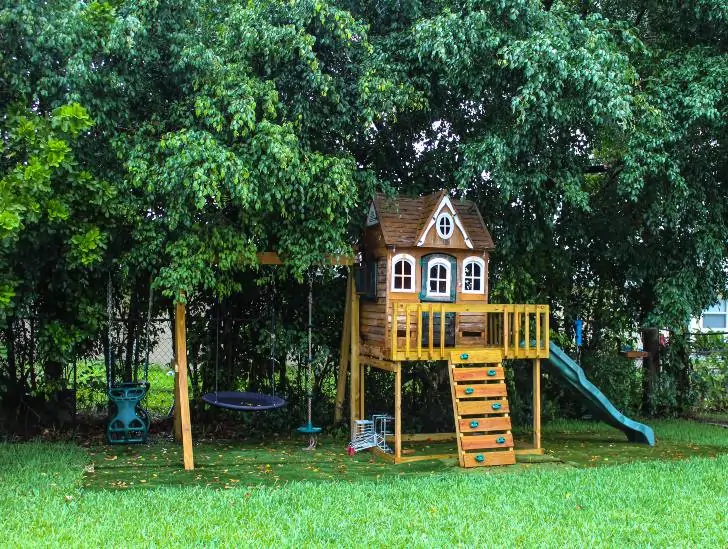 Some of the critical factors that go into playground budgeting include;
Size of the available space
Capacity: The overall capacity of the playground
Play structures: Play structures tend to vary in cost based on the components selected and the degree of accessibility that needs to be integrated.
Site amenities: What types of furnishings and shelter options do you need?
Site work: Does the site require land prep or site prep before the equipment is installed?
Signage and fencing.
Access paths: Do you need to construct walkways, access paths, or parking areas?
Playground surfacing: What type of playground surfacing is being used?
Shade structures: Do you need to construct picnic shelters/pavilions and other amenities such as receptacles, drinking fountains, picnic tables, etc.?
Playground Surfacing Cost
If you are constructing a playground in your home backyard, you can always use grass as the surfacing material, but you need to mow and maintain it frequently to minimize the risk of injuries. However, if you are building a commercial playground, you will need to use a better surfacing material.
Playground surfacing material must be inspected and replenished regularly to keep it safe. Below is a summary of the costs involved in installing some of the common playground surfacing materials:
1. Pea Gravel for Playgrounds Cost
Pea gravel is still being used in many community playgrounds around the world. Although it is an affordable option for many people, it migrates easily and is a significant choking hazard for kids. It may also leave your little ones with bruises since it is not a soft material.
However, one of its biggest advantages is that it is a low-cost option that is readily available. On average, you will spend anything between $0.90 and $1.50 per square foot of pea gravel.
2. Mulch Surfacing Cost
Some individuals choose to use landscaping or gardening mulch to cover their backyard playgrounds. Mulch is relatively cheap, readily available, and comes in a wide range of colors. However, you need to keep in mind that it is a choking hazard for kids and may leave them with splinters.
You need to replenish the mulch at least twice every year to keep it safe. A square foot of mulch will cost anything between $0.50 and $1.
3. Poured Rubber Playground Surface Cost
If you are constructing a relatively large playground, poured rubber may be the best option for you.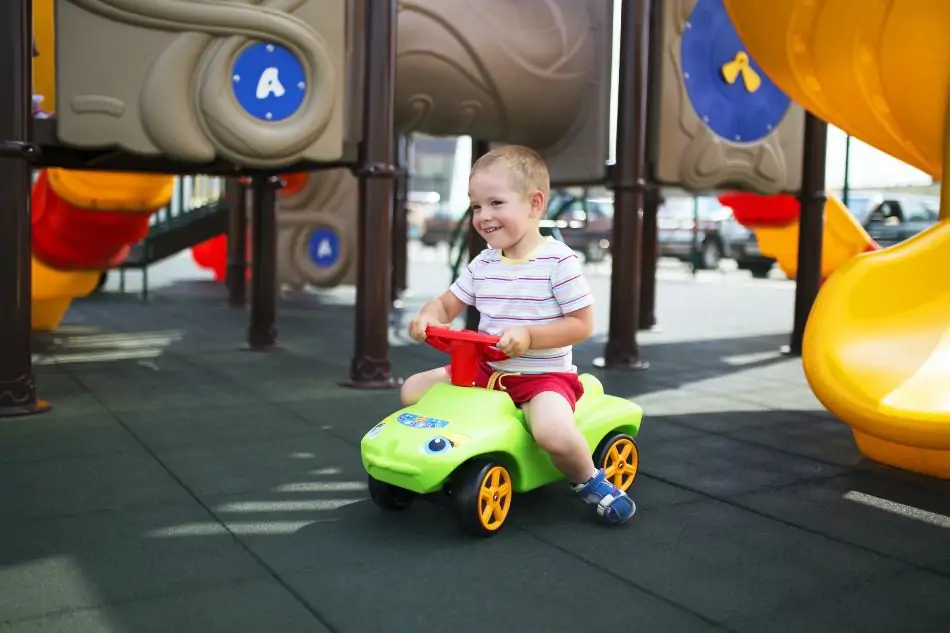 Poured rubber is springy, low maintenance and usually provides a safe landing ground for kids.  The only downside of poured rubber is that most manufacturers will only pour at least 1000 square feet at a time.
Therefore, it might be the best option for smaller backyard playgrounds. The material usually costs anything between $8 and $14 per square foot.
4. Sand for Playground Cost
Sand makes a good surfacing material for most playgrounds out there. The only thing you need to keep in mind when you go for sand is that playground sand must be at least 12 inches deep.  Playground sand is fine enough and doesn't contain gravel or rocks that may cause injuries.
If you choose to go for sand, you will need to have a few barriers in place to avoid sand migration. You may also need to replenish it every year to keep it deep enough. A square foot of sand costs $4-$8 on average.
5. Artificial Grass for Playground Cost
Artificial grass, also known as turf, is a great option for homeowners who want to maintain a natural look of grass in their backyard playgrounds. Artificial grass is usually soft and doesn't cause injuries like other materials.
Furthermore, it doesn't require a barrier to hold it in place. On average, artificial grass costs between $3 and $6 per square foot.
How Much Does Playground Equipment Cost?
Installing a playground means installing different types of play structures. Some of the common play structures include slides, towers, swing sets, climbing walls, and other accessories. These play structures cost different amounts of money.
Here is a quick summary of playground equipment costs.
1. Sandbox
Sandboxes are mostly used in backyard playgrounds. They are usually simple boxes made of wood with shade and sitting benches. They cost anything between $100 and $500, but you need to purchase sand separately. The sand can cost you approximately $10/bag.
2. Swing Set Cost
Swing sets are made of metal or wood. They come in multiple sizes, but the cost doesn't differ significantly. Wooden swing sets have multiple accessories and options, making them a little bit more expensive than metallic sets. On average, a wooden swing set will cost between $100 and $3,000, while a metallic one will cost between $100 and $1,000.
3. Playset Cost
If you have plenty of space and want something that keeps kids busy for many hours, then you should consider installing a playset. A playset is a relatively larger and wooden structure that contains multiple pieces of play equipment in one.
A standard playset will have a slide, tire swing, regular swing, shaded area, climbing wall, playhouse, sandbox, see-saw, and other accessories that encourage imaginative play.
The cost of playsets differs based on size. The larger the playset, the more likely it will cost more because it will contain many parts and accessories for play. Smaller playsets cost anything between $400 and $800, while larger ones can cost up to $5,000.
4. Slide Cost
Slides are attached to the side of a swing set or maybe completely freestanding. They can be short for younger kids and relatively tall for older kids. A good slide will cost anything between $200 and $2,000 on average.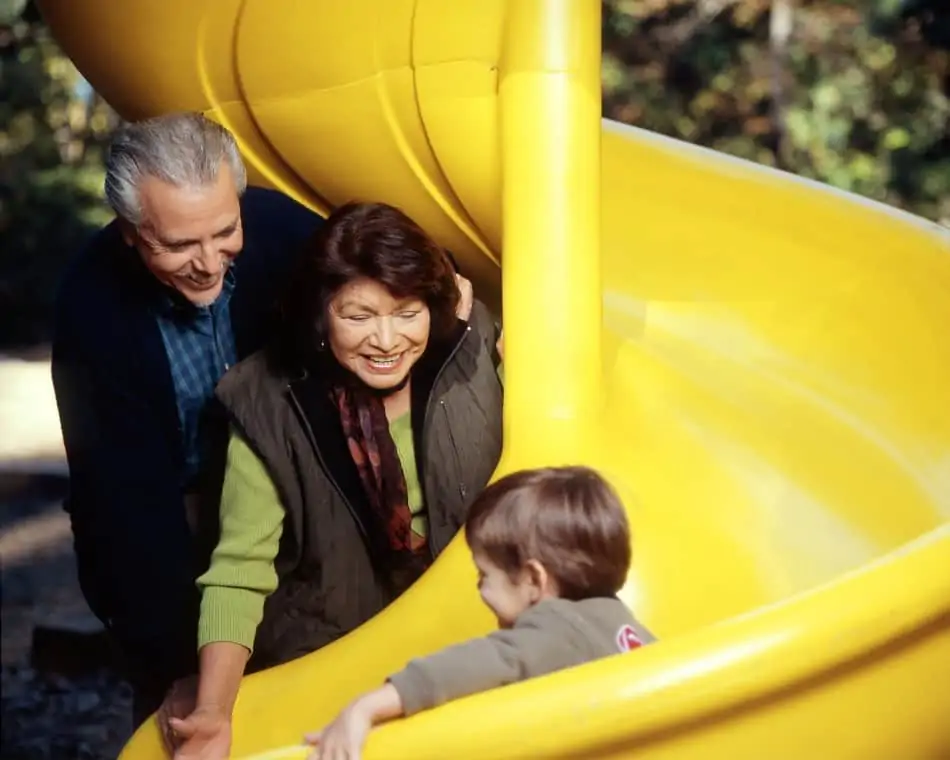 Cost of Installing Playground Equipment
Once you have brought in the playground equipment, you will need to assemble everything to get them ready for play.  If you purchase your equipment directly from a manufacturer, the assembly and setup cost may be included in the price you pay.
However, if you purchase your equipment from local distributors, you may be forced to pay extra money for installation or do it yourself.  The average cost of installing playground equipment will range between $500 and $1,000 depending on the time required to complete the project.
While you can definitely assemble the smaller equipment yourself, you will need professional help with the larger sets to minimize the risk of accidents.
Summary
The cost of building a playground depends on a wide range of factors which we have highlighted in this post.  The overall amount of money you spend on the project will mostly depend on your preferences and the amount of work that needs to be done right from site evaluation to equipment installation.
Working with qualified and certified playground professionals can help you save a lot of money in the long run and build a safe environment for child play. We hope you have been informed and can now weigh your options before you commence your project.