As soon as kids start moving by themselves, they look for things to climb. While sometimes climbing can be dangerous, you can make it safer by building an environment where kids can explore their abilities. One of the best things you can do is get them safe climbing equipment.
You can get kids who love climbing monkey bars, swings,  dome climbers, rope climbers, and other playground equipment. You can also get them indoor rock-climbing walls and other gear.
Climbing is an excellent way for kids to stay active, and it can be a fun family activity, too. Read on to learn what you can get your kids who love climbing and important safety tips.
Playground Climbing Equipment for Kids
Monkey Bars
If your kids love climbing, the monkey bar is one of the best equipment you can get them to horn their skills.  The monkey bar is a set of horizontal bars raised off the ground. Kids can use them to swing, climb, and play games.
There are many benefits to monkey bars. For one, they're a great way for kids to stay active. They're also great for coordination and problem-solving skills. And, they can be a lot of fun.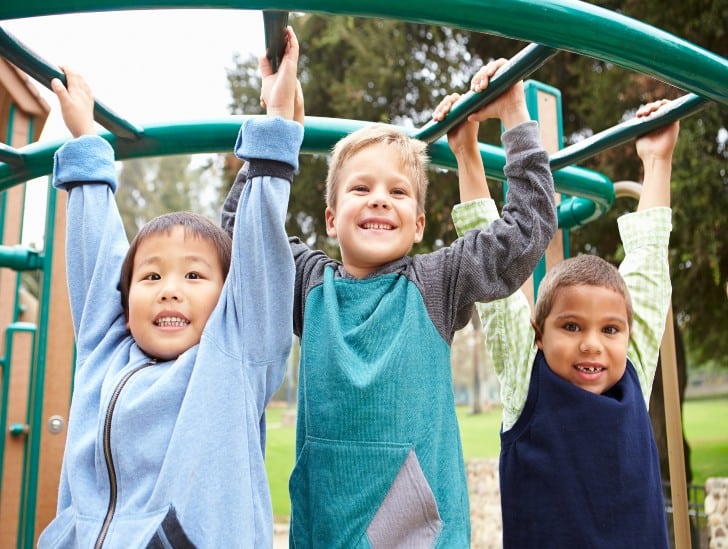 When shopping for monkey bars, look for a set made from durable materials like powder-coated steel. You'll also want to make sure the bars are the right height for your child.
Climbing Walls
Another great piece of playground climbing equipment for kids is a climbing wall. Climbing walls come in all sorts of shapes and sizes. Some are simple, while others are more complex.
Climbing walls are great for kids because they help with balance and coordination. They're also a lot of fun, and your kids will no doubt love them. Just make sure you get the ones suitable for your kids' age.
Dome Climber
Dome climbers give your kids a chance to exercise and have fun at the same time. They're also great for developing coordination and balance. When kids hang and crawl on this climber, they gain confidence and motor skills.
Dome climbers come in all sorts of shapes and sizes, so you'll definitely find one right for your playground. You can also find various kinds suitable for different ages.
Seesaw
A seesaw is a classic piece of playground equipment that has been around for generations. Seesaws are great for developing balance, socialization, and coordination. They're also a lot of fun for kids of all ages.
Seesaws come in all sorts of shapes and sizes. You can find ones that are small and compact or ones that are large and have multiple seats. Some seesaws come with special features, such as those that spin or have a bouncy surface. No matter what type of seesaw you choose, your child will have a blast playing on it.
A Tree House
If your toddler likes playing with friends, a tree house is a great playground addition. It provides a fun place for them to play while getting some fresh air and exercise. When kids play together, they develop social skills, learn to communicate well, and develop great self-esteem.
There are different tree houses available on the market that you can get for your little ones. You can find ones that are made out of wood, plastic, or even metal. There are also ones that come in different sizes, so you can choose one that will be the perfect fit for your backyard.
A Swing Set
No playground is complete without a swing. This is every kid's favorite playground climbing equipment. It is also one of the safest pieces that you can get for your children. 
Swings are made with different materials such as plastic, wood,  or metal. They also come in different sizes and shapes to fit any budget and backyard size. Some newer models even have built-in music players, so your kids can enjoy their favorite tunes as they swing away.
A Slide
Another must-have climbing equipment for kids of all ages is a slide.  No matter what the height, all kids love to climb up and slide down. The best thing about a slide is that you can make one yourself if you're tight on a budget because all you need is a piece of sturdy plywood, some paint, and carpet to make it soft on the bottom.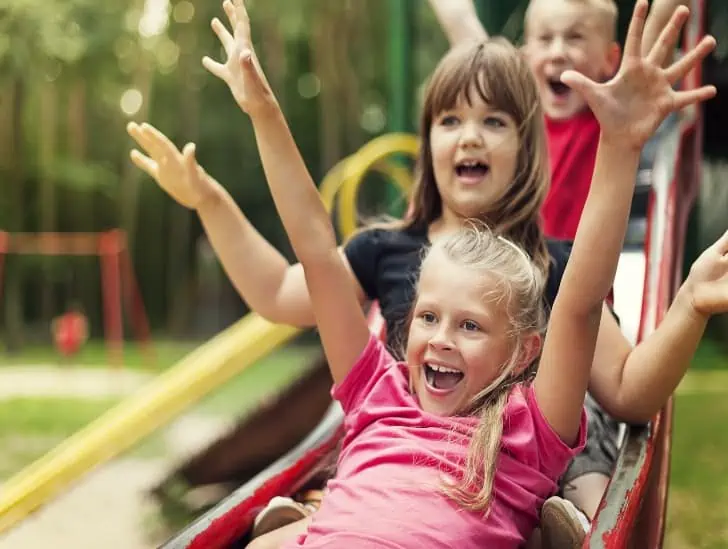 If you're looking for something more permanent, there are many different types of slides that you can purchase. You can get them in plastic or metal, and they come in all different sizes and shapes. Some even have built-in ladders so your kids can get to the top without help.
No matter what type of slide you choose, your kids will have hours of fun climbing up and sliding down.
Rope Climbers
Rope climbers offer unmatched adventures for your little ones. They can swing from one rope to the other, climb up as high as they can, and then slide back down again.
Some rope climbers even have a zip line attached so your kids can zoom down at lightning speeds. And if you're worried about safety, don't be. Most rope climbers come with padded seats and cushions to keep your kids safe and comfortable.
Rope climbers provide perfect exercise and fun for both kids and adults. They also don't take up so much space, so you can easily put them in your backyard or any other outdoor area.
Fireman's Pole 
Climbing a fireman's pole is one of the most thrilling outdoor activities for kids. It's also a great way to get some exercise and learn to balance. Your kids will love climbing down the pole as fast as they can. The pole is made with smooth, sturdy materials that can support a child's weight.
Most fireman's poles come with a padded seat or cushion to make the climb more comfortable.  Some also come with a safety harness to keep your kids safe and secure.
Playground Climbing Equipment Safety Precautions
As a parent, you'll love to see your kids happy as they play with any of this climbing equipment. However, this happiness can turn to sorrow if your kids get injured in the process. To avoid that, here are some safety tips that you should consider.
Avoid Sharp Edges
Sharp edges are the leading cause of playground injuries. They can poke your kid's eye or cause a scratch. Therefore, you should check the equipment for any sharp or protruding metal before allowing your kids to play with it.  In case you can't avoid them, make sure your kids wear long pants to protect their legs.
Inspect The Equipment Regularly
You should inspect the equipment regularly to ensure that it is in good condition. Look for any cracks, splinters, or sharp edges. Also, make sure that the screws and bolts are tightened. If you notice any damage, repair it immediately or replace the damaged part.
Supervise Your Kids
It is important to supervise your kids when playing on any playground equipment, regardless of their age. Make sure they don't push or shove each other. 
Also, don't allow them to play on the equipment when it is wet as it can be slippery and dangerous. In addition, teach your kids how to use the playground equipment properly. For example, they should never stand on swings.
Buy Age Appropriate Equipment
If you have young kids, don't buy anything meant for the older ones.  The same rule applies when you are buying used equipment. It is important to buy age-appropriate playground equipment because it is designed for the safety of your kids. 
Ensure There's No Choking Hazard
Kids can also choke while climbing, especially when ropes are involved. Make sure your toddler won't get caught up in the equipment and that there are no small parts they can choke on. Be careful with all the ropes and hanging parts.
Consider the Durability of the Equipment
Make sure whatever you buy can withstand the elements.  If you live in an area where it rains a lot, you will want to make sure the equipment can handle the moisture.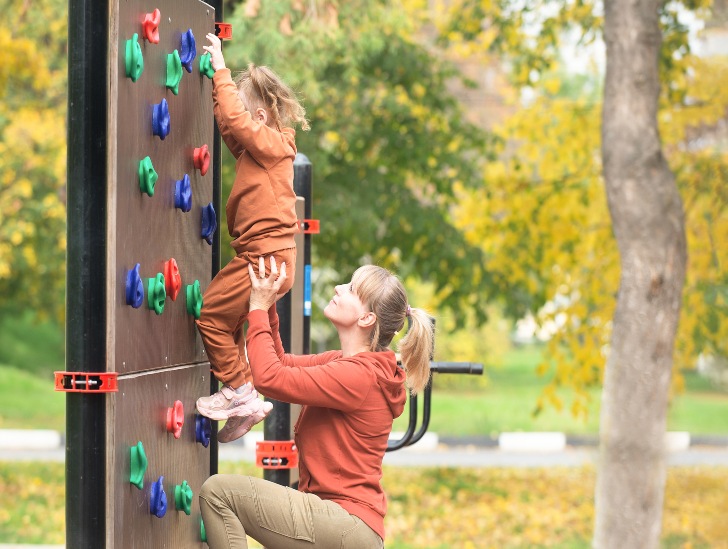 You should also consider how long you want the equipment to last.  If you have young kids, they will quickly outgrow the toddler-sized equipment. 
So, if you plan on having more children, you might want to buy equipment that will grow with them. 
Check for Safety Features
When you are looking at playground equipment, always check for safety features.  Look for smooth edges and rounded corners. Also, make sure there are no gaps or spaces where a child could get stuck.  The last thing you want is your child to get hurt while playing.
Summary
With the perfect climbing equipment at your kid's disposal, your kids can explore and play to their heart's content safely. Climbing equipment is a great way for kids to get some exercise while having fun. The equipment also helps them develop motor skills, learn coordination,  and gain confidence. 
So, when you are looking for the perfect climbing equipment for your kids, remember to check for safety features and age-appropriate designs. With a little bit of research, you can find the perfect equipment for your kid's needs.