Playground climbers have amazing benefits to offer any household with kids. They help with the development of important gross and fine motor skills, hand-eye coordination, and social skills. Plus, they're a great way to get the little ones to burn off some energy. But before you can start reaping the benefits of backyard climbers, you need to install them first.
The best climbing equipment that you can easily install at home includes a climbing wall, swings, a slide,  and monkey bars. If you're not sure where to start, we've got you covered with this list of the best climbing equipment for backyard playgrounds.
1. Climbing Wall
A climbing wall is a great way to get your kids active and engaged. It's also a great way to teach them important skills such as problem-solving and coordination. The walls can help build upper body strength and help in developing balance. Climbing walls can include a cargo net, wall climbers,  and a variety of handholds.
The walls are easy to install and are available in a variety of sizes. But you must ensure the safety of your little ones when building these walls in your backyard. Make sure they have a soft landing ground in case they fall. Also, don't make the walls too high, especially if you have younger kids.
2. Swings
Swinging is a great way to get kids active and can help improve their coordination. It's also a great way to teach them about turn-taking and sharing. Swings can be made from different materials such as rope, fabric, or plastic. They can also be designed for different ages and abilities.
The best thing about swings is their ease of installation. Almost all the equipment used for installing swings is found at home. You can use wooden logs, metal pipes, or even repurposed tires. If you want to get creative, you can use recycled materials to make your own swing set.
3. Seesaw
A seesaw is a great way to get kids moving and can help improve their balance. It's also a great way to teach them about turn-taking and cooperation. Seesaws can be made from different materials such as wood, metal, or plastic. 
Most common seesaws are built with a board in the middle to create balance. To play on a seesaw,  one person sits on each end. As one person goes up, the other person goes down. This creates so much fun for the children as they take turns balancing on the seesaw. 
4. Merry-Go-Round
A merry-go-round is a great way to get kids moving and can help improve their coordination. It's also a great way to teach them about turn-taking and cooperation. Merry-go-rounds can be made from different materials such as wood, metal,  or plastic. 
To play on a merry-go-round, one person sits in the middle while the other people hold onto the edges. As the merry-go-round turns, everyone gets a chance to go up and down. This is a great activity for kids of all ages and can be a lot of fun for the whole family. Just make sure you build them strong enough to support the weight of everyone who wants to play.
5. Balance Beam
A balance beam is another great outdoor climbing equipment that can teach kids to learn how to balance and develop coordination skills. The equipment is raised using a stand on both sides and is usually made of wood or metal. It can be a great challenge for kids to try and walk across the beam without falling off.
The best thing about a balance bean is that your kids can also use it as a sport when they learn the skill well. There are many competitions that they can join in and it can be great fun for the whole family.
6. Tire Climbing Ladder
The tire ladder is a fun playground climbing equipment for kids who need to release some energy. It is also a good workout for them as they need to use their muscles to pull themselves up. The great thing about this piece of equipment is that it can be used by multiple kids at the same time.
To make a tire climbing ladder at home,  you'll only need some old tires and a rope or a bungee cord.  You can even use an old hose if you don't have a rope. Simply tie the tires together in a ladder formation, and then secure the end to a tree or a pole. You can also make it more challenging by adding more tires or making the spacing between the tires wider.
7. Monkey Bars
If your kids love climbing and hopping into things then a monkey bar will come in handy for them. Monkey bars are a great way for kids to build upper body strength. They can also practice their coordination and balance by swinging from one bar to the next.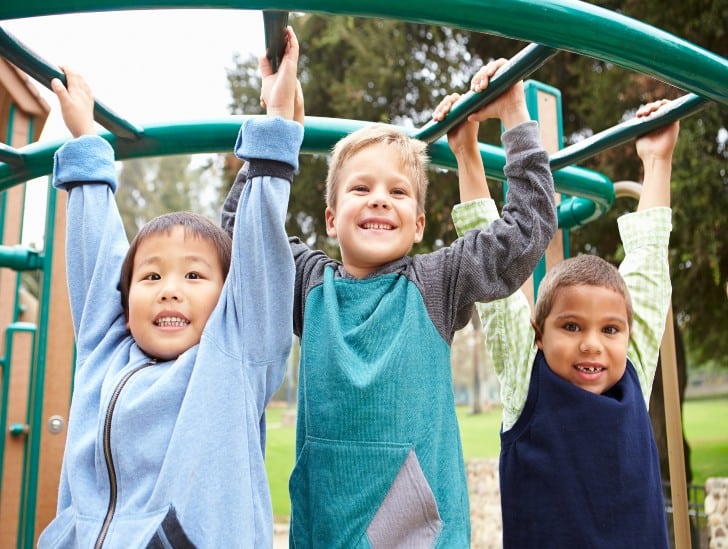 The bars enable the children to swing back and forth to improve and develop the right posture. This will also help them improve their body strength and endurance. Additionally, monkey bars can also help in the development of problem-solving skills as kids have to figure out how to get from one bar to another. 
8. Zip Lines
Another amazing climbing equipment that can never go wrong with your little ones is the zip line. Zip lines are a great way for your kids to get outdoors and explore their surroundings. They can also help build confidence as they zip from one platform to another. Ziplines can also help in the development of coordination and balance. 
However, they can also come with some adrenaline rush that might not be fun for the younger ones. Make sure you get a zip line that is specifically designed for kids and that it is installed by a professional. 
9. Slides
Slides are another classic backyard toy that never goes out of style. They're great for developing gross motor skills and encouraging active play. Slides come in a range of sizes, so you can choose one that's appropriate for your backyard and your child's age. 
You can make beautiful slides out of plastic material,  but it's also important to consider the safety aspect. Look for slides with smooth, rounded edges and avoid anything with sharp corners. 
10. Climbing Frames
Climbing frames are great for active kids who love to climb. They help develop strength, coordination, and balance. Many climbing frames also come with slides, swings, and other playground equipment.
A climbing frame is a great option if you have a large backyard. It will provide hours of fun for your kids as they explore all the different ways to climb up and down. 
Safety Considerations When Making an Outdoor Climbing Equipment
Having a space outside for your little ones to jump and climb is the dream of every parent. But this dream must not expose your kids to any harm, and that's why you must put their safety first when installing the climbing equipment. Some of the safety considerations include:
Choose High-Quality Material
The quality of the material you choose for your climbing equipment will determine how long it will last. If you choose a low-quality material, it might Warp or splinter over time, which can be dangerous for your kids. It's important to select a material that is durable and weather-resistant so that it can withstand the elements.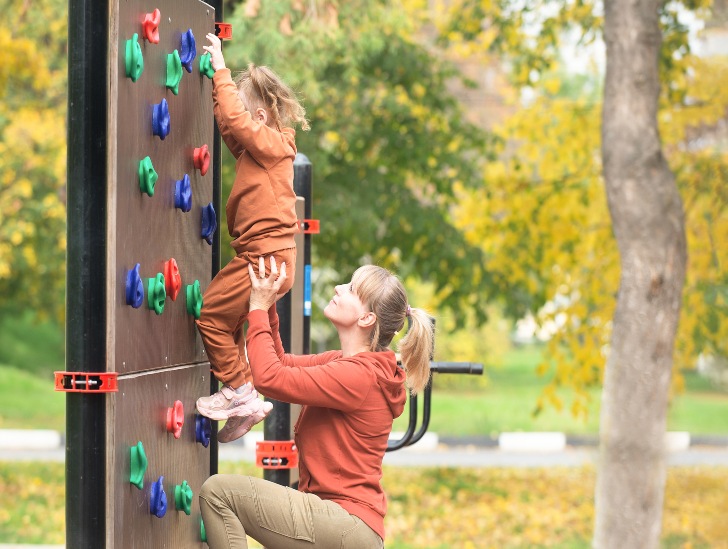 Inspect the Equipment Regularly
This is a safety consideration but also regulation. Ensure that you check the equipment for any damage or wear and tear before each use. If you notice anything damaged, do not allow your children to use it until it has been repaired or replaced.
Read the Instructions
When purchasing new climbing equipment, be sure to read all of the instructions that come with it. This will help you to understand how to properly use and care for the equipment.
Install Equipment in a Level Surface
The surface is an important safety consideration when installing climbing equipment.  It should be installed on a level surface that is free of debris. This will help to prevent injuries if your child falls while climbing.
No Sharp Edges
There should be no sharp edges on the equipment. No matter what type of climbing equipment you purchase for your child, be sure that it is safe. Inspect it for sharp edges, loose parts, and other potential hazards. Do not allow your children to use it until it has been repaired or replaced.
Check the Height
The height of the equipment must be appropriate for your child's age. You should be able to reach the top of the equipment from the ground. If you can't, your child is likely to fall and be seriously injured.
Summary
Installing climbing equipment in your backyard for your kids is a great way to get them to love spending time outdoors.  There are many tips for climbing equipment that are easy to install and affordable. You won't even need the services of a professional to do it. Just be sure to take safety seriously by checking the equipment for hazards and only allowing them to play on it when it is safe to do so.