Even in the era of powerful technology, kids still need playgrounds because they play a vital role in every child's development. Your little ones meet up with their friends at the playground and let their imagination plus creativity play out.
Playground activity provides them with a natural way to get out as much energy as possible. This way, they exercise, socialize, have fun, and even get sufficient sun exposure required for proper bone development.
Playground activities also play a critical role in improving a kid's physical shape. With good play, they become more active and excited about sports.
Therefore, there is no doubt about the fact that kids should spend more time at playgrounds. But the big question is; how do you pick the right playground for your little ones?
Typically, you want a safe playground with age-appropriate equipment ideal for your kids' ages and values inclusive design. It should also feature new playground technology that inspires creativity and imagination.
In this post, we provide you with essential tips to help you pick the right playground for your children.  Read on to find out everything you need to know.
1. Choose a Playground Designed with Safety in Mind
One of the most critical factors you need to consider while picking the right playground for your little ones is safety.  Consider the amount of space available for play and inspect the play area to ensure there are no hazards that can make playing unsafe for your kids.
Generally, you should ensure a minimum of 30 square feet of free space around the play structures. The play areas should also be divided into sections, with each section dedicated to children within a specific age range.
For instance, kids aged 2-5 years and those aged 5-12 years should have separate play areas to avoid overcrowding the common playground space.
Some of the common hazards you should pay close attention to are:
Too much sun exposure
Make sure the play areas have enough shade to protect kids from sunburns and exhaustion.
Used tires
While many playground owners love to have used tires on the play areas, these tires can easily turn into a safety hazard. When exposed to relatively high temperatures, they produce a wide range of toxic substances and chemicals that are highly carcinogenic and can harm your kids' health in the long term.
Roads or highways in the vicinity
While most people believe that a good playground should be located near a road to aid accessibility, the truth is quite different.
Playground experts warn against constructing a playground too close to high traffic areas because it can be a safety hazard.
Kids can easily sneak out of the playground onto the road or highway, risking their lives. Therefore, a good playground must be located relatively far from main roads or highways.
Improper playground surfacing
This is another potential safety hazard you need to pay close attention to. The U.S Children's Environmental Health Network recommends playground owners to use crumb rubber, pea gravel, playground sand, wood chips, engineered wood fiber, or bark mulch.
Asphalt and concrete must not be used as surfacing to lower the risk of injuries in case of a fall.
You should also consider the playground's accessibility. A good playground must be thoroughly equipped for kids with disabilities and resting areas for parents/caregivers.
2. A Good Playground Should Have Enough Shelter
A good playground will provide parents and caregivers with somewhere to sit as they watch their young ones play. Furthermore, not every child wants to run around from when they arrive at the playground up to the time they leave.
Most kids will need breaks between play sessions to have snacks and rest. They may also be forced into a break with a sudden change in the weather.
For instance, nobody will want to be out there swinging when it is raining.
A good shelter or shade provides them with some comfort when they need it most. Choose a playground with a designated area for sheltering and shading.
The area must have wooden benches or seats that can accommodate a reasonable number of people depending on the overall playground size. Some playground owners choose to install picnic benches which offer a great place to have meals.
3. Choose a Playground with New Playground Technology that Inspires Imagination and Innovation
While some of us are always waiting for the future, smart individuals know that the future is now. Modern playgrounds boast new technology that inspires innovation and captures the present times with a new innovative design.
This is where you want your kids to be. Remember that swinging and jump roping no longer cuts it for children growing up with massive technology.
While it is always good to encourage outdoor play, creating innovative playground activities that can keep up with the stimuli of modern-day technology is also crucial.
There is a trend of modern playgrounds utilizing a wide range of technological designs, which has turned out to be a hit.
There are also new technological devices that encompass the use of interactive sounds, visuals, and even smartphones/tablets to create highly engaging playground activities.
The incorporation of technology in playground activities inspires innovation, creativity, and imagination for your young ones.
We know that you may be encouraging your child to spend less time on technology and more time outdoors but don't frown at the idea of using technology positively to enhance interactive and inclusive play.
This is one of the strong trends that are picking up momentum in different parts of the world, and we can give it a thumbs up.
4. A Good Playground Fosters Accessibility and Inclusivity
Every kid should be able to comfortably access and benefit from a good playground. Therefore, it is essential to consider these two factors while picking a playground for your kids.
Accessibility and inclusivity become even more critical if you have a child living with a disability. The playground should have appropriate surfacing installed on pathways and it should be wide enough for assisted movement and wheelchairs.
Where possible, the playground owner should install appropriate apparatus that allows disabled access or find other ways of helping kids living with disabilities.
For instance, a good playground should provide ramps and rails that let kids with disabilities play with their friends on different play equipment.
Sometimes, even simple things such as picnic tables specially designed to allow wheelchairs to fit under them can make a significant difference.
You should also consider picking a playground with enough play equipment that meets the needs of all and appeals to every child's interest.
A good playground will have discrete zones for things like climbing, sports, sensory play, role play, messy play, and creativity. It will also have a relatively quiet nature zone where kids can enjoy nature play and learn about the environment.
5. Choose a Playground with Age-Appropriate Equipment
At this point, you already know that children of different ages require separate spaces on the playground. Similarly, not every piece of play equipment is considered safe for every child.
That is why you need to be careful with the available play equipment when choosing the right playground for your little ones.
Playground experts say that kids aged between six months and 23 months should mainly play on rockers, climbs under 32 inches high, stairways, ramps, and swings with full bucket seats.
Those aged two to five years should be restricted to ramps, stairways, spiral slides, not more than 360o, merry-go-rounds, slides, and rung ladders.
Those above five years but below 12 years can enjoy track rides, fulcrum, arch climbers, belt and rotating tire swings, chain walks, merry-go-rounds, ramps, slides, and seesaws.
Always be on the lookout for types of activities that your children engage in and ensure they resonate with their age. It is essential to review all possible hazards each playground equipment can cause and know how to handle them.
Trampolines can lead to sprains, fractures, head and neck injuries, while metal swings have a relatively high risk of impact injury. Rope swings can potentially lead to strangulation, while giant stride can easily hurt passers-by or jam your kids' fingers when closing.
6. Overhead Events
Lastly, you should pick a playground that offers plenty of overhead events. Don't reach out for a dictionary to check the meaning of overhead events because it is only a fancy word describing anything that makes children use their upper bodies.
They include chain rails, monkey bars, chain ladders, and all sorts of playground equipment that encourage upper body development.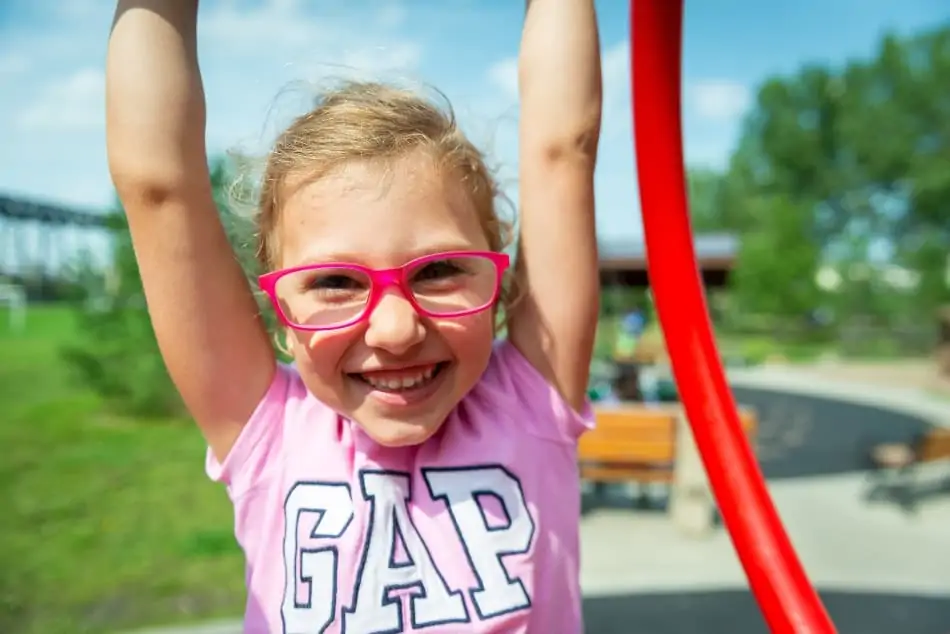 These components are essential because they will help your child develop proper posture, improve their grasp ability and strengthen their spinal cord.
They also play a critical role in helping children develop body balance. Remember that balance is a vital skill for every child, and playgrounds offer the best place to develop the skill.
Summary
That is it, and we hope you now understand what you need to focus on while picking the right playground for your child.
Take time to identify a good playground that offers real value for your kids' development.