Do you remember the good old days when we didn't have smartphones, video games and all the many trappings modern kids do for entertainment and fun these days?  All you required was a spacious backyard with a good jungle gym and other play structures to enjoy your free time and create unforgettable memories.
Your good friends would come over, and you could enjoy a great time together.  The good old days may be gone, but nothing should stop you from helping your kids relive the memories and enjoy their childhood the same way you did.
With a good jungle gym in your backyard, you can be sure your little ones will always enjoy their free time to the fullest. But the big question is, is it possible to build a jungle gym at home? The simple answer to the question is "yes."
As long as you are dedicated to the course and can follow simple instructions, you will have a nice jungle gym in your backyard in no time. 
In this post, we discuss how to make a simple jungle gym at home and what you need.  We shall also provide you with simple guiding tips to help you with the design and make your DIY jungle gym suit your kids' needs.
So, let us get started.
What Is a Jungle Gym?
Before we dive deep into discussing how to make your own jungle gym at home, it is good to help you understand what we are talking about.
In simple language, a jungle gym refers to a playground structure consisting of vertical and horizontal bars on which kids can easily climb.
The structure is usually made up of different attachments that allow children to perform different types of play. Several children can use a jungle gym at once.
A good jungle gym also provides kids with shelter and a relatively easy way to understand and manipulate their environment. They can use it to play pirates, restaurant, castle, playhouse and a wide range of other exciting games.
Tips for Making Your Own Jungle Gym at Home
The truth is that there are many jungle gym designs that we cannot possibly go through all of them. However, these tips should help you come up with something affordable and exciting for your kids.
Tip #1: Have an Imaginative Mind
There is no right or wrong way of constructing a jungle gym.  Typically, if you can think of it, you can build it.
The numerous jungle gym models being sold out there first existed in someone's mind before he/she decided to transform their imagination into an actual structure. 
Therefore, you can also imagine your own design and transform it into a physical structure.
Tip #2: Consider Your Backyard Space
Before you start constructing your jungle gym, you need to figure out the amount of space available for the project.
How big is your backyard?  How much space are you willing to give up for this project? 
Ultimately, your backyard's overall size will have a significant impact on the design you go for.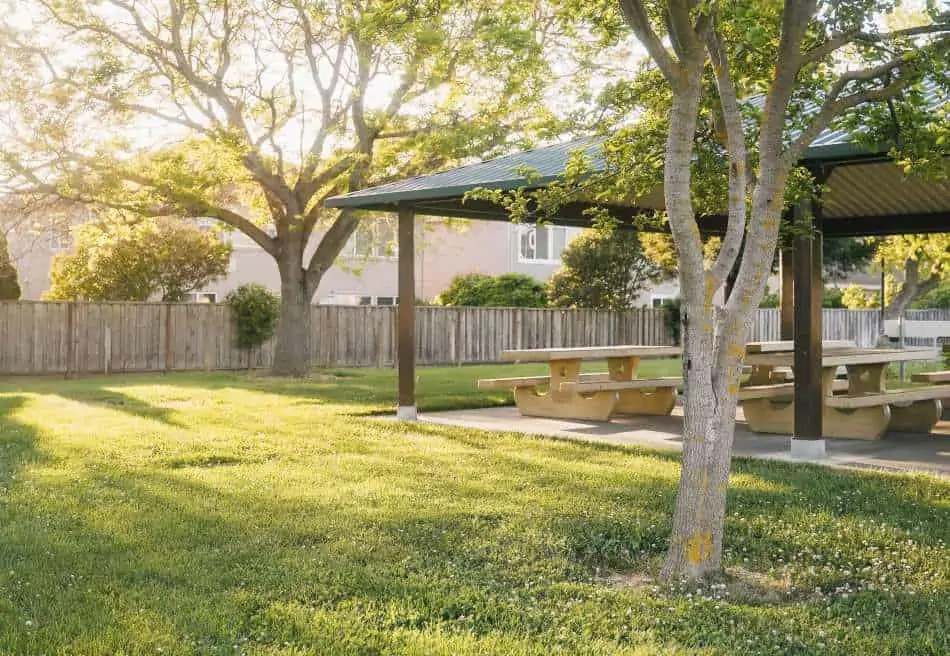 Tip #3: Have Your Kids in Mind
Keep in mind that you are building the jungle gym for your kids, not yourself. Therefore, before you embark on the constructions, ask yourself the following questions:
How old are my children?
What materials will be safe for them?
Do they like climbing?
Will their friends be coming over to play on the jungle gym?
With accurate answers to these questions, you can come up with something exciting and affordable. Consider asking your little ones what they'd love to see in their jungle gym to save yourself from the stress.
Tip #4: Consider Your Budget
One of the primary reasons why you may decide to go for a DIY jungle gym is the cost of purchasing a new one. However, if you are not careful, you may end up spending much more than if you bought a pre-built model.
Take time to assess your finances and come up with a rough estimation of how much it will cost you to build the jungle gym yourself compared to purchasing one.  Your primary goal should be to save money in the long run.
Steps to Follow When Constructing Your Home Jungle Gym
It is now time to go through the steps you need to accomplish to make your own jungle gym. Keep in mind that we are not teaching you how to make any particular jungle gym design. What we have here are general steps that you must follow when constructing a DIY jungle gym.
Step 1: Measure Your Space
Typically, the amount of space you have will determine what you can come up with. So, before you start the construction space, carefully mark out the area you want the jungle gym to occupy and take its actual measurement.
Make sure it is big enough and consider leaving at least three feet of space on every side to serve as playing space around the structure. If you have a relatively smaller space, consider building upwards other than building across.
Step 2: Choosing the Jungle Gym Design and Components
What design do your children have in mind? If you can't come up with your own design, browse through the internet for different designs and let your kids help you identify what they like and see if it is something you can construct.
Once you have a good design, consider adding all kinds of extra components such as rope ladders, monkey bars, hoops, nets, and swings. Keep in mind that a good jungle gym should exercise both the body and mind.
Provide an opportunity for physical activities such as climbing which will help your kids develop physically.  You can ensure your jungle gym is good-looking and affordable by utilizing rough wood pieces for the walls or rope netting as a place where your kids can enjoy some climbing.
As long as you involve your kids every step of the way, they will give you valuable feedback that you can use to customize the play structure further and make it better.
Step 3: Fixing the Components
Once you have identified a good design and settled on the critical components that the jungle gym should have, the next thing you need to do is assemble the components and start the hard work.
The first thing you need to do is construct a good shelter that will protect your children from heat and sunrays while having fun outside. The shelter must have strong walls around it with one or two entrances and a strong ladder that leads to the jungle gym shelter.
You could also fix a slide and use weatherproof materials such as treated cedar, PVC, etc.  Consider installing extra components such as rope ladders, monkey bars, swings, and nets.  Incorporating a few elements that will stimulate their minds is also a great thing to do.
Step 4: Make Sure You Have All the Construction Materials
In most cases, you will need the following construction materials to accomplish your mission:
Swing frame brackets
Metal wood brackets
Saws
Deck boards
Swings
Pressure-treated lumber
Slides
It is highly recommended that the set posts be at least three feet deep into the ground. Cast your posts in concrete to ensure they are strong enough to withstand kids' activities.
It is also advisable to let the cast concrete dry completely before adding other frames to the structure. Give it at least two days to dry. The rest of the construction will depend on the components you choose to add to your jungle gym.
What Are the Benefits of a Jungle Gym?
Constructing a jungle gym in your backyard provides your kids with an opportunity to enjoy their playtime and develop physically, emotionally, and psychologically. Here are some of the top benefits of a jungle gym: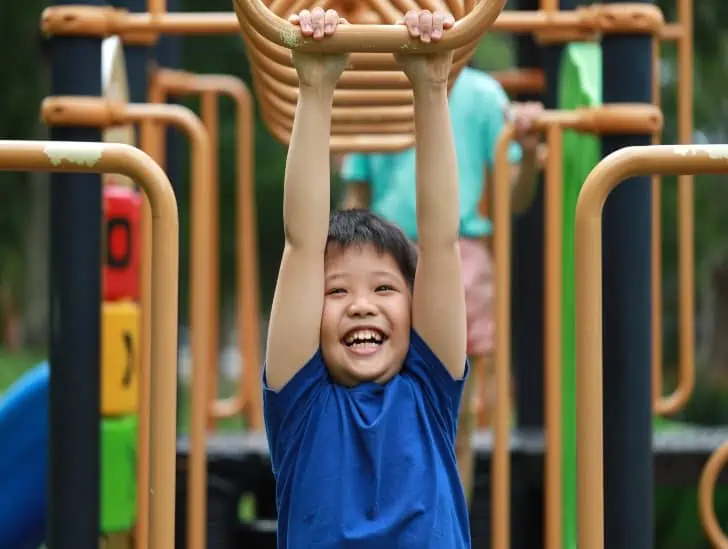 It keeps your children exercised most of the time.
The fresh air that kids enjoy while on the jungle gym helps improve their physical and mental health.
Jungle gyms help to ignite your kids' imagination. They can create all sorts of games with the jungle gym and put some of their imaginations to practice.
It helps kids to develop social skills and relationships as they interact with their friends.
It provides you with an incredible chance to spend time with your kids and be part of their fun.
It helps you to save a lot of money that you could have spent on toys.
Summary
Your children will always love a jungle gym because it provides them with numerous play options and a platform to try out different things. The advantages of such a play structure are so many that every parent should have one.
Luckily, you can easily come up with your own DIY jungle gym for your little ones. It only takes a little bit of research and dedication to construct one in your backyard. Furthermore, a home jungle gym doesn't have to cost a lot of money.