When it comes to keeping your children entertained, nothing compares to a jungle gym. A well-designed jungle gym provides your little ones with endless hours of fun while also benefiting their physical, emotional, and mental development.
However, a brand new jungle gym costs a significant amount of money that only a few individuals can afford. Does it mean you can never own one if you don't have enough money to purchase a pre-built model?
Absolutely, no. Even with a limited budget, you can still buy the various components slowly and do the assembly by yourself.  As long as you are willing to research and follow the outlined procedure, you can have your own jungle gym in no time.
In this post, we outline a simple procedure you can follow to make your own jungle gym. So, let us get started.
Essential Things to Consider Before You Start Building Your Own Jungle Gym
There are two critical things you need to consider before you start building your own jungle gym:
1. What Type of a Jungle Gym Do You Wish to Build?
The first thing you need to do is decide the type of jungle gym you want to build. Do you want a modern or rustic jungle gym? What do you think will be perfect for your backyard and kids?
Most modern jungle gyms are constructed from wood and feature a wide range of colorful accents with child-friendly designs. They are also sturdy with a subtle locomotive theme.
Rustic jungle gyms are predominantly metal and need you to have an eye for detail to avoid compromising its components' safety.
Rustic jungle gyms were common in the past years when safety wasn't a big issue. However, they offer great problem-solving challenges and are still effective to date.
Some people opt for a blend of modern and rustic designs. These jungle gyms are usually compact and feature both wooden and metallic components.
Generally, the bars are made of soft or padded plastic to minimize the risk of fatal accidents should kids bonk their heads into the bars.
No matter what you prefer, your number one priority should be the safety of your kids. Don't try to build something fancy that isn't safe for your little ones.
2. How Many Components Do You Want Your Jungle Gym to Have?
Typically, you can add many different components to a jungle gym, depending on how you want it to look.
For instance, do you want it to be an elaborate structure with up to seven sections, or are you thinking of just two/three sections?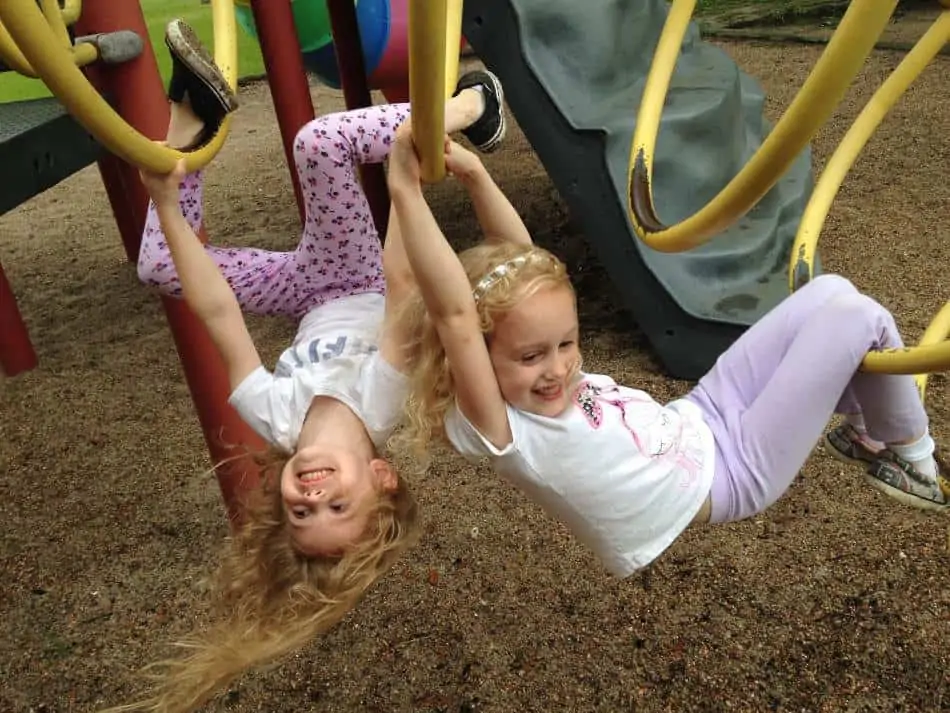 Since there are so many ways of constructing a jungle gym, you can choose to have two slides, a monkey bar, a playhouse, and so on. Generally, a good jungle gym will have the following components:
Before you start building your own jungle gym, make sure you talk to your child about what they like and go with their suggestions. There is no point in adding a swing on the jungle gym if your kid doesn't like swinging.
Building Your Own Jungle Gym
Once you have figured out the type of jungle gym you want to build and how many components you want to have, it is time to embark on the actual construction. Follow the steps outlined below to build your own jungle gym.
Step One: Determine How Much Space You've Got
Measure your backyard's size or wherever you are constructing the jungle gym, and note down the actual measurements.  While determining the size of your jungle gym, factor in the working space and the play space you have to leave around it.
At this point, you must have a solid idea of how big your jungle gym is going to be. Ensure there is room for everything, and be sure to double-check.
While calculating the amount of space you will need, make sure you consider at least three feet of empty space on all sides of the play structure.  For instance, don't build your jungle gym near tree branches or some thorny bush.
Kids love running around. Therefore, having obstructions anywhere near the play structure can lead to injuries.
Fortunately, there are plenty of ways you can work with a relatively small space. You can choose to build up rather than across or put a sandpit at the bottom of your jungle gym.
If you choose to build up, consider having two or three storeys with strong platforms that offer different types of games.
At this point, you should know how your DIY jungle gym will look like, how big it is going to be, and most important, where it is going to be.
Step Two:  Select Components
You must take time to select the right components for your jungle gym. Be sure to consider the weatherproof qualities of the materials you choose.
For instance, you can go for Sunbrella fabric or PVC for your canopy shelter.
For the wooden parts, consider using pressure-treated lumber since it has a beautiful appearance and can repel mosquitoes. You can also add all types of extra components such as swings, hoops, monkey bars, and nets.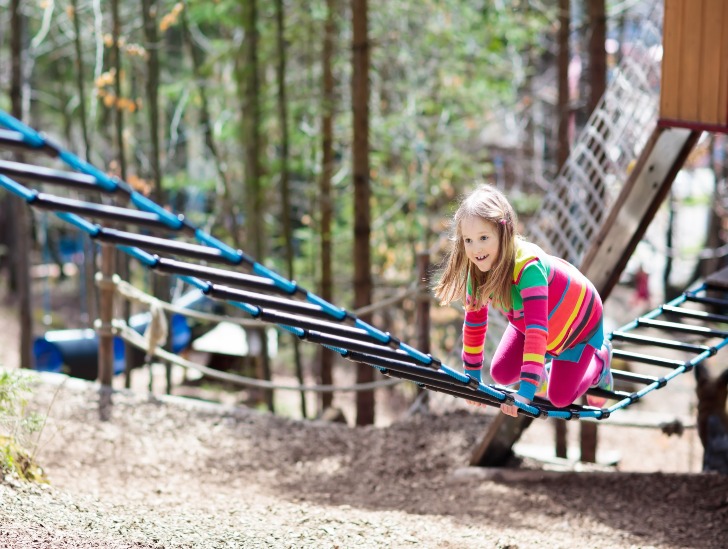 A good jungle gym should provide gym design exercises for both the mind and body. Make sure there are plenty of components that offer physical challenges, such as climbing.
Monkey bars are designed to build upper body muscles, while swinging helps your little ones exercise their whole body.
The best way to build an all-inclusive jungle gym that will provide your kids with everything they need is to be creative. Think outside the box and feel free to try out different things as long as you are not compromising the integrity and safety of the individual structures.
You should also try to talk to people who have built their own jungle gyms before. They can provide you with good ideas on the materials you need and where to get them. Sometimes, shopping at home stores can be daunting.
Note down everything you will need, purchase each one of them, and store them until you are 100% ready to start building your own jungle gym. You may be forced to check out a few different shops before you gather everything you need.
Step Three: Tools, Materials, and Construction
Some of the tools and materials you will need during construction include;
A saw.
Power drill
Swing frame brackets
Metal wood brackets.
Playground sand/ any other surfacing material.
Pressure-treated lumber.
Swings.
Slides.
Wood screws.
Deck boards.
If your deck is higher than 12 inches off the ground, make sure you use concrete to anchor the posts. You can also use Sono tubes known to be safe and secure thanks to their thickness and durability.
Carefully set the tubes into the ground and use concrete to secure them. Ensure the tubes are tall enough and can accommodate platforms, walls, and roof quite well.
If you feel like the work is too much for you, don't be afraid to contact a professional contractor who can help you.
It is also good to draw a design before you start the construction and stick to it. There are many DIY jungle gyms designs available freely online. Choose one that you think is good for you.
Once you have set the posts, give the concrete at least 24 hours to dry before you start assembling the frame.
Step Four: Double Check Everything
Make sure you double-check everything before giving yourself a high five and allowing your kids on the jungle gym. Test the stability of the entire structure and fix any issues that you may identify.
You should also check the climbing frame to ensure it is strong enough and secure. Ensure you don't have any sharp ends, and there are no play areas that overlap.  Don't assume anything, no matter how small it may appear to you.
Once you are fully convinced that you have done a great job, give yourself a high five and invite your children over to start having fun.
Final Thoughts
A jungle gym is the opposite of today's technology. It offers your kids an incredible opportunity to get outside and enjoy themselves. It is an excellent way of limiting your little ones' screen time and getting them to interact with the environment and learn a lot of things.
With a jungle gym in your backyard, your children can invite their friends over and have fun together. As a parent, it is your responsibility to keep them entertained.
Although acquiring a prebuilt jungle gym may seem a little bit expensive, you can build your own at home to cut costs.  However, before you start building your own jungle gym, you need to understand the scope of the project and gather the necessary materials.