It is the dream of every child to have a beautiful backyard playhouse that encourages them to be creative and turn their imaginations into reality. But playhouses don't come cheap. As a parent, you must decide whether you want to build the playhouse yourself, purchase a pre-fabricated model or hire a contractor to custom build one for you. Every option has its own cost, and depending on what you want, you can build anything from basic to more sophisticated designs.
So, how much does it cost to build a playhouse? Since playhouses come in different sizes, materials, and styles, the cost will vary depending on your preferences. You could spend anything between $500 and $30,000 to build a backyard playhouse. The average cost starts at $2,000 and goes up to $10,000, depending on the design, material, and style you choose. Typically, it will cost you between $5000 and $7,000 to build a simple 10 by 12 foot playhouse with pine siding and a simple roof. This comes down to about $17 and $160 per square foot. You can break down the cost further by knowing the cost of materials and the cost of installation.
This blog post breaks down the cost of building a playhouse and some of the critical factors determining how much money you spend. Read on to find out everything you need to know.
A Brief Overview of Playhouses
Before discussing how much it costs to build a playhouse, let us figure out what playhouses are and what they do.
A playhouse is critical playground equipment that plays a crucial role in every child's development.  They help kids develop mentally, physically, socially, and cognitively. However, the term "playhouse" doesn't always mean one thing.
A classic playhouse will always be comprised of different parts that play different roles. Some of the popular classic playhouses include a treehouse, single-storey playhouse, tower playhouse with or without a slide, two-story playhouse, and a fort playhouse.
Generally, there is more than meets the eye when it comes to different types of playhouses. Perhaps, the most common type of playhouse is the wooden playhouse that we are so used to seeing in backyards of different homes.
A good playhouse provides your little ones with an incredible opportunity to enjoy quality outdoor play throughout the year. They help kids gain a sense of independence by having their own safe space to explore and experiment with different things.
So, if you have come here not knowing how much to set aside for your playhouse installation project, read on to find the answer.
How Much Does It Cost to Build a Playhouse?
So, let us now dive deep into discussing the actual costs of building a playhouse. Keep in mind that the figures mentioned in this guide are averages and the actual cost may be slightly higher or slightly lower depending on where you live.
Playhouse Material Cost
One of the critical factors determining how much money you spend on your playhouse installation project is the material you choose. Playhouses can be made of wood, metal, plastic, and even bricks. Each material will dictate a different cost.
Wood and metal are the most common in DIY projects, but you can still custom build a playhouse with bricks or a combination of different materials.
Using bricks and concrete is perhaps the most expensive option because you will be forced to call in a specialist to help you with the project and pay labor fees to a significantly higher number of people.
Wooden Playhouses
Wooden playhouses are the most common type. These playhouses are available in a wide range of variations and styles, and you can easily build them anywhere in your backyard. You can also customize them to make them more weather-resistant if you live in an area that experiences extreme weather conditions.
These playhouses will typically have wooden walls, wooden or concrete floors, and you can pick any roofing material. The overall maintenance cost will be relatively high if you use wood for everything (siding and floor) because you need to seal and stain it to protect it from harsh weather elements.
The overall cost of building a wooden playhouse ranges between $6,000 and $10,000, depending on the features you want to have. The average cost is $8,000 for everything, including installation.
Plastic Playhouses
You can build a simple playhouse from pre-assembled plastic parts at a relatively low cost. Plastic playhouses are generally lightweight and fairly durable, but you will be quite limited on styles, colors, and sizes.
Additionally, there aren't many customization options, and most of them don't come with floors. It means you will be forced to custom-build a floor, which might increase the playhouse's overall cost.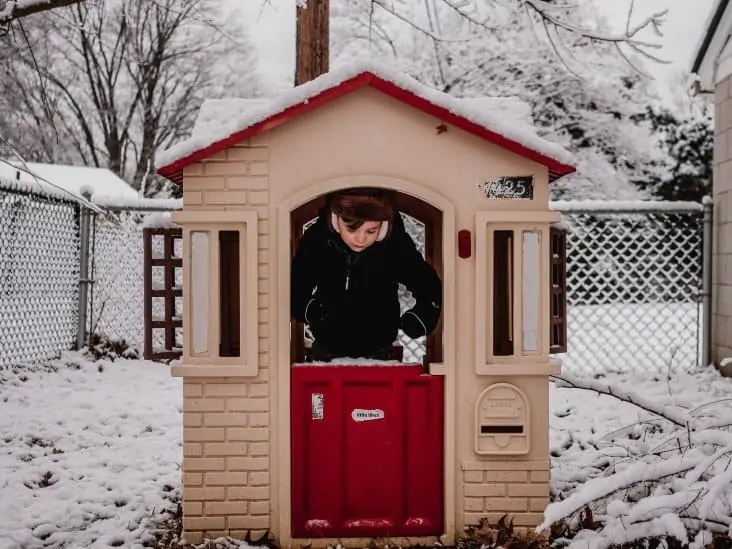 Typically, you will pay around $3000 to $5,000 for this type of playhouse. The average cost of building a plastic playhouse is $4,000, but you should be prepared to spend even more if you want to have a lot of features on it.
Metal Playhouses
Most metal playhouses come when they are already pre-fabricated. All you have to do is install them, and you are good to go. However, you can hire a specialist to custom build one for you if you want something unique.
Metal playhouses are relatively expensive but highly durable. In fact, some metallic playhouses last longer than their wooden counterparts.
But you shouldn't even consider installing a metallic playhouse if you live in an area that experiences extreme winter conditions because the playhouse will be susceptible to severe rusting and collapse.
Combining metal and wood will give you the best results. Ideally, you want a playhouse with a wooden frame and metal roofing. The walls can be made of metal or wood, depending on your preferences.
An all-metal playhouse will cost anything between $5,000 and 10,000 to build, with an average cost of $7,000. However, a metal playhouse with wooden frames may cost slightly more than $5,000.
Cost to Build a Playhouse by Square Foot
Another critical factor that will determine how much money you spend on your playhouse installation project is how big you want the playhouse to be. Typically, the bigger the playhouse, the more money you will spend.
The cost to build a playhouse by square foot will vary significantly based on the materials you use and the kind of finishing you want.
You should be prepared to spend approximately $60 per square foot for a professionally-built playhouse. This doesn't involve the cost of interior finishing and additional features you may decide to add to the playhouse.
If you want to add special finishing to make the interior look good, you should be prepared to spend anything between $30 and $70 per square foot.
DIY vs. Hiring a Professional Contractor (Labor Costs)
You can decide to handle the entire project yourself or hire a professional contractor to help you. Each option has its own pros and cons. You should only go the DIY route if you are fully confident of your skills because the safety of your kids depends on it.
Many wooden DIY playhouse kits built with pre-cut lumber are pretty easy to assemble and cost anything between $300 and $10,000 depending on the style, size, type of wood used, and features added.
The most important thing you need to do is ensure you follow the instructions to the latter and cross-check everything before allowing your children on the playhouse.
DIY construction is only possible for individuals with relatively strong carpentry skills. The cost of DIY materials will also vary depending on where you stay and what you want to accomplish.
Hiring a professional contractor to help you with the installation process can cost anything between $100 and $1,000, depending on the size of your playhouse. While some projects take one day to complete, others can take up to one week.
A simple pre-built playhouse can be assembled in two or three hours by two professional handymen using simple tools. Building a pre-fabricated playhouse kit can take up to two full days to complete.
How Does the Roofing Material Impact Playhouse Installation Costs?
You need to remember that any material you can use to roof your house can be used on the playhouse roof as well. In fact, some homeowners always prefer to match their playhouse's roof material to their home's roof material to create a cohesive appearance.
But if you are worried about the roofing cost for the playhouse, feel free to keep the roof as simple as possible. You can use traditional iron sheets to keep the expenses low.
If you decide to go with asphalt roofing, be prepared to spend $3 per square foot. Roofing tiles will cost approximately $5 per square foot, while bitumen costs anything between $3 and $7 per square foot.
Final Thought
Notice how the cost of your playhouse depends on many factors? Depending on what you're looking for, there are plenty of material and installation costs to consider before you complete the project.
To save time and money, research your options and compare prices from different vendors for materials. We hope you enjoyed reading this article, and you now have a clue on how much it will cost you to build a playhouse.