No playground is complete without a playset. In fact, every child's dream is to have their own backyard playset with all the bells and whistles. Unfortunately, the cost of a brand new playset can be quite prohibitive for many families. So, what do you do if you're on a budget? Is it worth it to buy a used playset? Let us find out.
Can I buy a secondhand playset? The simple answer to this question is yes. However, you must do your due diligence before making any purchase. Be sure to check for safety hazards and structural damage. It's also a good idea to get the playset professionally inspected before you buy it. Buying a used playset will save you a lot of money if you do it right.
This blog post discusses everything you need to know about buying a secondhand playset. Read on to learn more.
Why Is a Playset Important?
Before we dive into the nitty-gritty of buying a used playset, let's first take a step back and answer the question: why is a playset important?
There are many reasons why having a playset in your backyard is beneficial. For starters, it provides a fun and safe place for your kids to play. It also encourages physical activity and helps children develop critical gross motor skills.
In addition, a playset can be a great gathering place for family and friends. It's the perfect spot for summer BBQs, birthday parties, and other special occasions. Having a playset will make your home the envy of the neighborhood!
Research also shows that playsets have a positive impact on child development. According to a study by the University of Washington, children who play on playsets have better social skills and are more likely to cooperate with others.
So, there are plenty of reasons why you should consider buying a used playset for your home or commercial playground.
What Is the Cost of a New Playset?
The only reason some people consider buying used playsets is because of the cost. A new playset can be expensive, with prices ranging from a few hundred dollars to several thousand.
Of course, the price will depend on the size and features of the playset. You can expect to pay top dollar if you want all the bells and whistles. However, there are ways to save money when buying a new playset. For example, you can look for sales or take advantage of special financing offers.
Generally, a new playset will set you back between $500 and $5,000. You could even spend much more if you want a high-end playset with all the bells and whistles.
So, Can I Buy a Used Playset?
The simple answer is yes. If you want to save money, buying a used playset is an option. Just be sure to do your due diligence before making any purchase.
While it may take a lot of time to find the perfect used playset, it will be worth it in the end. You could easily save hundreds of dollars by going the pre-owned route.
Of course, there are some risks associated with buying a used playset. For starters, you don't know how the playset was treated by its previous owner. It's also possible that the playset could have safety hazards or structural damage.
To mitigate these risks, it's essential to do your research and only buy from a reputable seller. Be sure to inspect the playset thoroughly before making any purchase. It's also a good idea to get the playset professionally inspected by a certified playground safety inspector.
If you follow these tips, you'll surely find a used playset that's safe and in good condition. And you'll save a ton of money in the process!
How Much Should I Expect to Spend on a Used Playset?
The cost of a used playset will depend on several factors, including its size, condition, and age. Generally, you can expect to pay between $100 and $1,000 for a used playset.
Of course, you could find a bargain if you're lucky. But in most cases, it's best to expect to spend at the upper end of that range. If you find a used playset priced below $100, inspect it closely for any damage or safety hazards.
If you're willing to put in a little work, you could also build your own playset. Doing so will save you money. However, it's important to note that building a playset is a big project. It's not something that should be undertaken lightly.
If you're not handy or don't have the time to build a playset, buying a used one is the way to go. Just be sure to thoroughly research and inspect the playset before making any purchase.
Where Can I Buy a Used Playset?
Fortunately, most online websites that sell playsets will also sell used ones. Websites like Craigslist, Offerup, and eBay are always good places to start your search.
Facebook Marketplace is another great option. Just be sure to use caution when buying anything off Facebook Marketplace. There have been cases of people being scammed on the platform. So, it's essential to only buy from reputable sellers.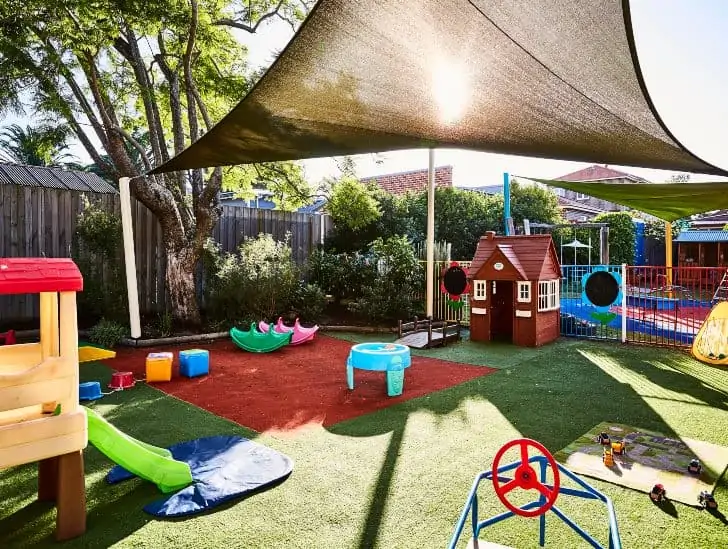 Alternatively, check with local businesses that sell or rent playsets. These businesses include playground equipment stores, rental companies, and even some department stores.
Finally, you can also check with your local parks and recreation department. Many parks and recreation departments have their own playsets that they need to get rid of from time to time. So, they may be willing to sell you a used playset at a significant discount.
What to Consider When Buying a Used Playset
There are a few things you need to consider when you're buying a used playset. Here are some of the critical ones:
1. Check for Safety
The first and most important thing to do is to check if the used playset is safe. Inspect it for sharp edges, weak points, or other safety hazards. If you find any, walk away from the deal. It's not worth risking your child's safety, even if it means saving a few hundred dollars.
2. Get It Inspected
Even if the used playset looks to be in good condition, it's always a good idea to get it professionally inspected. A certified playground safety inspector will be able to spot any potential problems that you might miss.
3. Consider the Cost of Repairs
If the used playset needs some repairs, factor that into the overall cost. Otherwise, you might end up spending more than you bargained for.
4. Set a Budget
Before you start shopping for a used playset, it's essential to set a budget. This will help you narrow down your options and avoid overspending.
Keep these things in mind, and you'll surely find a used playset that's safe and in good condition. And you'll save a ton of money in the process!
What Should I Do Before Picking Up a Used Playset?
So, you have finally found a good secondhand playset from an online marketplace, and everything is ready for pickup. But have you prepared everything for the pickup process? Here are some things that you need to do:
1. Check the Description and Photos Again
Before heading out for the pickup, take another look at the description and photos of the playset. This is to avoid misunderstandings or surprises when you see the playset in person.
2. Recruit People
Whether you are paying a professional or calling in a favor from your family members or friends, the handier they are, the better.
You need at least one person to help you disassemble the playset and another two to help you load it onto your truck or trailer. If you are paying a professional, they will most likely bring their own helper(s).
3. Prepare the Transportation
Check if your car or truck can handle the weight of the playset. If not, then you need to rent a bigger vehicle, like a trailer.
If you are planning to use a trailer, you need to ensure that it is big enough and equipped with the right features.
For example, if the playset has swings, you need a trailer with high side walls so that the swings will not hit the sides when in transit.
4. Search for Manual
It is highly unlikely that the previous playset owner kept the assembly manual. However, it is still worth a try to ask for it. If they have it, it will be very helpful during the reassembly process.
You can try searching for it online if they don't have it. Many playset manufacturers make their assembly manuals available online.
5. Ensure You Have the Right Tools
You will need the right tools to disassemble and reassemble the playset. If you don't have them, then you need to borrow or buy them before the pickup day. Essential tools you will need are a power drill, screwdrivers, wrenches, and hammers.
Summary
A playset can be an excellent investment for any family. Not only does it provide hours of fun, but it can also improve your child's physical development. If you're in the market for a secondhand playset, you need to be thorough in your search.
We hope you have enjoyed reading our post and are well equipped to purchase a secondhand playset that will serve your little ones well for many years.
Last update on 2023-07-23 / Affiliate links / Images from Amazon Product Advertising API