As an Amazon Associate I earn from qualifying purchases.
Play is an important part of a child's development. When children play,  they are using their imaginations and bodies to explore the world around them. To make their play easy and fun, there is plenty of equipment that aids this. A monkey bar is one of them. 
Monkey bars play a very important role in your child's development. They provide an excellent physical workout, plus social and emotional benefits. 
But what exactly are monkey bars and how do they look? Read on to understand.
So, What Is a Monkey Bar?
A monkey bar is a horizontal ladder that is elevated off the ground, often found in playgrounds. They are also known as jungle gyms, monkey bars, or climbing bars. Children play on the bars by jumping from one to another and climbing up and down just like monkeys do on trees.
Most monkey bars are made of metal or wood and are found in playgrounds. They come in different sizes and shapes, so there is something for everyone. One thing interesting about monkey bars is their diverse uses. They are not just for kids adults also use them for physical fitness as well.
The Types of Monkey Bars
Monkey bars come in a variety of designs, but there are four main categories. These include:
These are the most traditional type of monkey bars, and they feature a straight line of bars that the children can grip onto. These are perfect monkey bars for beginners.
These monkey bars feature a wavy or curved design. This type of design is great for kids who want more of a challenge, as it can be difficult to grip onto the bars. They add an additional element of play and challenge, making them ideal for more adventurous kids.
Monkey Bars With Side Ladder
These monkey bars come with a side ladder attached. This can be helpful for kids who are just starting out, as it gives them a way to get onto the bars. It also adds an element of fun, as kids can climb up the ladder and then slide down the bars.
If you want to unlock a whole new world of directions and possibilities, then you'll want to check out this domed monkey bar design. The dome allows for a three-dimensional play space, which means that there are no limits to where your child can go. However, you need to supervise your kids to make sure that they don't fall off.
What are the Benefits of Having Monkey Bars in Your Backyard?
Monkey bars are very important for the development of your child's motor skills. They allow your child to use their muscles in new ways and help them to develop coordination and balance. Additionally, monkey bars are a great way for your child to get some exercise. They will be able to burn off some energy while having fun at the same time.
Also, monkey bars help in improving socialization skills by giving kids a chance to interact with other children while playing. It is a great way for them to make new friends and learn how to share and take turns.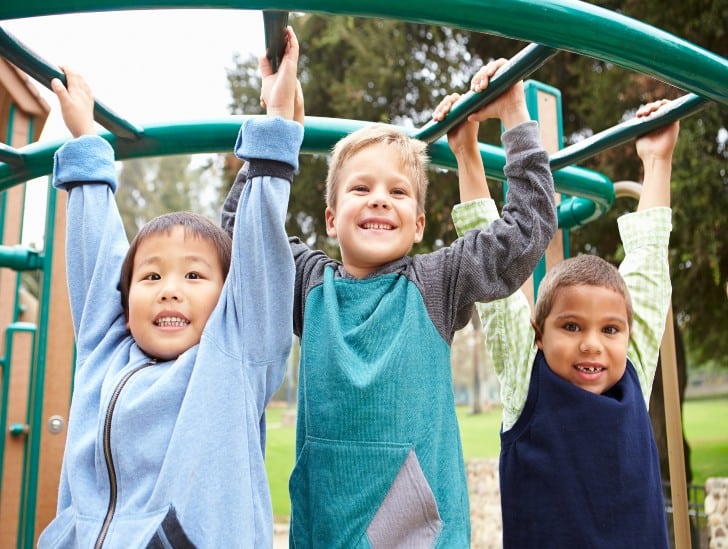 The confidence of your kids also improves when they learn how to swing on monkey bars. They feel proud of themselves when they are able to accomplish something new. Moreover, it helps in building their self-esteem as well.
So, if you are looking for a way to help your child develop physically, mentally, and emotionally, then you should definitely consider getting them a set of monkey bars.
Things to Consider When Buying Monkey Bars for Your Kids
When buying monkey bars, you want to ensure that you get the best for your kids or adult use. Here are some common things you must consider.
Your Location and Space
When it comes to monkey bars, you'll want to be sure that you're placing them in an appropriate location. You'll need to have enough space for the bars, as well as a safe landing area for when your child jumps off or falls off the bars. Place them on a grassy spot rather than tough, solid ground to soften possible falls.
Measure the space so that you can know how many monkey bars it can accommodate. Don't forget to leave four or five feet around the structure so that your kids can have enough room to run around and avoid hitting something with their legs while swinging on the bars.
The Size of the Monkey Bars
The size of the monkey bars is also an important consideration. You'll want to make sure that the bars are the right size for your child. If they're too big, your child may have difficulty climbing them. If they're too small, they may not be able to grip the bars properly.
Remember that the right size for your monkey bars will depend on how much room you have and how old and tall your kids are. While you can go for longer models when you have plenty of room, you should be careful when it comes to the height of your monkey bars to avoid painful falls.
If you have young kids, don't go over five feet in height. For older kids between six and twelve years, you can go up to seven feet to allow them to swing and play without any issues.
Consider the Durability of a Monkey Bar Set
When you're looking at different monkey bar sets, it's important to consider how durable they are. After all, you want your kids to be able to play on them for years. Look for monkey bars that are made from strong materials, such as galvanized steel and wood.
Galvanized steel: This material offers higher levels of UV resistance, making it ideal in hotter climates. However, you must be prepared to perform regular maintenance to ensure that the steel bars don't rust.
Wood: This is another great option for monkey bars. It's a natural material that can withstand different weather conditions. Just make sure that you choose hardwood, such as redwood or cedar to ensure maximum durability.
Rope: Rope alternatives can be cheaper, but they're not durable. But if you're on a budget and don't mind replacing them after a few years, then consider placing your monkey bars underneath a patio or a sheltered area to protect them from the elements.
Choose the Right Colors
Now that you know what material to use for your monkey bars, it's time to decide on the style and colors. Look for a model in your kid's favorite color, or ask them what they would prefer. If you want to maintain an element of consistency in your garden, you should opt for traditional wooden options, which result in a more natural look.
Consider the Style
There are many different styles of monkey bars available on the market. The most popular ones are the A-frame, free-standing and attached to a swing set.
The A-frame is the most popular choice among parents since it is very versatile. It can be used as a standalone unit or attached to a swing set. The free-standing monkey bars are also a great choice since they offer more stability and can be placed in any part of the yard.
Consider the Safety of Your Monkey Bars
When choosing monkey bars for your children, it is important to consider the safety of the product. Make sure that the bars are made of sturdy material and that they are securely fastened to the ground. Also, check to see if there are any sharp edges on the bars that could hurt your child.
It is also important to choose a monkey bar set that is age-appropriate for your child. If you have a young child, make sure to choose a set that has wide bars that are spaced far apart. This will protect your child from falling through the bars. For older children, you can choose a set with narrower bars that are spaced closer together.
FAQs on Monkey Bars
What part of the body do monkey bars work out?
Monkey bars are an exercise that works for shoulders, arms, back, core, and grip strength. This makes them a standard fixture in both military and civilian obstacle courses.
Is it easy to install monkey bars in your yard?
Yes, if you have a few basic tools, it is easy to install monkey bars in your backyard. There are many how-to videos and websites that can give you step-by-step instructions.
How old should a child begin playing on monkey bars?
Kids should begin flexing their muscles when they reach four years and above. Below this age, their bones are still fragile, and they might hurt themselves if they try to use the monkey bars.
Summary
In conclusion, monkey bars are a great addition to any backyard. They provide many benefits for your child's development and are also a lot of fun. With monkey bars gaining popularity in the many homes, these exercise equipment are perfect if you want to add a little adventure to your workout routine or if you just want your kids to have some fun in the backyard. Besides exercises, you can benefit a lot financially because you will not have to incur any travel costs for the gym or take your kids out for playdates.
Amazon and the Amazon logo are trademarks of Amazon.com, Inc, or its affiliates.