A playset is a great way to provide your children with outdoor fun and entertainment. But before you buy one, it's essential to consider several key factors that will affect the quality and enjoyment of the playtime experience.
So, what are some of the critical things you need to consider before buying a playset for your kids? Well, the most important thing to consider is the size of the playset. Does your yard have sufficient space for a large set, or do you need to get a relatively smaller one? You should also consider the safety features, price, your kids' age range, and the material it is made of.
Read this post to the end to learn more about the critical considerations you need to take into account while purchasing a playset for your loved ones.
What Is a Playset?
Before we dive deep into our discussion and highlight the essential factors that will affect your playset buying decision, let us take a few minutes to understand what we are talking about here.
In simple terms, a playset is playground equipment that provides your children with exciting outdoor entertainment. Back in the day, people used to create their own sets out of wood and other raw materials, but these days you can get them pre-assembled by buying one online or at a local store near you.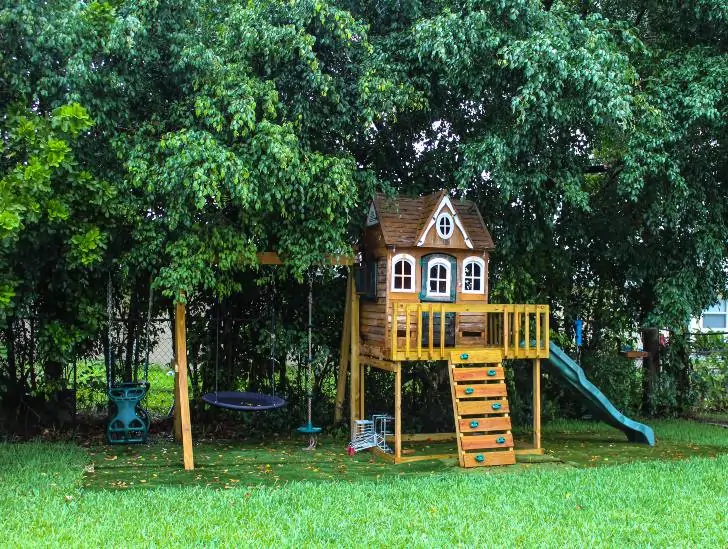 There are many types of playsets available for purchase today, but your kids will mostly enjoy the ones that resemble a small house with an open area for them to play in. You can also find models available with slides, swings, and other exciting features to enhance the fun quotient of your little one's time outdoors.
Types of Playsets
While there are several types of playsets in the market today, some popular examples of the most common types are as follows:
1. Cedar Wood Playsets
These come with a wooden base on which you can place your kid's favorite toys. They provide an excellent opportunity for imaginative role-playing and fun. On top of that, they also help develop your child's physical strength, dexterity skills, coordination abilities, and other attributes.
2. Metal Playsets
These are mostly made of metal or metallic alloys and are highly durable, easy to clean up, and maintenance-friendly. Most popular among them is the traditional swing set model that comprises a slide for added excitement along with swings attached to two sturdy poles at either end.
3. Plastic Playsets
Plastic playsets are the most popular type of playsets available in various colors and can be both durable and easy to maintain. In addition, they do not require any special maintenance or care while being highly safe for your children's use throughout their childhood years.
Factors to Consider When Buying a Playset for Your Kids
So, what are some of the critical factors you need to consider when buying a playset for your children? Let us find out:
1. Size Matters!
The size of an ideal playset is one of the most critical factors that you need to consider. So, how do you know which size would be best for your kids?
Well, it all depends on the age and physical capabilities of your little ones, as well as the amount of space available in your backyard or lawn area.
If your kids are still too young (below five years), consider buying smaller and relatively lightweight models. However, if you have older kids (above six years) who are strong enough to properly use the equipment, then go for a larger model that can accommodate more than one child at once.
2. Height
Another essential factor to consider is the height of a playset. Most toddler and preschool models are designed at around three feet above ground level, while most elementary school-aged children can use them safely at about five or six feet high.
However, you need to check with your local authorities which height would be best for your specific area.
In some cases, you may want a slightly taller model around six feet tall, while in other cases, you may want a slightly shorter model to fit your needs perfectly.
3. Weight Capacity
It goes without saying that the weight capacity of any equipment should be high enough for your kids to use it safely and comfortably throughout their childhood years. However, this becomes particularly important when we talk about swings or slides.
For example, there are many models available that can accommodate up to 150 pounds on the swings and around 200 pounds on the slides. So, you need to carefully consider your kid's age and weight before buying anything in this regard.
You should also consider how many kids will be using the playset at a go and how much their total weight may be. The last thing you want is to purchase a playset that is not strong enough to support both your kids and their friends.
4. Cost
Another critical factor you need to consider when buying a playset for your children's use is its price tag. The truth is that the best playsets cost a good amount of money, so it becomes crucial for you to set aside some funds before making the final purchase.
Nonetheless, you need to carefully consider your budget while choosing so that it does not put too much financial pressure on you or make things difficult for you in the future.
So, how do we go about deciding our price range? Well, there are many different types of playsets available, with most models ranging from $250 to $1500.
However, you will also find some models priced much higher (above $2000), while there may be a few models costing less than $100.
So, the amount of money you need to set aside for buying a playset depends on your budget, preference for features, among other things too.
5. Maintenance and Care
You should also consider the maintenance requirements of the playset before you close the deal.
You want something that does not require too much professional care or costly repairs now and then, right? Well, most models available in the market today are easy to maintain while being highly durable as well.
However, you need to consider specific models that require very little maintenance while being highly durable.
For example, wooden playsets are known for their durability and low maintenance requirements, but they tend to cost a bit more than other types of equipment in this regard.
In addition, plastic materials used in making various parts of the set may add some weight to the overall cost.
6. Safety Check
Aside from the height and size of a playset, it is also essential to consider its safety features before making your final purchase decision.
For instance, ensure that all parts are securely attached with screws or other fasteners (bolts) at appropriate angles for extra stability.
Furthermore, always choose models that come with rubber grips on their rungs as well as other safety features such as a high back and side rails for added protection.
7. Installation
How easy is it to install and assemble a playset? Well, this is yet another factor that you should consider before buying a playset.
You want something that can be easily assembled without requiring too much expertise or professional help.
So, always check the assembly instructions and follow them carefully while also talking to friends who may have bought such equipment previously on how they managed to assemble their playsets.
In addition, you should also consider the overall weight of a playset. Some models are cumbersome and may not be appropriate for kids to carry around on their own at all times or use in different places within your neighborhood or block.
Models that do come with wheels can prove to be much more suitable in such cases.
8. Swinging and Climbing Styles
There is something called the swinging style that you should also consider while buying a playset for your children's use. You want to choose one with swings, climbers, and slides that are suitable for both older kids and toddlers.
For example, some types of sets come with separate and smaller parts for younger kids, while others come with taller slides, climbing walls, and other such equipment suitable for older children.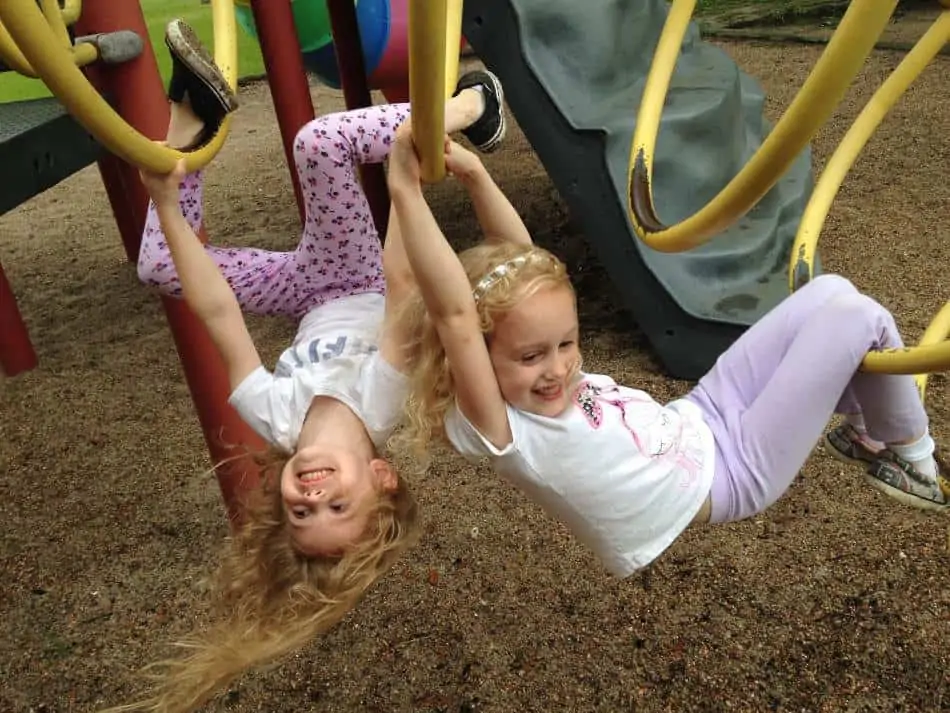 Final Thoughts
In addition to all the above-mentioned factors, parents also need to think about their own preferences before making a final purchase decision. For instance, you may want your playset to be brightly colored or made of some specific materials only.
However, you must ensure that these preferences do not interfere with the safety of your kids in any way. For example, if you want a brightly colored set but it has tiny parts and is also difficult to climb on for older children and toddlers alike, then perhaps this isn't such a good idea.
So, these are some factors that you should consider before buying your kids a playset for home use and recreation purposes. Do you have any questions or suggestions?