Playgrounds are a staple in daycare centers, homes, and schools. They provide children with an opportunity to explore their surroundings, socialize with others, and have fun. There's no better way for kids to burn off energy than by playing on the playground! However, not all playground equipment is created equal: some can be expensive while others are more affordable.
Some of the most affordable playground equipment includes bouncy castles, climbing frames, rocks, slides, swing sets, sandboxes, tires, and stacking blocks. Just keep in mind that the term affordable is relative, and what you acquire for your playground will mostly depend on your budget and the quality you are looking for in the playground equipment.
Read on to learn more about some of the most affordable playground equipment that we recommend.
What Are the Benefits of Having a Playground In Your Community?
Before we discuss some of the most affordable playground equipment, it is good to know why it is important to have one in your community.
A playground provides children with an opportunity to explore, socialize, and burn off energy through play. Not only does a playground help kids grow and develop socially but also physically as they are able to engage in physical contact sports that can be stressful on the body if practiced without supervision or outside of a playground.
Children can experience the joy and frustrations associated with physical play in an environment that is safe but still engaging.
A community can benefit from having a playground through increased social interaction, reduced vandalism rates, improved property values, and higher activity levels among residents of all ages.
Children will learn how to work together as a team, find solutions for problems, and develop a sense of responsibility.
What Are the Most Affordable Playground Equipment?
Now that you know why playgrounds are important to have in your community, let's discuss some of the most affordable equipment.
1. Tires
These can be found in abundance at most construction sites for free or at a very low cost. They are usually not recycled, so they should be cleaned off if looked over long enough.
The tires have many loops that children may use to climb on top of them, which is fun and easy to do.
One DIY option would be to stack the tire on top of each other with sturdy logs at the ends for added obstacle climbing!
Kids can also just enjoy pushing themselves across the trays; some will even find ways to create slides from the pressure created when stacking more than one tire together.
2. Bouncy Castle
This is one of the most affordable and easy to assemble playground equipment out there. All you need are a few inflatable parts, some jumping mats, and ropes for securing it all together!
It's fun because children will bounce back up when they jump on them with their friends or siblings. This can be an engaging experience that allows children to improve their coordination.
These types of equipment can also be inflatable and very lightweight, which means they are easy to transport from place to place!
3. Swing Sets
Swing sets may not be cheap, but they are still relatively affordable. They are a great option because they provide children with the opportunity to get some energy out while still in an environment that is safe and secure.
They also come equipped with seats so adults can supervise their children during playtime, which is important as kids will not always know when to stop!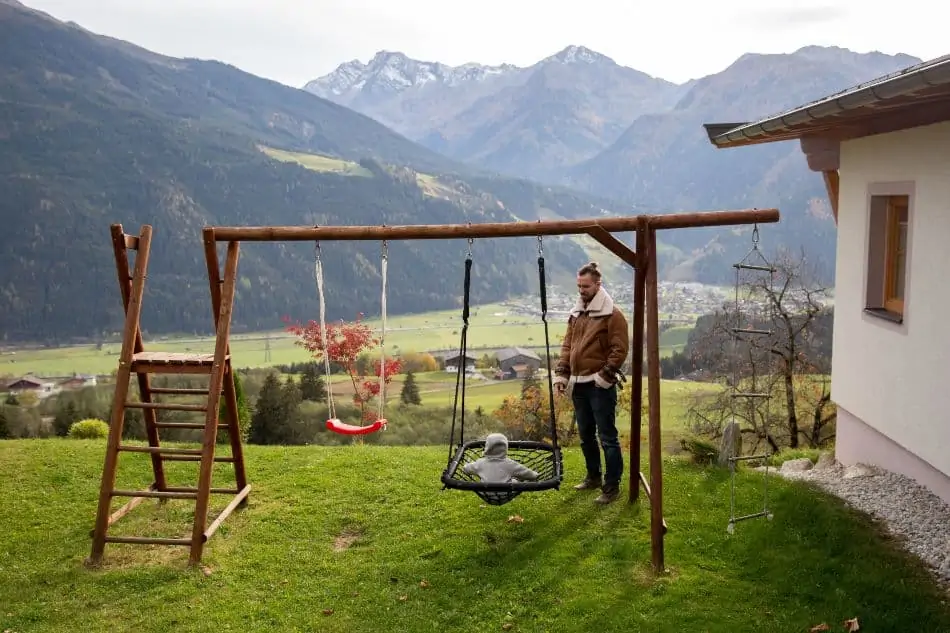 Swing sets come in different sizes, shapes, and styles, so you may want to look at the different options before deciding on one.
Make sure you involve your kids in the buying process as they are the ones who will be using it!
4. Slides
Slides are also a fun way for children to get some energy out. There is something about sliding down an object that makes people laugh, and it's no different with kids!
Kids will have the chance of learning how to balance themselves while moving quickly, which they can transfer into other areas of life like school or work! It's also a great way for children to work out some of their pent-up energy.
There are many options when it comes to slides, so you will want to consider what your child's interests are and the best type of slide they would prefer!
For example, if you have an outdoor space at home with trees to climb, it may be better to get a slide that is made out of plastic piping.
If you have the budget and want something different for your kids or are looking for an option that will last longer, then metal slides might be what you're looking for!
5. Playground Ball Pit
A playground ball pit offers children a fun way to play together without the fear of being injured. It is also safe because kids won't be able to climb in and out as easily, so it will take them more time before they get bored!
You may want to consider buying balls that have no labels on them for safety reasons. Or you can just place the label-less balls in a bag and let children pick them out when they want to play.
Younger kids will also enjoy playing with the balls as they are colorful and easy for their little hands to hold onto, which is perfect for developing fine motor skills!
6. Pipe Cleaners
Many of these may be found at home, but if you don't have pipe cleaners on hand, you can always purchase them at the store.
All that is required for this type of play is a long piece of string or rope and then twist it together with different colors to create an interesting pattern!
The best part about these types of activities is that they are easy and inexpensive, so if your child gets bored with one, you can easily switch it up!
7. Stacking Blocks
Another piece of playground equipment that is inexpensive and easy to make are stacking blocks.
All you need are some cardboard boxes (with all the flaps cut off) or pieces of wood. Stack them on top of each other, so they gradually increase in height!
Blocks are a great toy to keep your child occupied for hours. They can also help with development because children will have the chance to sort them by height or size and make their own creations!
You may want to consider cutting holes in the boxes that you stack so kids won't get frustrated as they try to remove the blocks.
8. Sandbox and Sand Toys
A sandbox is another choice that will keep kids entertained for hours. They don't cost an arm and a leg, so it might be worth considering if you want to save money!
The best part about this type of play is that children can be creative using their own hands or by playing with sand toys. It's also a great way for kids to work on their fine motor skills and improve hand-eye coordination!
The best types of sandboxes are ones that have an opening in the front so children can play comfortably from either side.
You may want to consider placing some barrier or cover over the sandbox so that it can be used during the winter months.
9. Climbing Frames
This is another type of playground equipment that kids can use to let out some energy!
Kids will learn how to scale a structure, and it also gives them a chance for developing their motor skills like balance and coordination. There are many options when it comes to climbing frames, so you will want to make sure you buy one that matches your needs.
The most affordable option is a metal frame with wooden steps. It's best to buy this type because it can accommodate more than one child at once and also lasts longer!
You can purchase other equipment for your play area that will go along well with these types of frames, like nets or low bars, so kids will have plenty of options to choose from!
10. Tic-Tac-Toe Board
A tic-tac-toe board is a great way to introduce children to the game of tic-tac-toe. It's also an inexpensive piece of equipment that can be found at your local store!
If you want more than one child involved, then this isn't the best option for you. But it will be perfect for your child to practice their skills and learn how to play the game.
If you want more than one player, then a tic-tac-toe board needs to have four rows of three squares for children to use both hands!
It's best if they are marked with an X and an O, so children will know which one to use.
This is also a great way for kids to practice their spelling as they can spell out words on the board!
Summary
We hope that this blog post has been informative and easy to read. We recommend all of these types of playground equipment for any community or parents looking into getting some fun additions in its park or backyard.
Save your money by purchasing one you can afford now, so you don't have to worry about buying a new one or spending money on upkeep in the future.